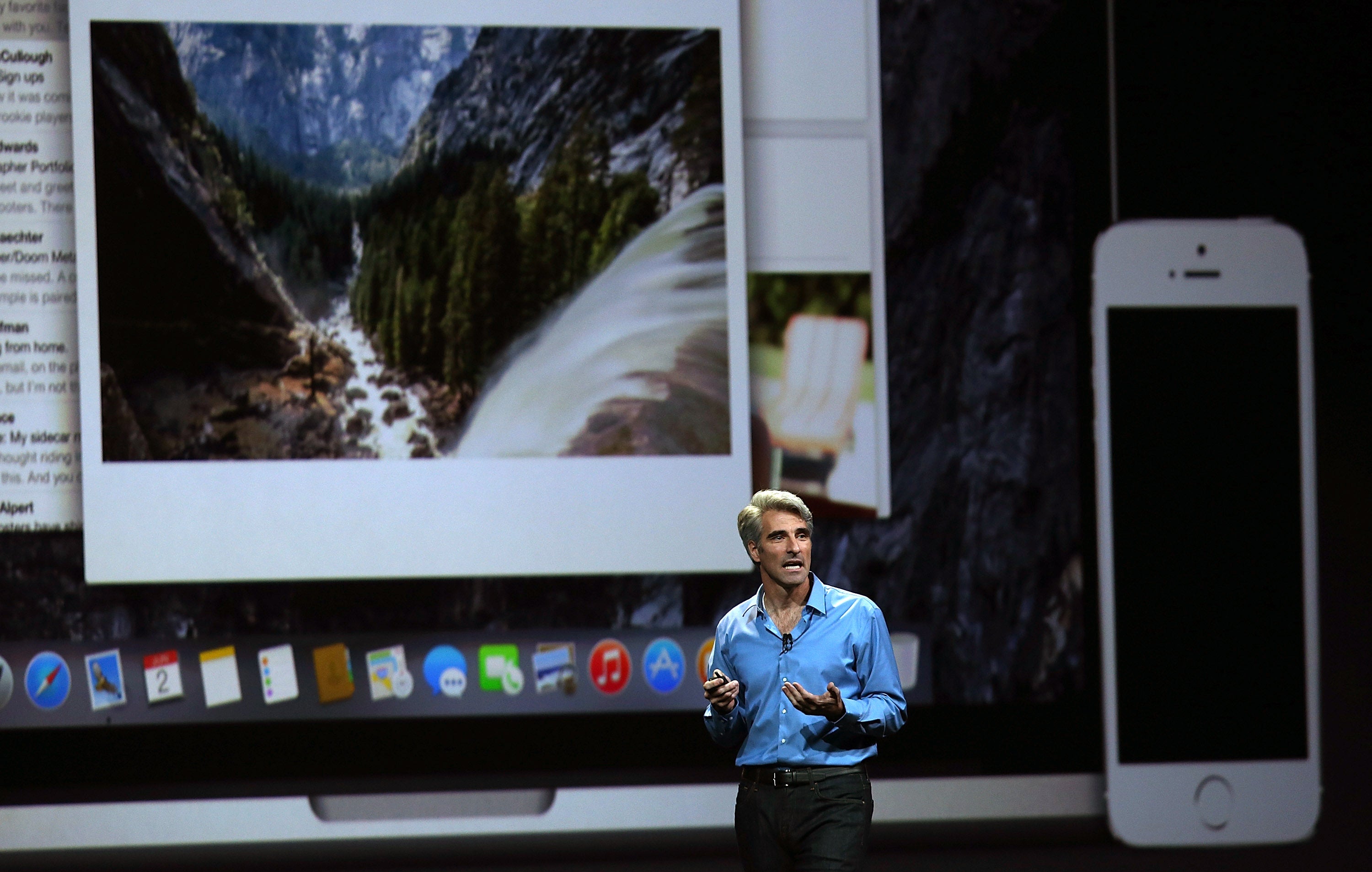 Apple WWDC 2014: iPhone, iPad updates, "smart home" system and more
Apple kicked off its 2014 Worldwide Developers Conference in San Francisco today with a slew of new product announcements and updates, most of which will be available in the fall to the general public.
Internet of Things:
Apple announced a much-anticipated move into the "smart home" technology market. It will allow users to control connected gadgets and appliances from a single digital hub. CNET has a list of various products it will work with, including the Philips Hue lighting system, a weather station, door locks and baby monitors.
Another highlight is Apple Health, a new step in health and wellness personal technology. Apple executive Craig Federighi said it will integrate data from various fitness-related devices including Nike's. Apple said it's working with the Mayo Clinic to give users a comprehensive picture of what their health metrics mean.
The company is playing catchup with its chief rival, Samsung Electronics. The South Korean tech giant has already incorporated fitness-related features in its latest flagship phone, the Galaxy S5.
Some tech entrepreneurs believe there is huge opportunity for Apple when it comes to integrating its software into the home. "This could involve lighting, hardware, heating, music, entertainment, home security and surveillance...it's an industry worth $100s of billions," said Tom Copeman, CEO of artificial intelligence company Nara based in Cambridge, Mass.
Software Update:
The Mac OSX operating system, named Yosemite, and iOS software for iPhones and iPads are getting a new design, with one key aspect being better ways to exchange files.
Apple is also making it easier for various devices to work together. You can share songs, movies and books you purchase with your entire family. The lines between Macs and mobile gadgets are also blurring even more, with the ability to share and sync files more easily between the two.
Big Win for Developers:
Perhaps the loudest applause was reserved near the end of the event when Apple announced the the launch of a brand new way of coding aimed at its audience of software developers.
"We have a new programming language. The language is called Swift and it totally rules," said Federigh.
According to Apple, the language is designed to make programming faster, easier and more secure for its developers. A Swift language guide is now available in iBooks.
Its debut impressed. "As a coder, I can tell ya, Swift looks impressive. Proof in the pudding, grain of salt, etc. etc. But what I just saw looks great, " said CNET's Editor-at-Large Tim Stevens on the site's live blog.
No 'One More Thing':
But the most notable absence from Apple's developer conference was any big reveal worthy of former CEO Steve Jobs. Simply put, there was zero mention of any new devices such as an iPhone 6, iWatch or a set-top box.
"For those keeping track, there was major Mac hardware at WWDC 2013 and WWDC 2012, but nothing here today," said CNET's Senior Editor Dan Ackerman on the site's live blog.
Apple typically announces new iPhones in September and new iPads soon after that. Many analysts are still betting the company will release an Internet-connected watch as part of Apple's expansion into wearable technology.
Despite the lack of a major new product launch, some analysts were optimistic that the software advances announced today by Apple may act as a springboard for future game-changing technologies and innovations.
"Access to your home and body, (these are) pretty powerful things. By creating the foundation for others to develop, I think it has solidified Apple's position as the number one computing platform," said Ted Murphy, CEO of social media sponsorship site IZEA based in Orlando, Fla.
Additional Highlights - Mac Design:
- Yosemite will have a translucent design. The notification center will use that design, for instance, to give you an advance look at your calendar, weather and other information.
- You'll be able to search for content on the computer and on the Internet at once, similar to a feature that came with Microsoft's Windows 8.1 system.
- Apple is expanding its iCloud storage service so that you can store and sync files of any type, not just the ones designed specifically for iCloud. It's similar to how services such as Dropbox, Google Drive and Microsoft's OneDrive let you work with the same files on multiple devices more easily.
- A Mail Drop feature will make it easier to send large files. Instead of pushing the entire file by email and overloading mail servers, the Mac will create a link that the recipient can click for the full file.
- The Mac's Safari Web browser will have more privacy controls and ways to share links more easily.
- The free Mac update will be out this fall. A version is available for developers Monday. This summer, Apple will also make a test version available to selected customers who aren't developers.
iPhones and iPads:
- Like the new Mac OS, the iOS 8 system will have a universal search tool, to cover both files on your device and content on the Internet. It will also get the iCloud Drive service.
- The new software will sport interactive notifications, so you can respond to a message without having to leave another app.
- There will be new gestures, such as double tapping to get a list of people you communicate most often.
- A "quick type" feature promises predictive typing suggestions. For example, if you start typing, "Do you want to go to," the phone will suggest "dinner" or "movie" as the next word. Currently, the suggestions are limited to spelling corrections.
- A "do not disturb" feature will make it easier to stop notifications on a conversation with just a swipe, while a "tap to talk" feature records and sends audio messages to a recipient so you don't have to type.
- IOS 8 will have a built-in health-management tool to help people track their vital signs, diet and sleeping habits. Apple's chief rival, Samsung Electronics Co., incorporated fitness-related features in its latest flagship phone, the Galaxy S5.
- The new iOS may also include a long-awaited digital wallet that enables Apple to process payments on iPhones and iPads. Google Inc. has already tried something similar on its Android software for smartphones, but it hasn't gained much traction in digital payments.
- There's been speculation that Apple will unveil a home automation system that will enable iPhones and iPad to become a remote control for managing lighting, security and other household appliances with wireless connections.
- The new software will likely come with new devices for the holiday season, with free updates available for recent models.
Working Together:
- Although the Mac and iOS systems are separate, Apple CEO Time Cook says the two have been engineered to work seamlessly together.
- Apple's AirDrop feature, which has let you share files with other devices of the same type, will now let iPhones and Macs share directly with each other.
- A new "handoff" feature will let you switch devices more easily, so you can start writing an email on a phone and finish on a Mac. And when a call comes in on your iPhone, you can get caller ID information on your Mac.
- The iMessage chat service will now let you communicate with devices that aren't running iOS, such as those running the rival Android system from Google.
Coming to Cars:
- There was a Ferrari spotted in the building, an indication that Apple will update people on CarPlay, its project for embedding automobiles with some of the iPhone's main applications. Apple is developing a CarPlay to let drivers can control cars with voice commands, a touch on the steering wheel or a swipe on a display screen in the dashboard. Cars with built-in CarPlay services and radios that are compatible with CarPlay are both expected this year.
Thanks for reading CBS NEWS.
Create your free account or log in
for more features.