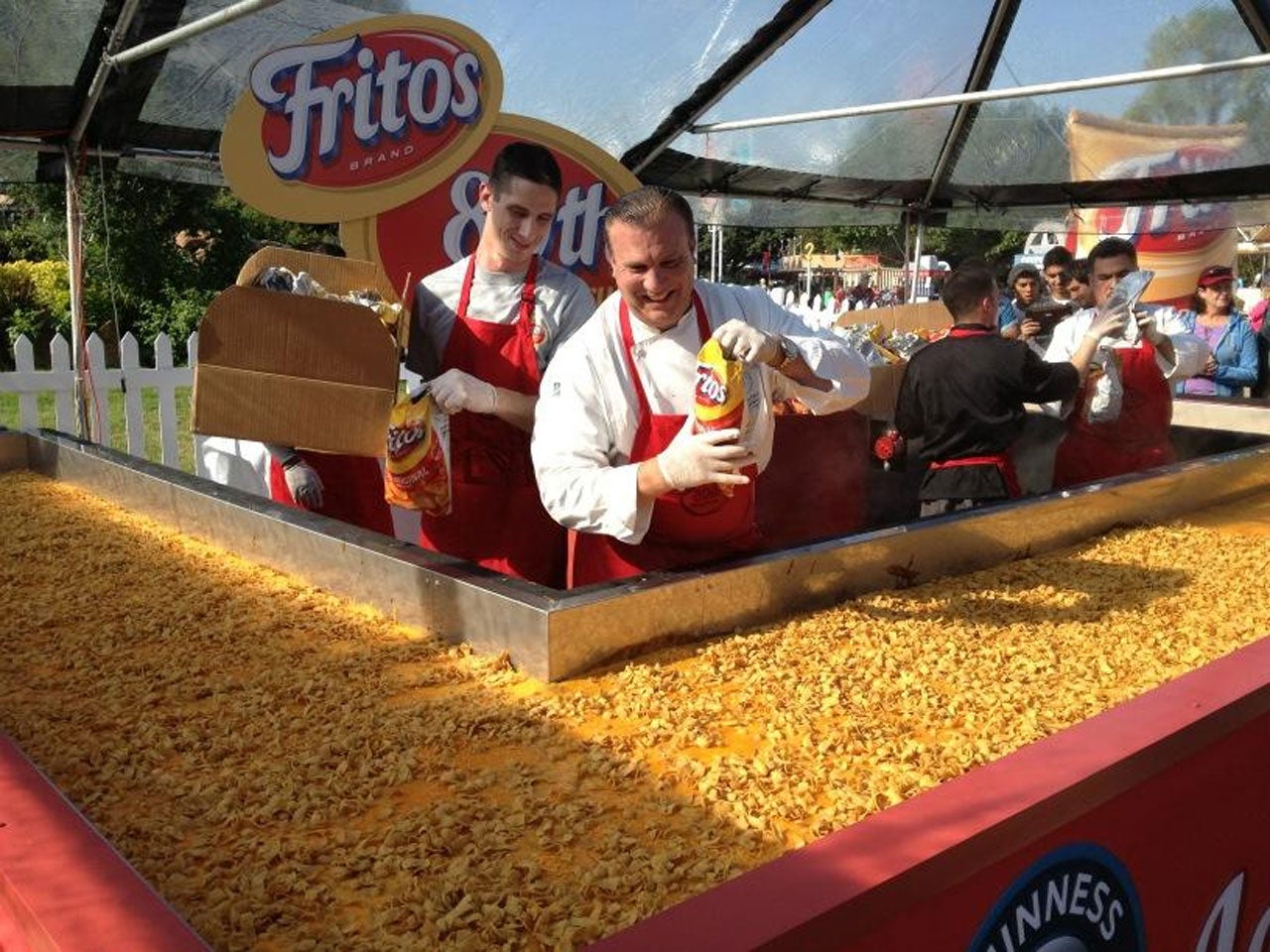 World's largest Frito pie made at Texas state fair
DALLAS It's official: The world's largest Frito pie -- a whopping more than 1,300 pounds of Fritos, chili and cheese -- was created at the State Fair of Texas on Monday.
"We've done it! We've officially set the Guinness World Record for the World's Largest Fritos Chili Pie," Frito Lay tweeted out shortly after an official confirmed their feat.
Fritos decided to attempt the world record as part of their 80th anniversary celebration, and partnered with Hormel Chili to complete the task.
"For 80 years, Fritos corn chips have been an important piece of Americana," Tony Matta, vice president of marketing for Frito-Lay, said in a press release. "Our Guinness World Records title attempt will not only add a new milestone to our proud history, it will also serve as a hearty celebration for this timeless snack."
In order to prove the old adage "everything's bigger in Texas" true, they decided to build the massive snack at the the biggest fair in the U.S., the State Fair of Texas. The 126th year of the annual fair officially opened on Monday and will run through Oct. 21.
There has never been an attempt to make the world's biggest Frito pie, so Guinness World Records officials used previous records of the world's largest multiple component snack foods, like nachos, to set a minimum weight for the pie, Guinness World Record adjudicator Michael Empric told CBS station KTVT-TV in Dallas. They determined that the Frito pie had to be at least 1,100 pounds to make it in the book.
So, in order to complete the task, KTVT explained that Frito Lay built a massive u-shaped "trough," a warming tray that could toast and hold at least 1,200 pounds of the snack. They began building at 10 a.m. CT and had a final weigh in three hours later.
The official State Fair of Texas Facebook page reported that the pie was 1,325 pounds.
Observers were allowed to take a piece of the pie. It was gone in less time than it took to build it.
Thanks for reading CBS NEWS.
Create your free account or log in
for more features.