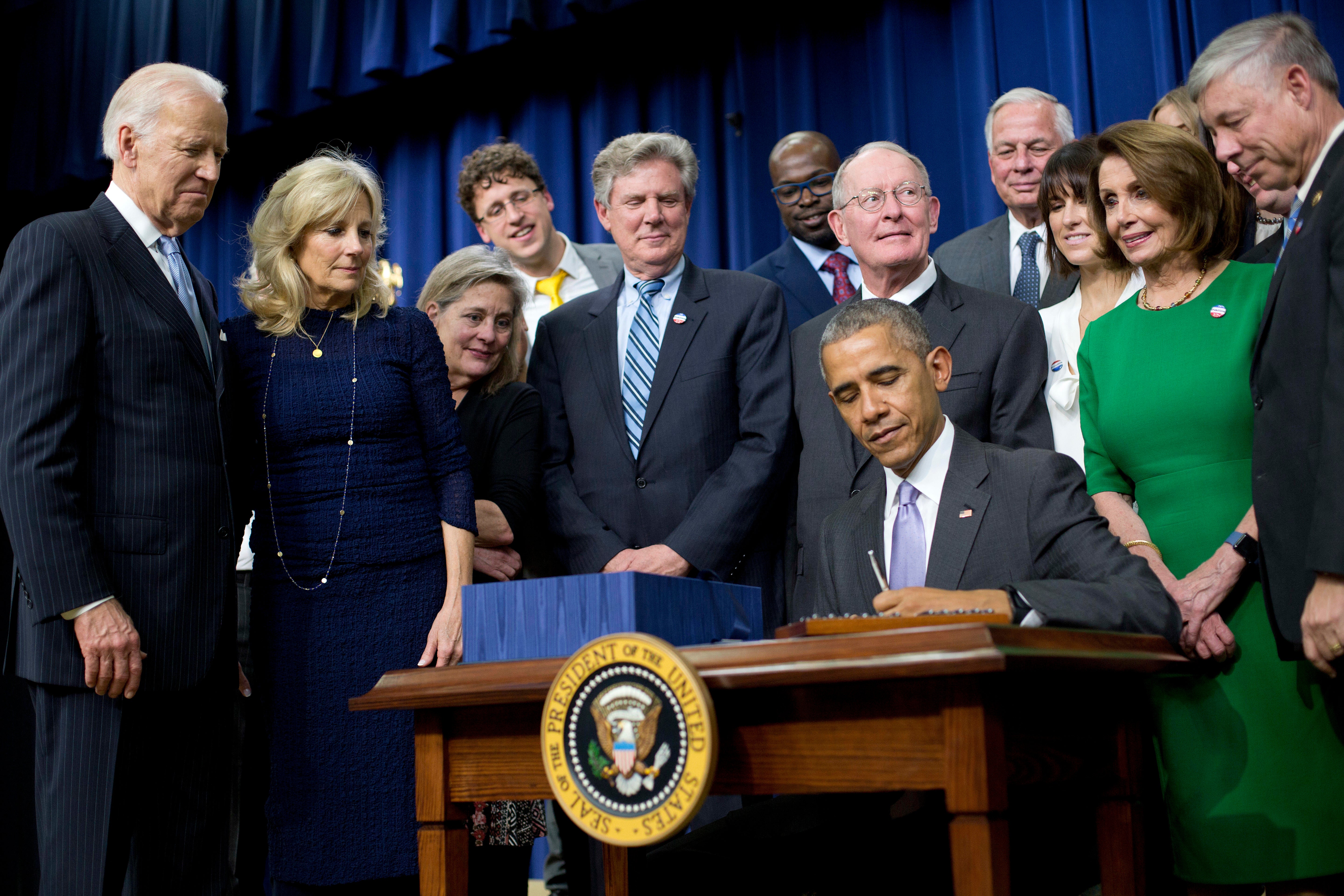 President Obama signs the 21st Century Cures Act
President Obama urged those in attendance to "get close" as he signed bipartisan legislation that includes provisions to expand medical research, invest in mental health resources, and combat the prescription and opioid drug epidemic. After spending more than two years in political limbo, the 21st Century Cures Act is likely one of the few remaining bills to be signed into law by the 45th commander-in-chief before his successor, President-elect Donald Trump, takes office.
"We are bringing to reality the possibility of new breakthroughs to some of the greatest health challenges of our time," Mr. Obama said in his remarks Tuesday afternoon.
The 21st Century Cures Act--worth an estimated $6.3 billion--will allocate nearly five billion dollars to fund projects under the National Institutes of Health (NIH), including Vice President Biden's "cancer moonshot" research and the president's Precision Medicine Initiative. About $500 million will be diverted to the Food and Drug Administration so it can develop tools to improve the efficiency of the drug approval process, which can take ten or more years.
Prior to signing the bill, Mr. Obama also recalled his 2016 State of the Union speech, when he had expressed his desire for bipartisan action on the opioid epidemic and put Vice President Joe Biden in "mission control" for the "cancer moonshot" initiative. Biden received a standing ovation from the sizable audience for his role in moving the Cures Act forward
"In this effort, Joe Biden has rallied not just Congress, but he has rallied a tremendous collection of researchers and doctors, philanthropists, patients," he said."He's showing us, that with the right investment and the ingenuity of the American people, to quote him, there isn't anything we can't do. So I'd like everyone to just please join me in thanking what I consider to be the finest vice president in history, Joe Biden."
Just last week, the Senate also bid farewell to Biden, announcing its plans to pay tribute to Biden's late son, who passed away from cancer in 2015, by naming a section of the Cures Act for him.
Biden, in his remarks, referred to it "one of the most important moments in my career."
Those in attendance included a variety of congressional members, governors, and doctors. But it was a couple from West Virginia who perhaps best communicated how much the measure is needed by people struggling to fight the opioid addiction of family members. Kate and David Grub lost their daughter, Jessica, to prescription drugs. Prior to her overdose, Mr. Grub explained, Jessie committed herself to sobriety, but it was a medical oversight following a surgery that caused her to relapse.
"Despite telling all the medical professionals and the medical personnel that she was a recovering addict, and despite that fact being reflected in her medical records eight times, when Jessie was discharged, she was given 50 Oxycodone pills. That night Jessie died."
Rep. Fred Upton, R-Michigan brought the measure to the House in May 2015. Since, it has been reworked and reconfigured to include funding on Alzheimer's research and mental health. Though it passed through the congressional chambers with an overwhelming majority, the Cures Act didn't please everybody. High-profile politicians like Sen. Elizabeth Warren, D-Mass, and Sen. Bernie Sanders, D-Vermont, blasted the bill for giving "handouts" to the pharmaceutical industry.
The 21st Century Cures Act is also one of the most lobbied pieces of legislation in recent history. According to the Center for Responsive Politics, more than 1,455 lobbyists representing 400 companies made their case for or against, the Cures Act. That adds up to three lobbyists for every lawmaker on Capitol Hill.
Thanks for reading CBS NEWS.
Create your free account or log in
for more features.