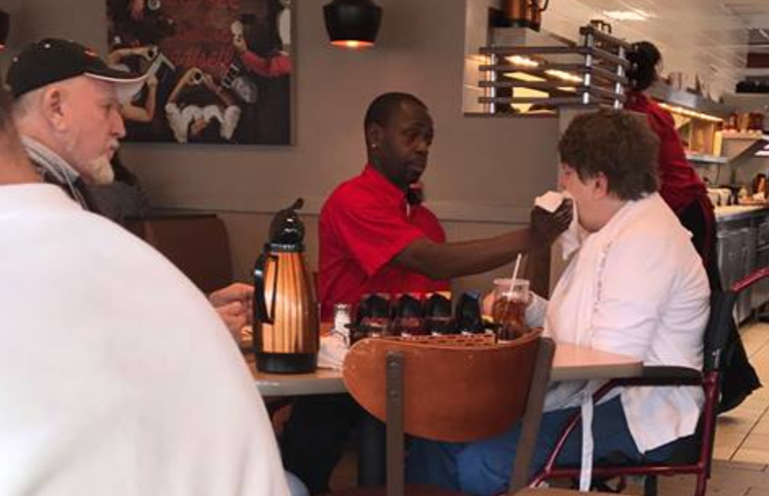 Woman with Huntington's disease has trouble eating, so waiter steps in to help
For the past 11 years, Joe Thomas has walked into work at IHOP in Springfield, Illinois, with a spring in his step and a smile on his face.
He knows all of his "regulars" by name, and since the 43-year-old waiter doesn't have any children of his own, he treats any little ones that come into the restaurant like relatives. It's something customers have come to expect.
"I love the people," Thomas told CBS News. "I just love my life, and I love the way I am."
Now the internet is falling in love with Thomas, too.
A photo of the waiter went viral over the weekend after he was spotted feeding a woman with Huntington disease, a genetic disorder that causes the progressive breakdown of nerve cells in the brain. Her husband sat across the table, eating his usual — two eggs over easy, a side of sausage and a buttered pancake with a single egg on top.
Thomas has come to know the couple, who visit the local IHOP at least once a week, very well. The woman's husband would alway feed her first, allowing his own food to go cold.
Then one day, after delivering their order, Thomas sat down next to the woman, waved her husband away and started cutting up her eggs and feeding her.
"I didn't really offer. I just started doing it," Thomas said. "I told the gentleman to 'Sit down, eat your food. I got her.'"
The man graciously accepted Thomas' kind offer, and from that day on, that became their new routine.
"I really treat people like I want to be treated," Thomas said. "If I get to be that age and something happened to me I would want someone to help me out."
Customer Keshia Dotson was sitting a few tables away when she watched Thomas take a cloth napkin and lightly dab the woman's mouth after feeding her. She was touched by the waiter's sweet gesture.
"She was coughing and then would gag really loud almost like she was choking," Dotson described to CBS News. "The first time she did it almost the entire restaurant went silent and he cracked a joke and reduced the tension. It wasn't long after that that we noticed him sitting down with her and helping feed her and once she was done get her all cleaned up."
Dotson was so impressed by Thomas that she posted a picture of him on Facebook, alerting IHOP to the "touching moment." The photo was "liked" and shared by thousands of people.
Hundreds of people commented on the post, including several who knew Thomas personally.
"This is no big deal for him. He does this every time," IHOP employee Amanda Williams commented. "He's an awesome coworker."
"This man is s great server. He's waited on my family a few times when we've been to IHOP," customer Melissa Roberts wrote. "This warms my heart to see this. What a kind soul."
Stephanie Peterson, IHOP's executive director of communications, told CBS News she's heard through the franchisee and her team that this is "kind of in his nature."
"He's always willing to help regular guests that come in," Peterson said. "This just happened to be captured."
Before he started working at IHOP, Thomas said he worked in a rehabilitation center for about a year. His mother died from diabetes and then his dad got prostate cancer, so he was used to caring for others.
"I have a soft heart," Thomas said. "Everything I do is honestly just natural, besides the way my parents raised me. I don't think about it. I just do it."
Thomas hopes after hearing his story others will follow in his footsteps, not because he's telling them to, but because they want to.
"Remember that movie, 'Pay It Foward'? That's what I'm hoping for," he said.
Thanks for reading CBS NEWS.
Create your free account or log in
for more features.