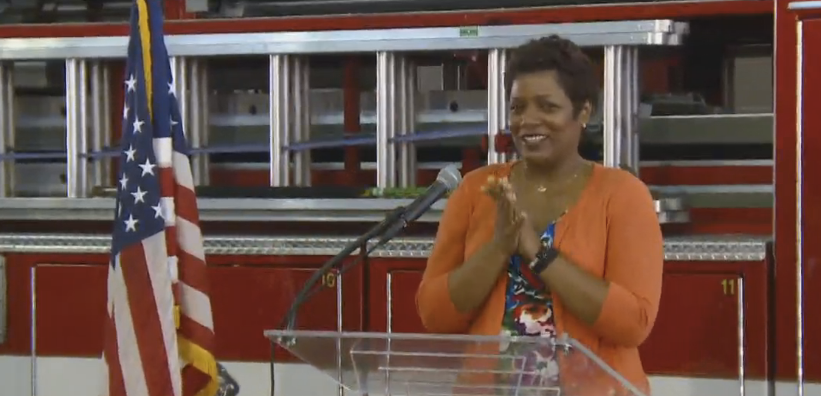 Woman learns CPR, saves coworker the very next day
One day of CPR training is all it takes to save a life. A woman who'd just learned CPR the day before put her new skills to good use when her coworker went into cardiac arrest earlier this month.
It happened at an office building in the Dupont Circle neighborhood of Washington, D.C., when Kenneth Miles went into cardiac arrest during a business meeting at FHI 360, a nonprofit organization.
Miles' colleague, Danette Purvis, had just attended a CPR training course – part of the city's Hands on Hearts CPR program – the day before, CBS Washington affiliate WUSA9 reports.
At the meeting, when Purvis recognized that Miles was in trouble, she took action, putting her new lifesaving skills to work.
"All of a sudden everything just stopped, his breathing, his movement. I pulled his arm, pulled him on the floor. I just straightened his body out just a little bit, real quick, and I started chest compressions immediately," Purvis said.
She was not alone in rushing to help. Another colleague ran for a nearby automatic external defibrillator device, installed in the office building for just such events.
"I ran. I grabbed it, broke it out, turned it on. We got the pads out. The pads were placed on him and then the machine took over," the coworker told WUSA9.
He added, "The key was Danette immediately getting CPR going. That saved his life."
It was Purvis' first time learning CPR and she said, "I'm very, very thankful."
Ultimately, more than 20 other people, including emergency crews and a security guard, played a role in saving Miles, who is recovering at George Washington Hospital.
Mayor Muriel Bowser joined DC's Fire and EMS Chief, Gregory Dean, at a ceremony this week to thank the group for their quick actions.
FHI 306, the nonprofit where the emergency occurred, describes its mission on its website as being "dedicated to improving lives in lasting ways." That took on a whole new meaning this time around.
Thanks for reading CBS NEWS.
Create your free account or log in
for more features.