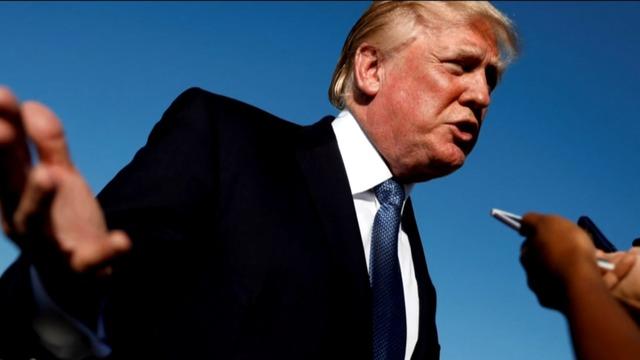 Wolff book: Trump spokesman quit over response to Trump Tower meeting
WASHINGTON -- As he left a summit meeting in Germany in July, President Trump was focused on a political crisis at home: news was about to break about a meeting that had taken place during the 2016 presidential campaign between his son, Donald Trump Jr., then-campaign chairman Paul Manafort, his son-in-law Jared Kushner and representatives of the Russian government.
A new book by author Michael Wolff to be published Friday recounts how White House communications director Hope Hicks, Kushner and Mr. Trump's daughter, Ivanka Trump, huddled on Air Force One to figure out how to respond. They settled on saying the meeting was primarily about Russian adoptions by Americans. In fact, Trump Jr. later acknowledged that the 2016 meeting was convened because he had been told that the Russians had damaging information about Democratic presidential candidate Hillary Clinton.
A spokesman for Mr. Trump's legal team was so troubled by the explanation that emerged from Air Force One that he quit. Wolff writes that Mark Corallo privately confided that he believed that it "represented a likely obstruction of justice." Trump confidants, according to Wolff, say Corallo was fired.
But Scott Fredericksen, a former federal prosecutor and independent counsel who is the senior white collar criminal defense partner in the Washington office of Foley & Lardner, isn't so sure that the initial false story constitutes obstruction.
"I think you can't tell right now," he said in an interview Thursday, explaining that the explanation could have been "a misleading press statement for political purposes only." And that, he pointed out, is not illegal. An obstruction of justice violation requires proof of "corrupt intent," Fredricksen said.
The specter of obstruction of justice had already emerged in May, when Mr. Trump fired FBI Director James Comey -- and then told NBC News that he had done so because of the Russia investigation.
"When I decided to just do it, I said to myself, I said, 'you know, this Russia thing with Trump and Russia is a made-up story, it's an excuse by the Democrats for having lost an election that they should have won,'" Mr. Trump said in May.
Fredericksen expects Special Counsel Robert Mueller, who is leading the investigation into Russian meddling in the 2016 campaign, to be careful about bringing a case against the president.
"The saying is you don't take on the king unless...you know you're right, and you can win," he said. "So when I say Special Counsel Mueller will approach this carefully, he will."
Thanks for reading CBS NEWS.
Create your free account or log in
for more features.