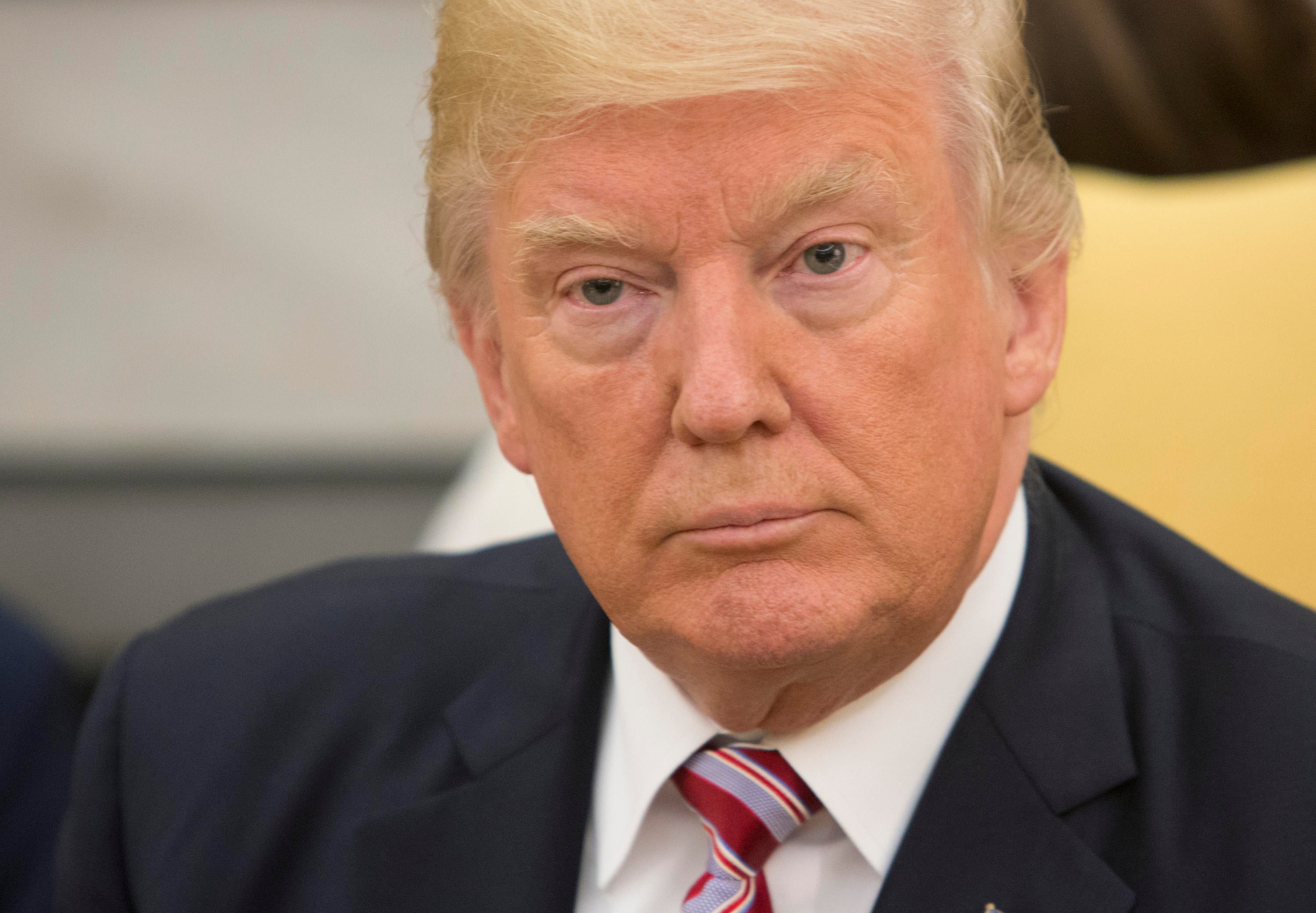 Book details explosive claims about White House dysfunction, Trump's "ignorance"
Michael Wolff's book on the Trump White House, which is out next week, contains some remarkable assertions, some of which have been published in an excerpt appearing in New York Magazine Thursday -- about the opinion Donald Trump held of his own presidential campaign, the sense in his own social circles of "his wide-ranging ignorance," the broad dysfunction and infighting in the White House, as well as some of the unusual habits he's developed, and a couple of interesting anecdotes concerning his daughter, Ivanka Trump, who is a close adviser to the president.
Asked by reporters Wednesday about President Trump's reaction to the book, White House press secretary Sarah Sanders said, "I think, furious, disgusted, would probably certainly fit when you make such outrageous claims and completely false claims against the president and his family."
Here are some of the highlights so far from Wolff's "Fire and Fury: Inside the Trump White House:"
Post-election plans didn't include winning: Top campaign advisers Kellyanne Conway and Jared Kushner, also Donald Trump's son-in-law, and Donald Trump himself never "wavered in their certainty" that he would lose. "Not only would Trump not be president, almost everyone in the campaign agreed, he should probably not be," Wolff wrote. He reported that Conway was pursuing a permanent on-air job, that Donald Trump was building his brand and floating rumors of a Trump network, and Melania Trump could return to "inconspicuously lunching." "Losing would work out for everybody," Trump believed, according to Wolff.
Just after 8 p.m. on Election Night, when it was beginning to look like Mr. Trump might win, Donald Trump Jr. reportedly said his father "looked as if he had seen a ghost." Melania Trump "was in tears -- and not of joy."
Trump's "ignorance": "He was what he was. Twinkle in his eye, larceny in his soul. Everybody in his rich-guy social circle knew about his wide-ranging ignorance," Wolff wrote. Campaign aide Sam Nunberg reportedly attempted to explain the Constitution to him and got as far as the Fourth Amendment before Mr. Trump became bored. Disgraced Fox News chief Roger Ailes told him he needed a "son of a b****" as chief of staff, rather than his first preference, Kushner. Conway told him, "You can't just hire your children." Ailes suggested former House Speaker John Boehner. "Who's that?" asked Mr. Trump.
After a phone conversation with the president-elect on visas for high-skilled workers, in which Mr. Trump allegedly claimed that Silicon Valley companies could use his help after the unfavorable Obama years, Wolff says media mogul Rupert Murdoch told him, "Donald, for eight years these guys had Obama in their pocket. They practically ran the administration. They don't need your help." Mr. Trump apparently replied that they "really need these H-1B visas." Murdoch, according to Wolff hung up the phone and said, "What a f****** idiot."
Bannon's vision: He had a list of some 200 executive orders for the first 100 days, and the first would be an immigration crackdown. He was able to push through his agenda, Wolff wrote, because none of the top staffers had specific responsibilities.
Trump residence: The president maintains a separate bedroom from his wife, according to Wolff, and he ordered two more TV screens for his bedroom, in addition to the one that was already there. And he had a lock put on the door. No one, wrote Wolff, touches anything. The president even strips his own bed. When he wasn't having a 6:30 p.m. dinner with Bannon in the early days of the administration, he was in bed by then, with a cheeseburger, TVs on, and he was calling his friends.
Ivanka Trump for president: Ivanka Trump and Jared Kushner made a deal that if the opportunity came up, "she'd be the one to run for president. "The first woman president, Ivanka entertained, would not be Hillary Clinton; it would be Ivanka Trump," Wolff wrote. Bannon's response: "'They didn't say that?" he said. "Stop. Oh, come on. They didn't actually say that? Please don't tell me that. Oh my God.'"
Trump's hair: Ivanka Trump "treated her father with a degree of detachment, even irony, going so far as to make fun of his comb-over to others. She often described the mechanics behind it to friends: an absolutely clean pate -- a contained island after scalp-reduction ­surgery -- surrounded by a furry circle of hair around the sides and front, from which all ends are drawn up to meet in the center and then swept back and secured by a stiffening spray. The color, she would point out to comical effect, was from a product called Just for Men -- the longer it was left on, the darker it got. Impatience resulted in Trump's orange-blond hair color."
Bannon's opinion of Ivanka Trump: The Wall Street Journal, which has obtained the book, said that Bannon says she is as "dumb as a brick."
The White House slammed the book and those who cooperated with Wolff.
"This book is filled with false and misleading accounts from individuals who have no access or influence with the White House. Participating in a book that can only be described as trashy tabloid fiction exposes their sad desperate attempts at relevancy," Sanders initially said in a statement.
Sanders told reporters Wednesday that there were about "a dozen" interactions between Wolff and White House officials, which she said took place at Bannon's request. Mr. Trump also spoke to Wolff, in what Sanders characterized as "one brief conversation that had nothing to do originally with the book." They talked for about 5 - 7 minutes, and Sanders said it was "the only interaction he's had with Michael Wolff since he took office."
The first lady's communications director, Stephanie Grisham, said in a statement, "The book is clearly going to be sold in the bargain fiction section. Mrs. Trump supported her husband's decision to run for President and in fact, encouraged him to do so. She was confident he would win and was very happy when he did." Grisham also said that Melania Trump has never met Wolff.
A spokesperson for Kushner and Ivanka Trump declined to comment.
Bannon figures heavily in Wolff's book, and according to the Guardian, which also got an early look at Wolff's book, Bannon says that Donald Trump Jr.'s meeting with a Russian lawyer -- which included former Trump campaign chairman Paul Manafort and Donald Trump's son-in-law, Jared Kushner -- was "treasonous" and "unpatriotic."
Bannon also allegedly told Wolff that the government investigation into whether Trump campaign associates colluded with the Russians would "crack Don Junior like an egg on national TV."
In June 2016, Trump Jr., Manafort and Kushner met with Russian lawyer Natalia Veselnitskaya at Trump Tower in New York. Rob Goldstone, an associate of Trump Jr., had told Trump Jr. that the Russians had damaging information on Democratic presidential candidate Hillary Clinton.
When Trump Jr. claimed that there was in fact nothing worthwhile on Hillary Clinton that came out of the meeting, according to the Guardian, Wolff writes that Bannon ridiculed Trump Jr., Manafort and Kushner.
"The three senior guys in the campaign thought it was a good idea to meet with a foreign government inside Trump Tower in the conference room on the 25th floor – with no lawyers. They didn't have any lawyers," Bannon said. "Even if you thought that this was not treasonous, or unpatriotic, or bad s***, and I happen to think it's all of that, you should have called the FBI immediately."
Bannon went on to talk about what he thinks they should have done instead, which would have been to have the campaign's lawyers meet with the Russians and let the material be "dumped" to Breitbart or "maybe some other more legitimate publication." With that approach, "You never see it, you never know it, because you don't need to … But that's the brain trust that they had," Bannon added.
President Trump issued a blistering statement Wednesday about Bannon:
Steve Bannon has nothing to do with me or my Presidency. When he was fired, he not only lost his job, he lost his mind. Steve was a staffer who worked for me after I had already won the nomination by defeating seventeen candidates, often described as the most talented field ever assembled in the Republican party.

Now that he is on his own, Steve is learning that winning isn't as easy as I make it look. Steve had very little to do with our historic victory, which was delivered by the forgotten men and women of this country. Yet Steve had everything to do with the loss of a Senate seat in Alabama held for more than thirty years by Republicans. Steve doesn't represent my base -- he's only in it for himself.

Steve pretends to be at war with the media, which he calls the opposition party, yet he spent his time at the White House leaking false information to the media to make himself seem far more important than he was. It is the only thing he does well. Steve was rarely in a one-on-one meeting with me and only pretends to have had influence to fool a few people with no access and no clue, whom he helped write phony books.
Special Counsel Robert Mueller, who was appointed in May to take over the Russia investigation after the president fired FBI Director James Comey, has indicted Manafort and his associate Rick Gates on money laundering charges, and former National Security Adviser Michael Flynn has pleaded guilty to lying to the FBI.
Mr. Trump has consistently denied colluding with Russia.
Wolff told the Guardian that he spoke to Mr. Trump and a number of senior officials and advisers for "Fire and Fury," which will be published next week, and he said that one recurring theme in the book is the "rancor" between Bannon and Kushner and Ivanka Trump, the president's daughter. He quotes former Secretary of State Henry Kissinger, who has advised Mr. Trump, as well as Kushner, as saying, "It is a war between the Jews and the non-Jews." Kushner and Ivanka Trump are both Jewish.
Wolff also says in the book, according to the Guardian, that one of Mr. Trump's outside advisers and a close friend, billionaire Thomas Barrack Jr., said of the president, "He's not only crazy, he's stupid."
However, Barrack denied ever having made the comment. "The quote attributed to me by Michael Wolff is completely and utterly false," Barrack said in a statement to CBS News. "I have never been interviewed by Michael Wolff, nor did I give him any quotes, nor did he attempt to verify this totally false comment with me. It is clear to anyone who knows me those are not my words, and they are wholly inconsistent with how I talk and feel about the President who is my longtime friend and for whom I have inordinate respect."
Trump attorney Ty Cobb declined comment.
CBS News' Katiana Krawchenko and Arden Farhi contributed to this story.
Thanks for reading CBS NEWS.
Create your free account or log in
for more features.