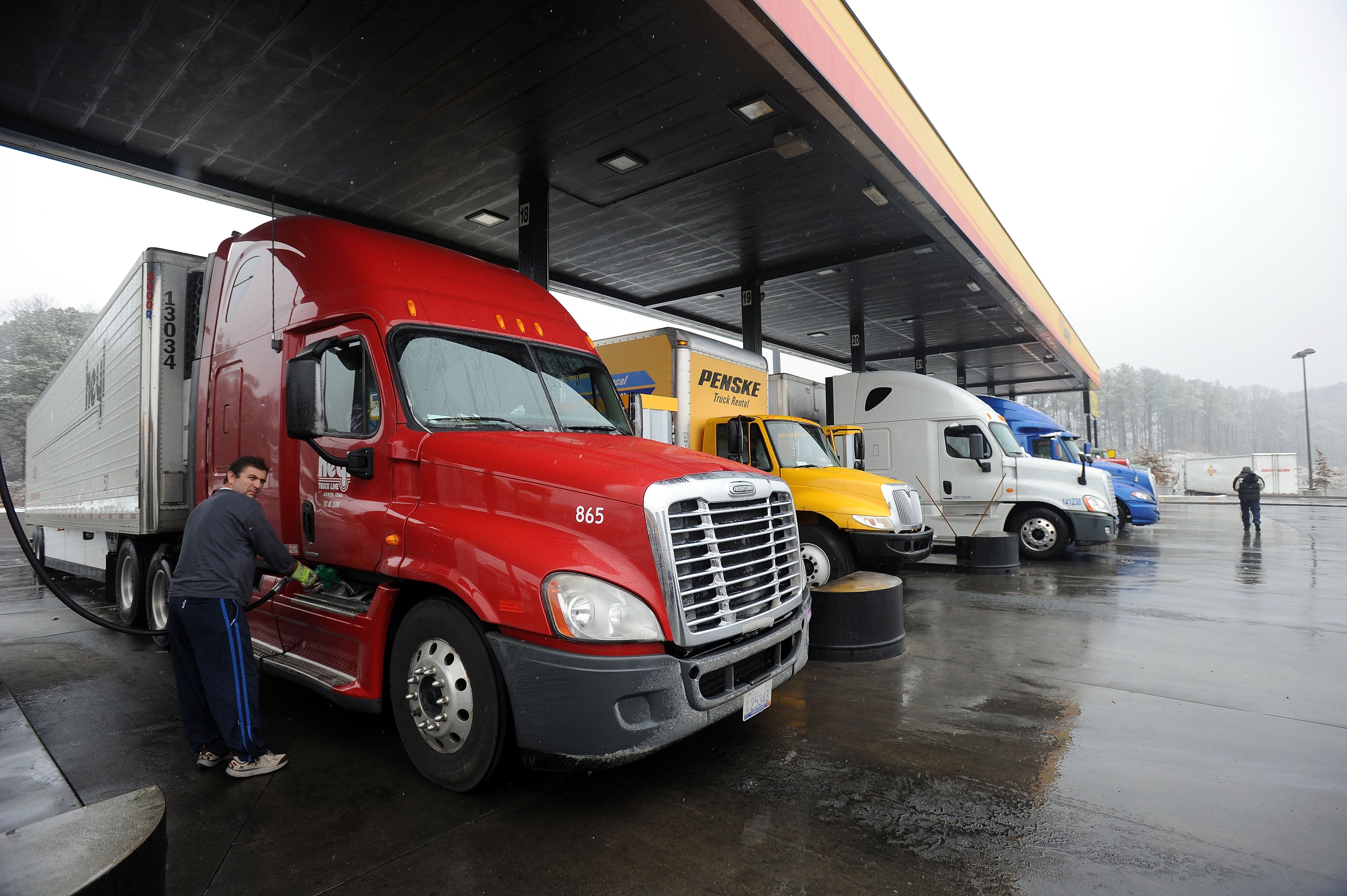 With the stroke of Obama's pen, new fuel standards on the way
With Congress too divided on environmental issues to put forward legislation, President Obama is moving forward with his go-at-it-alone strategy and using his executive authority to set new fuel standards for trucks.

In a speech at a Safeway distribution center in the Maryland suburbs Tuesday, the president directed the Environmental Protection Agency (EPA) and the Department of Transportation to write new standards for medium- and heavy-duty vehicles by March 31, 2016. In 2010, these vehicles made up just four percent of vehicles on the road, but accounted for about 25 percent f fuel use and greenhouse gas emissions. Behind passenger cars and light trucks, they are the second-largest source of greenhouse gas emissions within the transportation sector.

In addition to the environmental benefits, the president argued that fuel efficiency upgrades will save companies money on fuel costs over the lifetime of the vehicle. The first round of standards put forward by his administration, which were finalized in September 2011, are projected to save 530 million barrels of oil – an approximate $50 billion in fuel costs over the lifetime of those vehicles. The standards will also help reduce greenhouse gas emission by 270 million metric tons.

"The goals we're setting are ambitious, but these are areas where ambition has worked out really well for us so far," the president said during his remarks. "Every time someone says you can't grow the economy, while bringing down pollution, it turns out they've been wrong. "Anybody who says we can't compete when it comes to clean energy technologies, like solar and wind - they've had to eat those words."

"You can't bet against American workers or American industry," he said.


Another goal is to double the distance that cars and light trucks can travel on one gallon of gas by 2025, a move that Mr. Obama said will allow people to fill up just once every two weeks and will save the typical American family more than $8,000 at the pump over time.


The president is continuing to work with private companies – something he is already doing on education and unemployment initiatives – to achieve his goals on the environment. The federal government already has a partnership with several companies like ARAMARK, Coca-Cola and Staples through what is called the "National Clean Fleets Partnership," which encourages companies to reduce diesel and gasoline use.

The EPA provides resources and support to those companies to help them meet their goals, and Americans can expect to hear some success stories on Tuesday. Among those highlighted by the administration: AT&T has already deployed it's 7,500th alternative fuel vehicle, half of the fleet of 15,000 it has promised to deploy by 2018. It saved them 7.7 million gallons of gasoline. Enterprise, the car-rental company, has started offering plug-in electric and hybrid cars to their customers and operate more than 80 percent of their 500 airport shuttle buses using biodiesel or compressed natural gas.

A Safeway distribution center was chosen as an early venue because the company was an early leader in redesigning their truck fleets to increase fuel efficiency. As it happens, the grocery store was also the main grocery store for Mr. Obama and his grandparents, who he lived with in Hawaii for a time while growing up.

Some goals are unlikely to get met. The president wants Congress to repeal $4 billion in subsidies for the oil and gas industry, which will not interest most Republicans. He also hopes they'll create an Energy Security Trust, a $2 billion investment in technology that will help get cars and trucks off oil. It would be funded by revenues generated from federal oil and gas development.
Thanks for reading CBS NEWS.
Create your free account or log in
for more features.