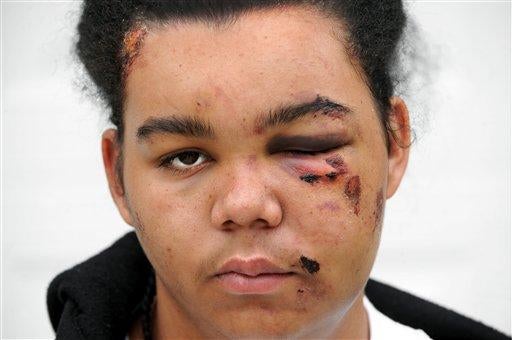 Why The Buddy System Works
Two is better than one when it comes to getting things done. And when the goal is a personal one, who better than a friend to help you out?
When one New Jersey mom decided it was time to lose a few pounds, she knew exactly whom to turn to for support, The Early Show co-anchor Hannah Storm reports for the latest installment of "In The Family Circle."
For the past 30 years, Marnie Lister and Carol Avale have supported each other through most of lifes ups and downs. So when it came time to lose weight, the two teamed up again.
Avale says, "We've been doing things together our whole entire lives. So, this is just one more thing added to our chapter of our history of life. We've been through thick and thin. You know, no pun intended," And laughs.
Looking at old pictures, Lister says, "It just takes away from your quality of life. You just don't feel good. So, I think it's definitely about the pounds. I want the pounds to come off. But I think we both now are in a total different mindset, it's a lifestyle change now."
No strangers to dieting, the life-long friends admit they work well together to keep each other motivated and on track.
Lister says, "Whenever I question what I'm doing, or I'm getting down on myself, I can talk to her. She won't let me get down on myself."
As they both prepare a salad, Avale notes, "We talk, probably, like every day. When we have our conversations on the phone, we'll talk about, maybe, what we ate during the day. Or something new that someone, maybe, told us about trying, which would be like a low-carb type of thing to try."
The buddy system seems to be working. When Storm caught up to the two at home, Marnie Lister was serving pizza for her husband's birthday and the women were having only salad."
With their food intake under control, the dieting duo's next goal is to start exercising regularly.
Avale says, "She has to give me some really good excuse why she won't come with me. And sometimes, if she does not come with me, I don't end up going, which is bad. It's always better if we go together."
Lister says, "A goal buddy is a great idea. It's a necessity. Whenever you're feeling weak, you have somebody to talk to, somebody who understands you. Plus, if you're not feeling motivated that day, they motivate you, and vice versa."
It is the accountability and motivation that make this system work, Susan Ungaro, editor-in-chief of Family Circle magazine, tells Storm.
"We hear about people hiring life coaches, but I think finding a friend, a buddy, is a free and highly effective way to achieve your goals," Ungaro says.
Whether it is running a marathon, doing a breast cancer walk or learning a new language, Ungaro says women can help each other achieve anything by putting their heads together.
She notes, "As we've seen, good friends can be great motivators for each other, but sometimes it might be a colleague at work or let's say you took a course to learn a new language, you might need someone in class, and say, let's succeed at this mission."
Asked if it would be a great idea to pair up with a family member, Ungaro says, "Some would say family members have too much other emotional history attached. But I think it depends on pairing up with somebody like-minded and that you both share a common goal."
The key, she says, is to communicate how you want to be motivated along the way. She explains, "First, you have to decide together: Do you want a personal nag? Do you want a cheerleader or a drill sergeant? And work those things out beforehand."
Here are some of her suggestions:
Establish The Parameters: Ungaro explains, "Are you going to take a walk every morning? Or call up and say, 'What did you eat today?' It's about deciding what are the steps that you're going to take to accomplish the goal. And then, are you going to talk to each other daily or weekly or monthly? Depending on who you're working with."
Create A Checklist: "Like Marnie and Carol," Ungaro says, "How many pounds do you hope to drop by summer? And what are you going to do to accomplish that? We hear they're going to walk. Maybe they decide to walk two miles, ten miles a week - and quantify what you need to do to get that goal or dream accomplished."
Check In On Your Progress Frequently - Ungaro explains, "Holding one another accountable is key to successfully attaining your goal. So ask how your partner is doing and don't be afraid to be a pest or nag. Remember: it's your job."
Celebrate Each Other's Successes - "Whenever one of you meets a goal, the other should send a card or a small token to recognize the achievement. You'll both look forward to these little rewards, which will help you stay motivated," Ungaro says.
To read more about "The Power of Two," click here.
Thanks for reading CBS NEWS.
Create your free account or log in
for more features.