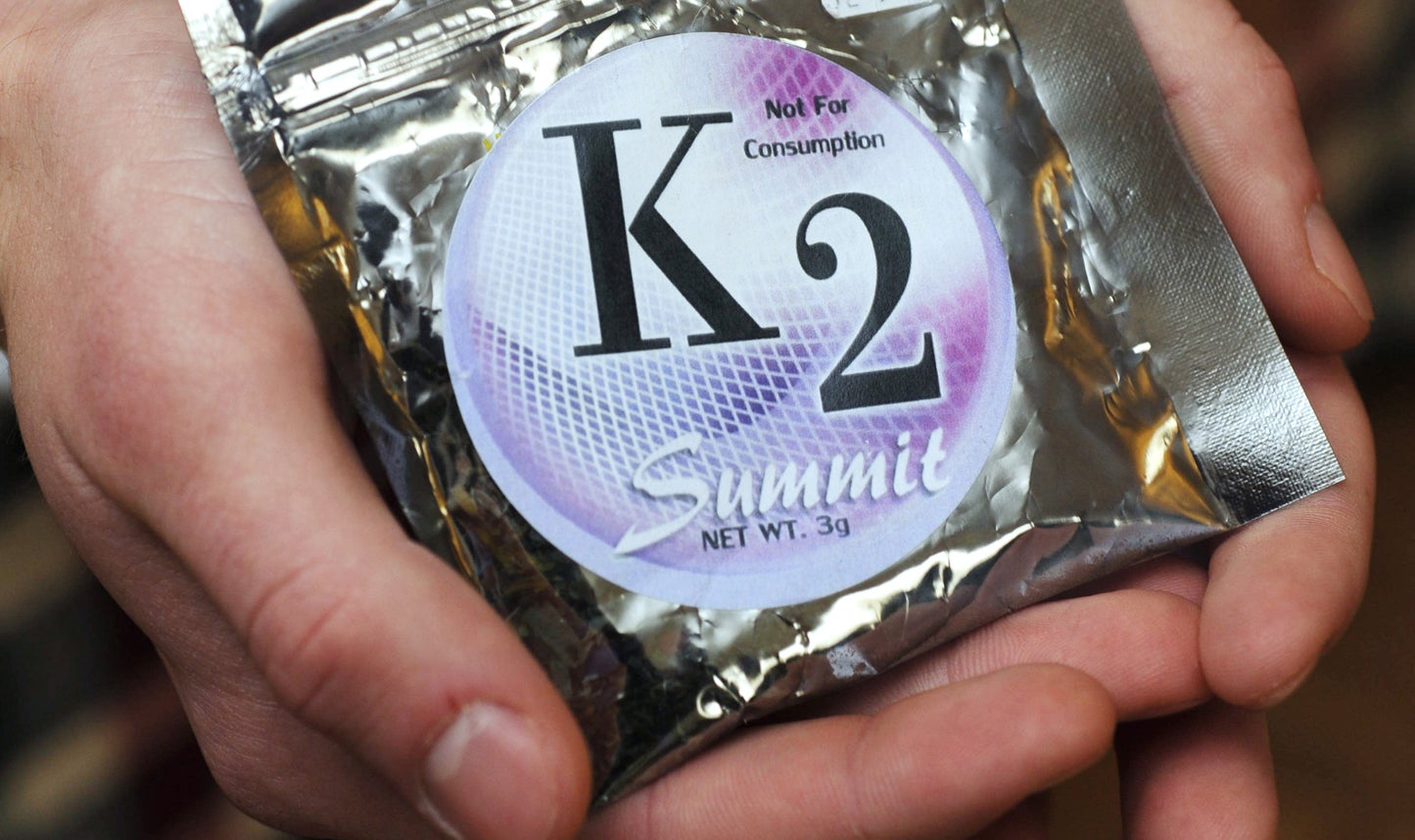 Why NYC is banning synthetic marijuana "K2"
New York City Mayor Bill de Blasio signed a new law today banning the manufacture and sale of popular synthetic cannabinoid products, including "K2," a substance linked to dangerous side effects and in rare cases even death.
"Anyone who sells this product is endangering people's lives and they're acting in a criminal manner and we're going to get them," de Blasio said in a press conference before signing the bill.
The law also bans the sale of the synthetic stimulants known as bath salts, and imitations of these types of drugs. In addition to imposing criminal and civil penalties, it authorizes the city to close down businesses that violate the law twice in a three-year period.
Advertised as an "alternative" to marijuana, synthetic marijuana is a class of designer drugs made up of psychoactive chemicals that are sprayed onto plant material and then smoked or eaten to produce a high. They mimic the effects of THC, the primary psychoactive compound naturally found in marijuana.
But consumers don't know which chemical compounds are in the drugs, so toxicity and adverse effects are unpredictable and vary widely. The products are often labeled as incense, herbal mixtures, or potpourri and sold openly under a variety of names like "Spice," "Mr. Nice Guy," and "Green Giant."
Commonly reported side effects include agitation, rapid heart beat, lethargy, nausea, vomiting, confusion, headaches and seizures.
"This is a very risky substance that carries significant health consequences," Dr. Hillary Kunins, Assistant Commissioner at the New York City Department of Health and leader of the Bureau of Alcohol and Drug Use Prevention, Care and Treatment, told CBS News. "We really want to educate the public that this is not a drug to be used lightly and that the effects are unpredictable and serious."
Since the beginning of the year, there have been more than 4,500 synthetic cannabinoid-related emergency department visits in New York City, according to a report released by the city's health department last month. The city saw a dramatic increase over the summer, with more than 2,300 ER visits occurring during the months of July and August.
At the press conference today, Dr. Mary Bassett, commissioner of the NYC Department of Health, said so far one death has been attributed to K2 in New York City, and an increasing number of patients have landed in intensive care units. "There should be no question that this is dangerous stuff," she said.
The situation in New York represents a microcosm for the rest of the country. This summer, the Centers for Disease Control and Prevention announced that synthetic marijuana killed 15 people in the first half of 2015 -- triple the number in the same period in 2014.
Poison control centers across the country also reported a 229 percent increase in phone calls related to use of the synthetic marijuana in the first half of the year.
"A lot of these products are marketed as natural and safe and that could be the appeal," Royal Law, an epidemiologist with CDC's National Center for Environmental Health, told CBS News in June. "A lot of these products avoid illegality by changing chemical compounds and packaging the drug as 'not for human consumption.'"
According to the CDC report, most of the calls to poison control centers involved young men with an average age of 26. Among 2,961 callers, more than 11 percent showed life-threatening signs or symptoms and another 1,407 callers suffered moderate effects that were not life-threatening but required treatment.
In New York City, the Department of Health and Mental Hygiene reports that the homeless and people with psychiatric illnesses disproportionately bear the brunt of harmful symptoms from synthetic marijuana use. "It's cheap and too available and too many people who had other problems started reaching out to K2 and only made their lives much worse," de Blasio said.
Also today, New York Governor Andrew Cuomo launched two new public service announcements warning residents about the dangers of synthetic drugs and prescription opioid abuse.
The U.S. Drug Enforcement Administration (DEA) announced last week that federal drug agents arrested more than 100 people and seized $15 million in cash and assets across the country in a crackdown on the manufacture and sale of synthetic drugs.
According to the DEA, reports of synthetic marijuana products identified by local, state and federal drug labs have skyrocketed in recent years. In 2009, labs reported 23 cases, compared to the 37,500 cases reported last year.
Law told CBS News that the public needs to be made aware of the dangers associated with synthetic drugs and urged not to use them.
"We need to let the public know that if anyone has these products, they need to throw them away," he said. "People using these products have no idea what is in them."
Kunins said she hopes the new laws in New York City serve as a model for other areas interested in legislative approaches.
Thanks for reading CBS NEWS.
Create your free account or log in
for more features.