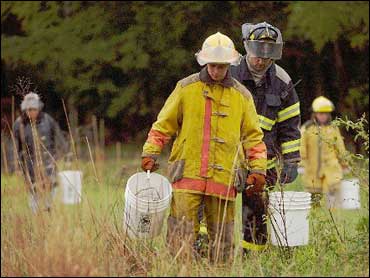 White House Was Flight 93 Target
A high-ranking al Qaeda detainee told investigators the intended target of United Airlines Flight 93, which crashed into a Pennsylvania field on Sept. 11, was the White House.
Government sources said Abu Zubaydah, now in U.S. custody, is believed to be the source of the information. He is being interrogated by U.S. officials at an undisclosed location. Investigators have linked Zubaydah directly to hijackers on board Flight 93.
United Flight 93 took off from Newark, N.J., and crashed in Somerset County, Pa.. A recorder on the plane and calls made to people on the ground indicate passengers fought for control with the hijackers before it went down.
The San Francisco-bound jet had turned toward Washington and U.S. fighter jets were flying to intercept it when it crashed. All 44 people aboard were killed.
Officials previously had assumed the White House was a likely target, but said the Capitol and CIA headquarters in McLean, Va., near Washington were other possibilities.
Abu Zubaydah is believed to have played a key role in organizing the Sept. 11 attacks, officials said.
As al Qaeda's top operational planner, he ran the Khalden camp in Afghanistan, where U.S. investigators have learned many of the Sept. 11 hijackers trained. This suggests Abu Zubaydah may have had direct contact with the hijackers and chosen them for training.
He also had telephone contacts with at least one Arab student at U.S. flight schools, according to a July 10, 2001, memo from a Phoenix FBI agent.
The CIA, FBI and Pakistani authorities captured and wounded Abu Zubaydah in a raid by in Faisalabad, Pakistan, in March. He is believed to have masterminded the failed millennium bombing plots in Los Angeles and Jordan, and has been linked to failed plots on the U.S. embassies in Paris and Sarajevo.
Abu Zubaydah was also indirectly linked, through a web of associations with other al Qaeda members in Europe, to lead Sept. 11 hijacker Mohammed Atta and his cell in Hamburg, Germany. Three members of the Hamburg cell were suicide hijackers; three others are still at large. Ziad Jarrah, believed to be the pilot-hijacker of Flight 93, was a member of the Hamburg cell.

Thanks for reading CBS NEWS.
Create your free account or log in
for more features.