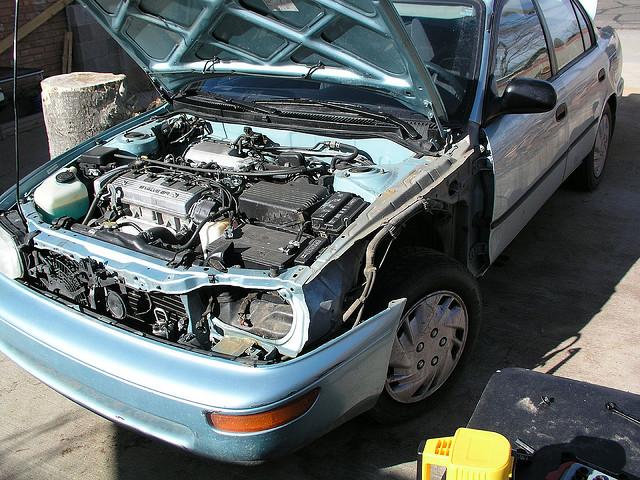 Which auto repair jobs should you do yourself?
(MoneyWatch) With drivers keeping their cars longer, more people are considering do-it-yourself auto repairs and maintenance to save money. A survey by the web site AutoMD, which gives auto repair advice, showed that 77% of respondents who normally never do repairs themselves are considering it now to save money.
Cars on U.S. roads now average 10.8 years. And keeping your old car running does indeed require staying current with necessary maintenance and repairs. But some jobs make sense for do-it-yourself projects, while other complex repairs risk damaging your car unless you have had some training as a mechanic and have a full array of tools.
AutoMD helpfully has come up with a list of the easiest DIY jobs and those best left to the pros. Let's have a closer look at their top five easiest tasks which nonetheless would run up a bill at a repair shop because of labor costs for the technician's time.
Made in USA: 5 great American cars
Used cars: 5 to avoid (and 5 better alternatives)
On its web site, AutoMD has illustrated step-by-step guides for these jobs:
-- Replace the wiper blades. AutoMD notes that instructions typically come on the package of blades you buy at the auto parts store. The blades usually just snap in by hand and require no tools.
-- Replace a fuse. Once you find the location of the fuse box in the owner's manual for your car, the fuse box cover is labeled to identify the circuits, similar to a home fuse box or circuit breaker. You may need to buy a test light to check fuses and a fuse puller tool along with the replacement fuse.
-- Put in a new headlight bulb. Once you open the hood and gain access to the headlight assembly, you should be able to remove the wiring harness from the failed bulb and plug it into a new one. You may have to remove the headlight lens with a screwdriver.
-- Replace an air filter. The air filter box is on top of the engine and the exact location will be clearly identified in the owner's manual. Once you have removed the cover, take out the old filter and clean out the filter box. Then be sure to install the new one facing in the same direction as the old.
-- Change the engine oil and filter. This one takes a little more equipment. You probably need drive-on ramps to lift the front of the car for clearance. You also need an oil filter wrench and a combination wrench with a socket on one end plus a drain pan and funnel. Be sure you refill with the grade of oil specified in the owners' manual.
Not surprisingly, AutoMD's list of jobs best left to the pros are ones that require considerable expertise and expensive specialty equipment: Replacing an engine, transmission or clutch as well as working on air conditioning parts and doing wheel alignment.
Professional repair costs down
If you need, or prefer, to take that car to a mechanic's shop, there is some good news from another auto repair web site, CarMD. For 2011, overall auto repair costs were down.
CarMD, which sells a device to diagnose your car's problems and then advises you on what the repair should cost, does an annual survey of car repair shops and dealer service departments. It found that overall costs fell by six percent despite higher parts costs. The survey found that repair facilities reduced their labor rates by 17% -- presumably in an attempt to keep price low enough to attract business.
Photo courtesy of Flickr user killbox
Thanks for reading CBS NEWS.
Create your free account or log in
for more features.