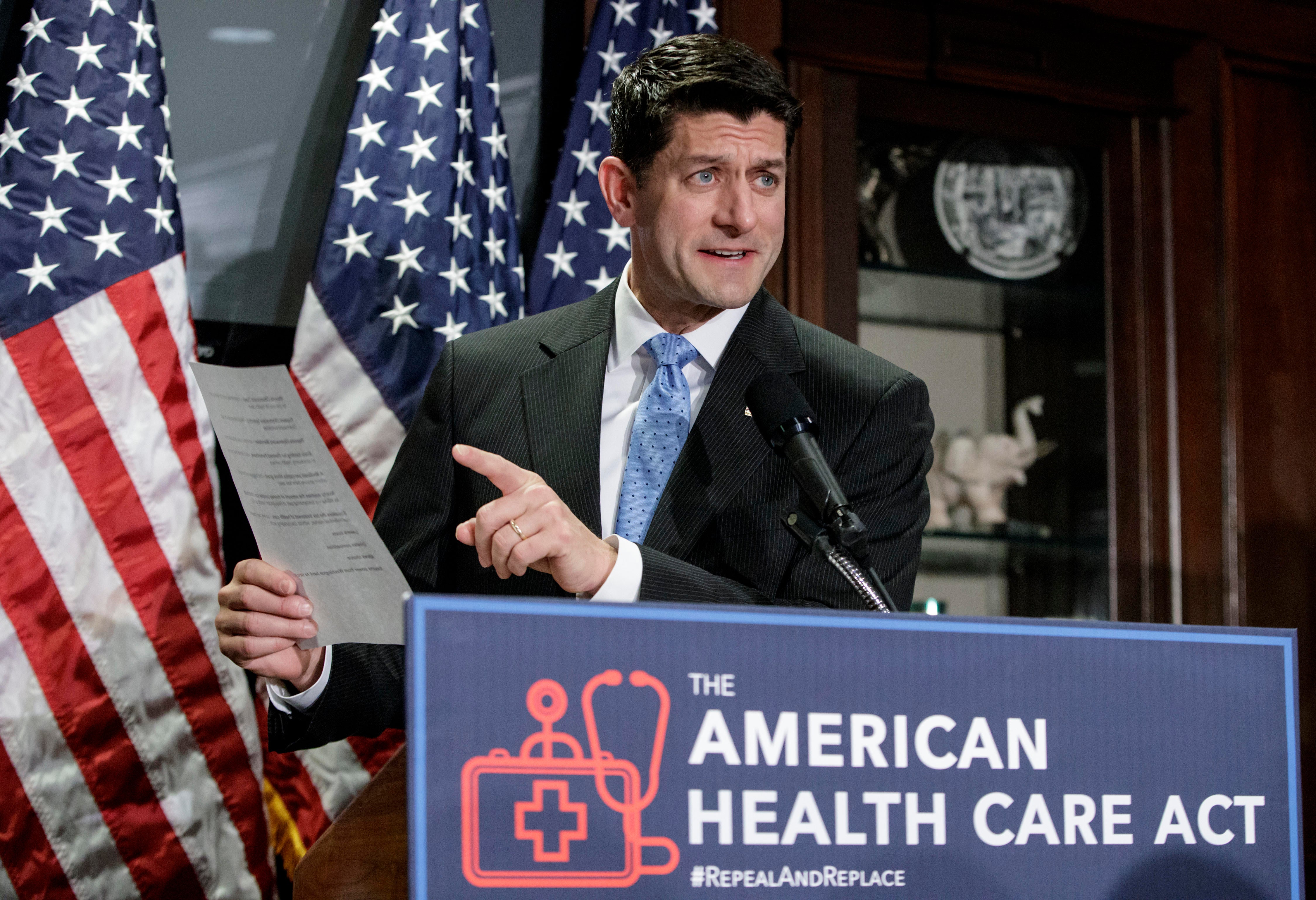 What's actually in the latest House GOP health care bill?
The House of Representatives passed a bill Thursday to repeal and replace the Affordable Care Act, known as Obamacare, a development that brings Republicans one step closer to fulfilling one of President Trump's campaign promises and achieving a policy goal they've sought for years.
The bill passed by a thin margin: the 217 lawmakers who voted in favor were all Republicans, and the 213 who voted against it included all 193 House Democrats and 20 Republican members. The bill now heads to the Senate, where it's expected to face significant changes.
But what's in the bill that was passed Thursday?
The plan is largely similar to the bill crafted by GOP leaders earlier this year that was pulled from the House floor in March due to insufficient support. Lawmakers made a few crucial changes, however, won support from some members who didn't back the earlier legislation.
Here's a brief rundown of what's in the House GOP health care bill, and how it could affect you.
Revamped insurance tax credits
Under Obamacare, individuals in the private health insurance market obtain a tax credit to help them afford coverage. The size of that subsidy is determined by a variety of factors, including your age, where you live, and how much money you earn. Coverage is subsidized for anyone earning between 100 percent and 400 percent of the poverty level, with higher-earning individuals receiving less generous subsidies.
The Republican plan would replace that system with a tax credit indexed mainly to a person's age – from a minimum of $2,000 annually for a young person to a maximum of $4,000 annually for someone in their 60s who can't yet access Medicare.
The tax credit would also diminish as income increases. An individual earning up to $75,000 or a household earning $150,000 would receive the full credit, but it would gradually decrease as for those with higher incomes, disappearing entirely for individuals with incomes above $215,000 and households with incomes above $290,000.
In an analysis of the earlier version of the GOP bill, the nonpartisan Kaiser Family Foundation examined how the change could shift costs within the health insurance market.
"Generally, people who are older, lower-income, or live in high-premium areas (like Alaska and Arizona) receive larger tax credits under [Obamacare] than they would under the American Health Care Act replacement," the group explained in their analysis. "Conversely, some people who are younger, higher-income, or live in low-premium areas (like Massachusetts, New Hampshire, and Washington) may receive larger assistance under the replacement plan."
A "continuous coverage requirement" instead of an individual mandate
The Republican plan does away with Obamacare's requirement for individuals to purchase health insurance or pay a tax penalty to the government. However, it replaces that provision with another designed to incentive people to acquire and maintain health insurance.
Under the GOP health care bill, any person who goes without insurance for more than two months would be charged an additional 30 percent in premiums for one year when they re-enter the insurance market. One difference: that penalty would be paid directly to the insurers, rather than the government, as is currently the case.
Medicaid cuts and transfer to states
The GOP plan would dramatically transform Medicaid, the government-provided health insurance program for poorer Americans. Under Obamacare, states had the option to expand Medicaid by offering the program to people with incomes up to 138 percent of the federal poverty level. Thirty-one states and the District of Columbia opted to do so.
The GOP plan would freeze Medicaid expansion in 2020. After that time, individuals who qualified for the program in its current form would be allowed to stay on the rolls, but if they leave the program, they wouldn't be allowed back in. The GOP plan would also change the formula used to determine how much money the federal government contributes to the program.
Business Insider's Harrison Jacobs offered a concise breakdown of the change. Under current law, he wrote, "Anyone who meets the eligibility requirements [for Medicaid] has a right to enroll, and if costs go up because of new, expensive treatments or increasing healthcare needs, states receive more federal money."
The GOP plan, Jacobs explained, would "change the federal Medicaid funding to a per-capita spending cap, meaning the federal government would send states a fixed amount of money per Medicaid enrollee, regardless of whether that would cover needs or care, starting in 2020."
The upshot of that change in the funding formula? The government would save roughly $880 billion in Medicaid spending over the next decade, according to the Congressional Budget Office -- but those savings could leave poorer Americans with less access to health care.
The bill gives states the option to receive Medicaid funding as a block grant, rather than a dedicated funding stream. Proponents argue the change would give states more flexibility in administering the program, but critics worry it could erode Medicaid's funding -- and its ability to offer coverage -- over time.
The bill also allows states to impose a work requirement for able-bodied adult Medicaid recipients, and it would allow the federal government to offer higher payments to states to cover older and disabled Medicaid beneficiaries.
Allow states to opt out of some insurance regulations
Obamacare placed a number of regulations on insurance companies, like a ban on insurers declining to offer coverage to people with pre-existing conditions, a ban on insurers placing a lifetime cap on the amount of coverage someone can receive and a series of minimum coverage requirements that stipulate certain kinds of medical care that insurance policies must cover.
The House GOP bill would roll back these regulations by allowing states to "opt out," or cease requiring insurers in their state to abide by them. Republicans have argued this could lower costs and expand the range of available insurance plans, but they've been sensitive to criticism that the bill would leave Americans with pre-existing conditions without access to coverage.
To address that, the House GOP bill allocates $138 billion over the next 10 years to help states and insurers set up "high-risk pools" that could extend coverage to people whose pre-existing medical conditions might prevent them from obtaining coverage otherwise.
It's unclear whether that proposal will be sufficient. As the New York Times notes, "The bill doesn't explain exactly how these high-risk pools would work. We also don't know how many states would choose to waive the Obamacare insurance regulations and set up high-risk pools instead. But several researchers have compiled estimates on what a well-run high-risk pool would cost, and $138 billion probably wouldn't be enough."
The House GOP bill does keep at least one insurance reform from Obamacare intact: a requirement that young adults be allowed to stay on their parents' insurance plan through age 26.
Repeal of Obamacare's tax increases
The House GOP bill would do away with a number of tax hikes that helped finance the cost of Obamacare, including a tax on some medical device manufacturers, a hike in payroll taxes and investment income taxes for wealthy households, a tax on indoor tanning, and a tax on high-deductible "Cadillac" insurance plans.
Allow insurers to charge older Americans more
Obamacare instituted a requirement that insurers could charge older Americans no more than three times what they charge younger Americans. The House GOP bill would allow insurers to charge older Americans up to five times as much as they charge younger Americans. And it would allow states to seek a waiver to permit insurers to charge older customers even more.
How would this bill impact the uninsured rate?
The Congressional Budget Office estimated that the earlier version of the GOP health care bill would cause 24 million Americans to lose health insurance coverage over a decade. The CBO did not have time to score the revised version of the bill before the House voted on it Thursday, but it's unlikely their earlier estimate would drastically change.
What would be the impact on the budget deficit?
An earlier version of the House GOP bill scored by the CBO would have reduced the budget deficit by $150 billion over 10 years, relative to current law. Again, the CBO did not issue a score on today's bill before the vote, but it's likely the fiscal impact of this latest proposal will be similar to that of earlier versions.
Thanks for reading CBS NEWS.
Create your free account or log in
for more features.