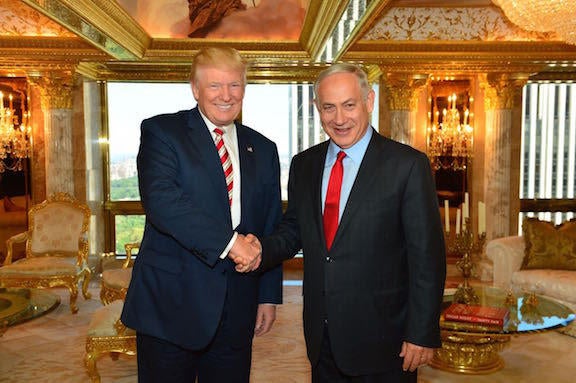 What's at stake as Trump and Netanyahu meet at White House
Iranian aggression in the Middle East, the Iranian nuclear deal, Israeli settlements in the West Bank and the conflict in Syria are issues that will likely dominate the agenda when Israeli Prime Minister Benjamin Netanyahu meets with President Trump at the White House Wednesday.
The visit will be key in reviving the U.S.-Israel relationship, which experienced one of its lowest points less than two months ago when the Obama administration abstained during a U.N. Security Council vote on a resolution that demanded an end to Israeli settlement construction.
"Politically, it's extremely important for both Netanyahu and Trump to signal the fact that this represents a significant departure from the dysfunction of the U.S.-Israel relationship, at least as it's perceived, over the course of the last eight years," said Aaron David Miller, vice president for new initiatives at the Woodrow Wilson Center, who advised both Republican and Democratic secretaries of state on the Arab-Israeli peace process.
The most important objective out of the meeting, experts say, is for the two leaders to convey publicly that they are both on the same page. In terms of substance, they are expected to touch on a range of regional issues.
Despite Netanyahu's opposition to the nuclear deal and previous suggestions that Mr. Trump would attempt to tear it up, the Israeli prime minister likely knows that the new administration has signaled that it will comply with its terms for now. Separately, the administration will want to convince Netanyahu that it's serious about being tougher in response to Iran's regional behavior, having already putting its government "on notice" earlier this month after a ballistic missile launch.
"You're likely to see more coordination both rhetorically and internally between the Trump administration and the Israelis on the Iranian issue," Miller said.
Dennis Ross, who worked on the Middle East peace process under Presidents Obama, Clinton and George H.W. Bush, told reporters in a conference call organized by The Israel Project Monday that Netanyahu will enter the visit wanting some understanding from Mr. Trump that more needs to be done to deter the Iranians, and that while Israel doesn't expect a promise that the nuclear deal will be scrapped, there should be an effort to renegotiate at least one important aspect, "which is that it now has an end point," he said.
"That is a profound concern to the Israelis, because by year 15, Iran will be a nuclear threshold state, in a position where it could move very quickly to turn that threshold status into a weapons status," Ross said. "I think that what the prime minister would like to see, and at least probe the possibility of, is seeing whether the administration is willing with the other members of the P5+1 to revisit at least the timetables that are built into this agreement."
Coming out of the meeting, Ross predicts there might be an expansion of joint activities between the U.S. and Israel as it relates to Iran, and that there might be moves by lawmakers on Capitol Hill to push for additional sanctions against Iran. The administration already took such steps two days after it put Iran "on notice," when it imposed sanctions targeting multiple entities and people involved in procuring materials and technology to support Iran's ballistic missile program and Iran's Islamic Revolutionary Guard.
The conversation Wednesday will almost certainly touch on Israeli settlements in the West Bank, which Netanyahu's government recently announced it's rapidly expanding, with more than 5,000 new homes and a plan to construct an entirely new settlement.
After meeting with Jordan's King Abdullah II earlier this month, the White House issued a somewhat surprising statement saying, "While we don't believe the existence of settlements is an impediment to peace, the construction of new settlements or the expansion of existing settlements beyond their current borders may not be helpful in achieving that goal."
Officially, though, the administration "has not taken an official position on settlement activity," says press secretary Sean Spicer. Mr. Trump's nominee to serve as ambassador to Israel, David Friedman, has supported Israeli settlement building. He is set to testify at his confirmation hearing Thursday before the Senate Foreign Relations Committee.
In a new interview with Israeli newspaper, Israel Hayom, owned by GOP mega-donor Sheldon Adelson, Mr. Trump appeared to define his position even further on the issue.
"They [settlements] don't help the process. I can say that. There is so much land left. And every time you take land for settlements, there is less land left," he said. "But we are looking at that, and we are looking at some other options we'll see. But no, I am not somebody that believes that going forward with these settlements is a good thing for peace."
Experts suspect that Mr. Trump might use an exchange of letters from 2004 between President George W. Bush and Israeli Prime Minister Ariel Sharon as a foundation for an agreement on settlements, in which the U.S. and Israel would define the limits of existing settlements and that the Israelis could build within them, but not beyond them.
Prem G. Kumar, a principal at Albright Stonebridge Group who served on the National Security Council under Obama, said he also expects the two leaders to discuss the situation in Syria.
"The Israelis will want to know what Trump has in mind with regard to possible cooperation with Russia on Syria," Kumar said. "There is a bit of a contradiction in the administration's approach toward Syria thus far in that they talked about possibly cooperating more with Russia, but confronting Iran, and of course Iran and Russia are very closely aligned in Syria."
Meanwhile, Netanyahu was upbeat about a visit that would be a fresh start after a tumultuous period with Obama.
"The alliance between Israel and America has always been extremely strong. It's about to get even stronger. President Trump and I see eye to eye on the dangers emanating from the region but also on the opportunities. And we'll talk about both, as well as upgrading the relations between Israel and the United States in many, many fields," he said before taking off Monday from Tel Aviv.
Netanyahu is also scheduled to meet with Vice President Mike Pence, Secretary of State Rex Tillerson and with both Democratic and Republican leaders of Congress.
Experts like Miller expect the meeting on Wednesday to be positive, but he said he doesn't expect the personal warmth between the two leaders to last for long.
"There's no transformation, no extended honeymoon, no extended love affair and certainly not between Trump and Netanyahu," he said. "I argue that in part because campaigning is not governing and even this administration has realized that. Netanyahu's politics will be a constant source of dynamic pressure, and not in a good way, which is going to force Netanyahu, at times, to tack to the right."
There might also be talk Wednesday of the reported interest that Mr. Trump's son-in-law, Jared Kushner, has in trying to facilitate Israeli-Palestinian peace talks, which have been dead for some time, that would involve participation by Arab States.
"I think that the desire to do something will be expressed, [but] the idea that you're launching any initiative any time soon is not in the cards. I think there's a desire to find a way to make progress over time. I think that's the way they'll talk about it," Ross said.
As for Mr. Trump's campaign promise to relocate the U.S. embassy in Israel from Tel Aviv to Jerusalem, breaking longstanding U.S. policy, he appears to be slowing down any plans for this move.
"I am thinking about the embassy, I am studying the embassy [issue], and we will see what happens. The embassy is not an easy decision. It has obviously been out there for many, many years, and nobody has wanted to make that decision. I'm thinking about it very seriously, and we will see what happens," Mr. Trump told Israel Hayom.
The visit comes as the White House navigates the fallout from Gen. Michael Flynn's resignation Monday night as Mr. Trump's national security adviser -- a key aide who would normally play a central role in such meetings.
"I hope it will be a good, serious visit and discussion and that there will be the beginning of a serious dialogue," said James Cunningham, U.S. ambassador to Israel under both Bush and Mr. Obama. "I don't know what the impact of Mr. Flynn's departure is going to have on that -- I hope there will be somebody in the room who has expertise in the region."
Thanks for reading CBS NEWS.
Create your free account or log in
for more features.