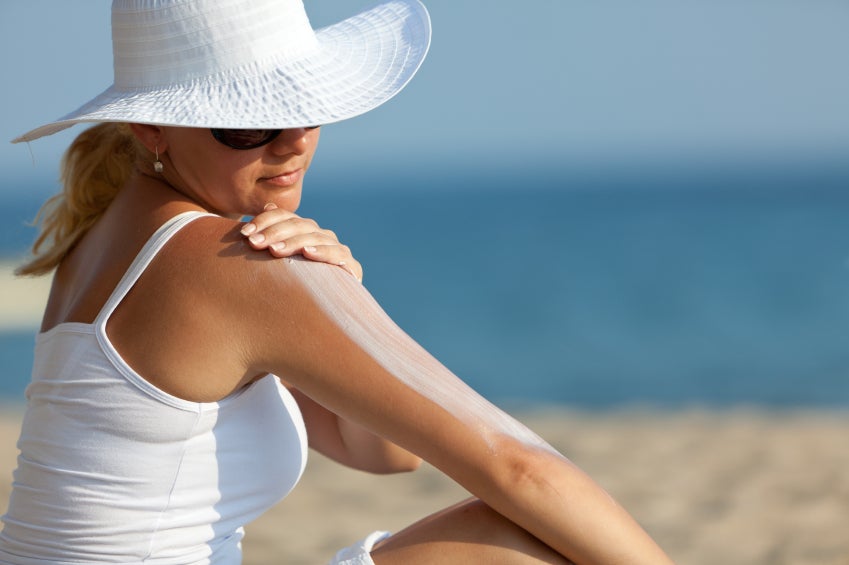 What you don't know about sunscreen could hurt you
Summer is just around the corner, and that means afternoons at the beach, midday picnics and epic bike rides. But all that time in the sun can do serious damage to your skin.
When it comes to sunscreen, many consumers end up confused and overwhelmed when they survey all the options at their local drug store. Two new reports, seen first on CBS News, highlight some of the best options, correct some common misconceptions, and look at why promising new products have never made it to the U.S. market.
Consumer Reports put 20 popular sunscreens to the test, and also conducted a survey of 1,000 adults in the U.S. to see if they know the ABCs of SPF -- which stands for Sunburn Protection Factor, the level of protection offered against UVB rays. UVB radiation causes sunburn, while UVA rays penetrate deeper and contribute to skin aging and wrinkling. Both have been tied to skin cancer risk.
The survey uncovered a number of common myths and misunderstandings about sunscreen.
About half of those who bought kids' sunscreens said they thought it was "safer" and "gentler" than other formulas. But Consumer Reports say the FDA doesn't make a distinction between kids' and adults' sunscreens, which generally contain the same active ingredients.
The survey also found that 29 percent of people using sunscreen waited until they were in the sun to slather it on. But in order to get full protection, sunscreen needs to be applied 15 to 30 minutes before sun exposure, and then should be reapplied every two hours.
Experts say it takes about one ounce of sunscreen, or about two tablespoonfuls, to cover your face and body. Most people only use half that much, so they don't get full protection.
After testing 20 widely available sunscreens currently on the market, Consumer Reports said it would only recommend seven of the products. And it found just two of them -- BullFrog WaterArmor Sport InstaCool SPF 50+ and Coppertone Sensitive Skin SPF 50 -- actually provided the level of SPF protection promised on their labels after being immersed in water.
However, the report points out that doesn't necessarily mean other sunscreens won't do the job. "Even an SPF 30 sunscreen that comes in, say, 40 percent below its claim gives you an SPF of 18," the report explains. It also notes that twice the SPF does not equal twice the protection. Even a relatively low SPF 15 is enough to shield your skin from 93 percent of UVB rays, the report says, while SPF 30 guards against 97 percent.
Another new report about sunscreen from the Environmental Working Group highlights the fact that many sunscreen products widely available in Europe offer much more sun protection than products sold in the U.S. The EWG blames delays by the Food and Drug Administration, which has taken years to consider requests for approval of new sunscreens despite a 2002 rule allowing it to "fast track" the safety evaluations within 180 days.
According to the group's report, the FDA allows companies to label sunscreens as broad spectrum -- meaning they protect against UVA rays as well as UVB -- even if they would not meet stricter European standards. After assessing formulas of 462 sunscreens for sale in the U.S., the organization found half of those sunscreens are too weak to actually be considered as offering broad spectrum protection.
By contrast, in Europe, sunscreens have to offer UVA protection that is a minimum of one-third as potent as the SPF, which is how well the product is able to shield the skin from UVB rays.
Currently there are only 17 sun protection ingredients approved in the U.S., three of which block out UVA rays. However, there are 27 chemicals approved in Europe, including seven which work against UVA rays.
Not enough is known about the safety of several of these chemicals, according to the Environmental Working Group, and the organization does not recommend that they all be admitted to the U.S. market.
The group supports a bill introduced in Congress this year to speed up the FDA review process "to ensure that American consumers have access to the most effective and safest available sunscreen ingredients," it says.
Thanks for reading CBS NEWS.
Create your free account or log in
for more features.