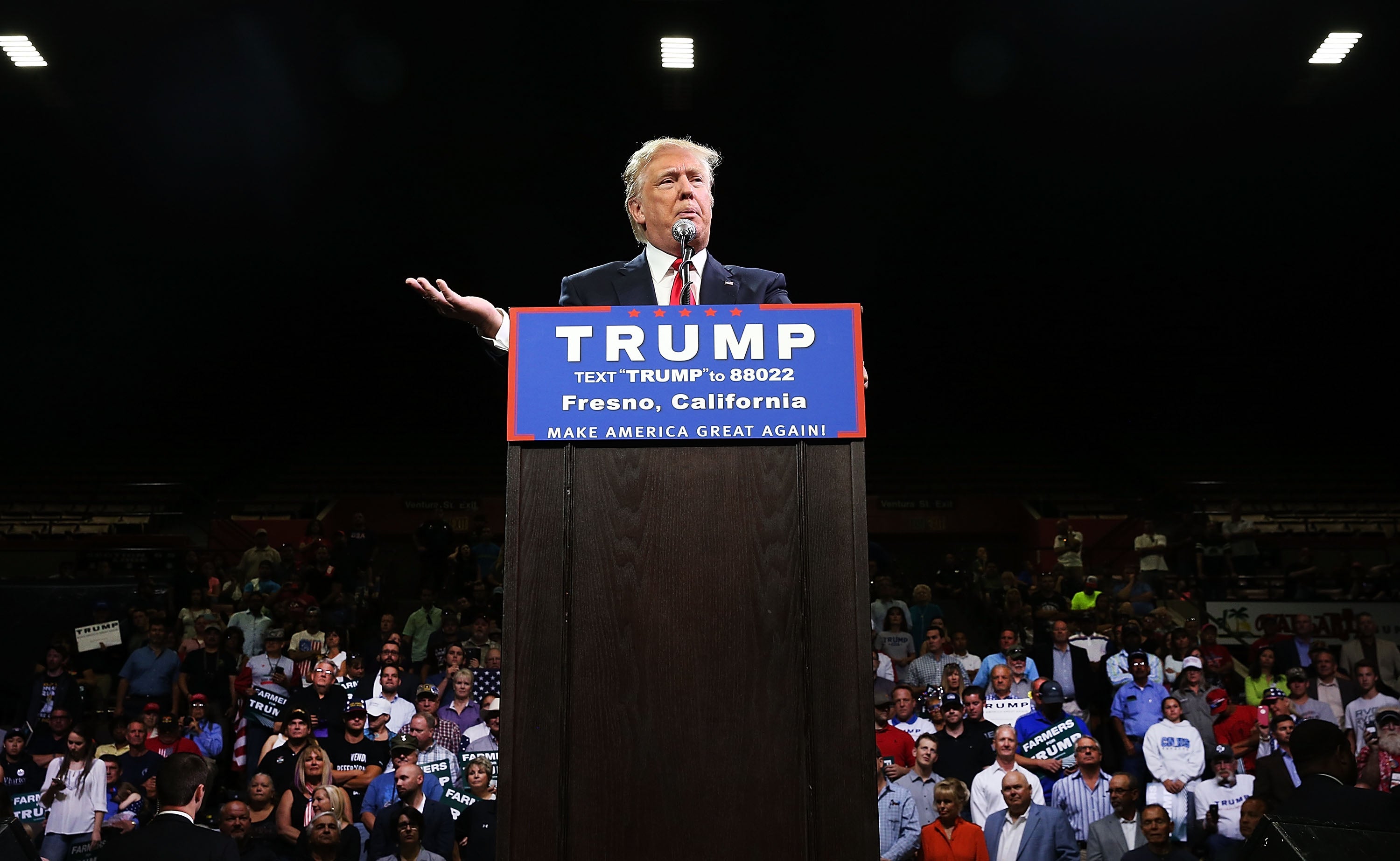 What would it take for Hispanic conservatives to back Donald Trump?
Donald Trump's video address to the National Hispanic Christian Leadership Conference earlier this month was supposed to provide an opportunity for him to both appeal to conservative Latino values and make a serious attempt to court Hispanic voters in California.
Organizing efforts around Trump's virtual appearance had been going on for weeks, according to NHCLC president Rev. Samuel Rodriguez. And before the California GOP primary was essentially nullified by Ted Cruz's exit from the Republican race, conversations between the Trump campaign and Rodriguez's staff hinted that Trump had even considered addressing the conference in person.
The NHCLC speech was intended to show the sincerity of Trump's outreach effort, since the most recent memory many Hispanics had of any positive sentiment toward them from Trump was his Cinco de Mayo tweet, which featured a Trump Tower taco bowl and the businessman's declaration, "I love Hispanics!"
So it was with "cautious, prayerful anticipation" that the conference -- a nonpartisan group that brought together over 1,200 Hispanic leaders at its weekend meeting -- awaited Trump's taped speech, Rodriguez told CBS News.
When the NHCLC played the two-minute address at their conference, this is what one of nation's largest Hispanic evangelical groups saw:
The video, filmed in vertical cell phone dimensions, shows Trump seated at his plane, glancing down at a sheet of paper from which he appeared to read the name of the organization. The New York billionaire ticked off a number of issues his administration would tackle, including "minority unemployment," building good schools, and ensuring "really safe communities" (because "our communities in many cases are not safe, which is very, very unfair to Hispanics and, frankly, everybody else"). He touched briefly on immigration, promising to strengthen the border while still allowing some to legally "come in through a process."
Trump ended his pitch with this: "National. Hispanic. Christian. Three great words. We're going to take care of you. We're going to work with you. You're gonna be very happy. You're gonna like President Trump."
After the video concluded, Rodriguez recalled, one conference executive took over the microphone and told the congregation: "I believe it's time to pray." The comment was met with widespread chuckles.
The address, for Rodriguez, fell far short of what he wanted and what he believed could have drawn his Latino brethren into the Trump fold: a serious plan to "completely" halt illegal immigration but without separating undocumented families, a commitment to pro-life policies, and a pledge to halt the infringement of religious liberties.
Most of all, Rodriguez had hoped for an apology for the Latino stereotypes Trump has peddled along the campaign trail, including the characterization of Mexican immigrants as "rapists" and "criminals" -- labels the reverend called "offensive, on steroids."
"The ideal scenario would have been Donald Trump addressing the rhetorical demagoguery, the verbal hyperbole that took place as it pertains to immigrants," said Rodriguez, who had served as an adviser to the primary campaigns of Jeb Bush (who he counts as a personal friend), Ted Cruz, and Marco Rubio.
"Was this the mea culpa, olive branch moment?" Rodriguez said. No, he continued, "That did not happen."
He later added: "I have no plans on endorsing Donald Trump whatsoever."
With the Hispanic community -- even among those whose policy preferences lean conservative, like Rodriguez's -- Trump has a lot of ground to make up ahead of the general election, where Latinos will make up a projected 12 percent of voters this year, according to the Pew Research Center.
In a Fox News poll conducted earlier this month, Trump drew just 23 percent of support among Hispanic voters nationally. That number is much lower in other recent surveys, and compared to the GOP nominee support among Hispanics in previous national election years, it's downright abysmal. (George W. Bush had 35 percent of support among Hispanics in 2000, 40 percent in 2004. John McCain, in contrast, had 31 percent of support in 2008, while Mitt Romney had 27 percent.)
And in the clearest sign yet of Hispanics' unfavorable views of Trump: During his campaign rallies up and down the West Coast, in states where Latinos make up a sizable portion of the population, violent protests have erupted against the presumptive nominee's anti-immigration rhetoric and policies.
In the week after his NHCLC address, Trump alienated a prominent Latino politician, New Mexico Gov. Susana Martinez, the nation's only Hispanic female governor and chair of the Republican Governor's Association.
When the real estate mogul held court in Albuquerque, New Mexico last week, Trump blasted Martinez, a vocal critic of his immigration policies, as a poor executive, saying "We have to get your governor to get going. She's got to do a better job, OK?" Outside the rally, protesters waved Mexican flags as they burned "Make America Great Again" tee shirts and other Trump campaign paraphernalia.
In San Diego, California, an area that represents the busiest border crossing between the U.S. and its southern neighbor, another spate of protests raged outside Trump's Friday event. Meanwhile, inside the arena, Trump went on a protracted tirade against U.S. District Court Judge Gonzalo Curiel, who is Hispanic, for being biased and "very hostile" in overseeing a class-action lawsuit against the now-defunct Trump University. Trump specifically called out his ethnicity -- Curiel, he said "happens to be, we believe, Mexican" -- in his minutes-long rant.
What Trump's NHCLC address was supposed to be -- a rapprochement with the Hispanic community and a turning point for the presidential campaign -- seemed to fall flat in the face of Trump's actions over the course of the next week.
Still, some prominent Republicans in the Latino community believe the moment was an opportunity for more.
Alfonso Aguilar, the executive director of the Latino Partnership for Conservative Principles, believes the NHCLC outreach as "a very good first step."
"That is what actually gave me hope," said Aguilar, who stumped for Mitt Romney in 2012 and served under the George W. Bush administration.
He noted that on certain issues Trump is even more appealing to a Hispanic constituency than Democratic front-runner Hillary Clinton, mentioning the presumptive GOP nominee's openness to Puerto Rican statehood (Trump's official platform says islanders "should be entitled to determine for themselves their political status"). Trump has also expressed skepticism about normalizing relations with Cuba (which Clinton tirelessly worked towards while she headed the State Department).
But Aguilar, too, would have liked to see Trump go further to both clarify his comments about Mexican immigrants and to present an immigration plan.
The committed Republican noted that while he's "open to having a conversation right now" with the presumptive nominee, "it's not enough to talk."
Then there are Hispanic Republicans like Phil Archuletta, who says that Trump's immigration plan is precisely why he's a die-hard fan of the blustering reality television host-turned-politician.
Archuletta, a vice chair of New Mexico's state Republican party and a small business owner based in the town of Mountainair, is also a delegate to the GOP convention this summer in July. In Cleveland, he'll be throwing his hat in with Trump.
"Borders need to be blocked," Archuletta told CBS in a phone interview. "They absolutely need to be."
"If you live over here close to the border, these people are in fear for their lives," he added, condemning "the criminality that's coming in here" and the "chaos" it causes for those caught in the crossfire of gang violence and the drug trade.
It's personal for Archuletta, whose sister died two years ago after she "got caught up in the drug system" and became hooked on the illicit substances brought in from Mexico.
"You can buy drugs in any corner of this state faster than you can buy candy," he said. "And they hooked young kids, even the older members of the community... and then they can't get off of it. And either they die or a drug overdose or they get to where they need the drug and they have to go steal."
Archuletta recently attended Trump's rally in Albuquerque, where demonstrators protested Trump outside of the city's convention center. He offered up harsh criticisms for those activists, along with advocacy groups like the National Council of La Raza.
"They don't talk for all Hispanics," Archuletta insisted. "At least they don't talk for me."
For Gonzalo Ferrer, the chairman of the Republican National Hispanic Assembly, Trump could win him over by simply including Latinos in his campaign.
"I would like to see how many Hispanic managers he has. I would like to see [Hispanics] included in his campaign. I would like to see a prominent Hispanic nominee to the Supreme Court," Ferrer told CBS.
Of Trump's recent attempt with the NHCLC to mend the divide between Hispanics and his campaign, Ferrer offered this assessment: "It's a good start. But it's a little bit of a belated start."
The expectation of Trump's address and its subsequent tepid reception underscores how many in the conservative Hispanic community feel about Trump: that there is still a significant divide between the GOP nominee and his would-be Latino constituency.
"Donald Trump promises to build a wall -- but he's already built a wall," said Rodriguez, the NHCLC reverend. "Now Donald Trump has to tear down his wall and build a bridge."
Thanks for reading CBS NEWS.
Create your free account or log in
for more features.