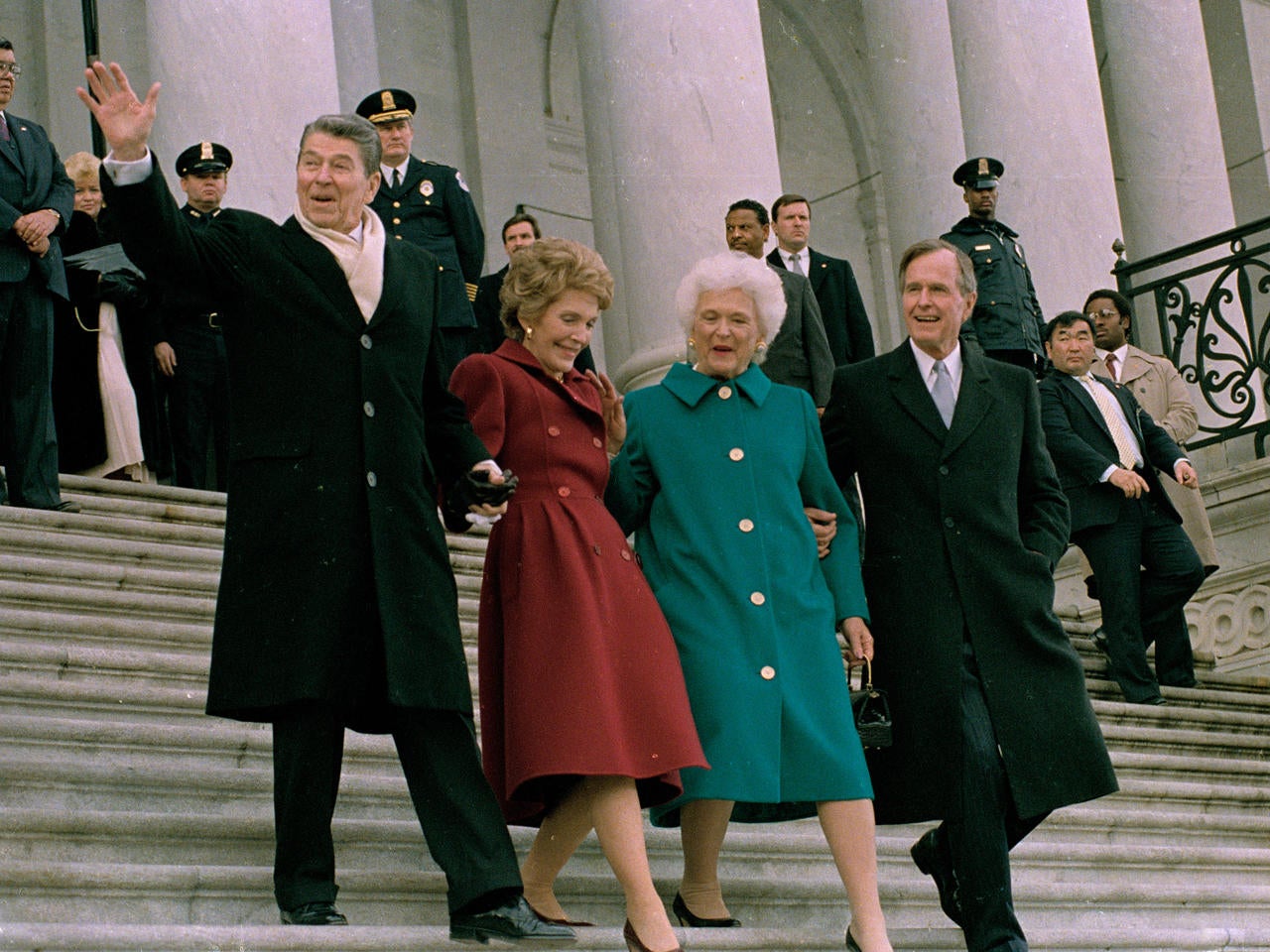 What to know about former first lady Barbara Bush
HOUSTON— Former first lady Barbara Bush is in failing health and after a series of hospitalizations, she has decided not to seek further medical treatment, a family spokesman says. The wife to former President George H.W. Bush and mother of six, including former president George W. Bush, is currently 92. Here are some things to know about her:
Literacy efforts:
The Barbara Bush Foundation for Family Literacy began during her White House years, with a goal to improve the lives of disadvantaged Americans by boosting literacy among parents and their children. The foundation partners with local programs and had awarded more than $40 million as of 2014 to create or expand more than 1,500 literacy programs nationwide. She penned a children's book called Fred's Story in 1984 and then donated all proceeds to literacy charities.
"Focusing on the family is the best place to start to make this country more literate, and I still feel that being more literate will help us solve so many of the other problems facing our society," she wrote in her 1994 memoir.
History:
Barbara Bush is the second woman in U.S. history to be both a wife and mother of a U.S. president. Her husband, George H.W. Bush, was the nation's 41st president while her son George W. Bush, one of the couple's six children, was the 43rd president. Abigail Adams was the wife of the second president, John Adams, and mother of the sixth president, John Quincy Adams.
In 1980, given her husband's conservative position, her support of the Equal Rights Amendment and her pro-abortion position turned heads. Although George H.W. lost his presidential bid this year, former President Ronald Reagan selected him as his vice president, thus allowing Barbara Bush to serve as second lady of the United States from 1981-1989.
The white hair:
Barbara Bush's brown hair began to prematurely gray in the 1950s while her 3-year-old daughter, Pauline, known to her family as Robin, underwent treatment for leukemia. She died in October 1953. Barbara Bush eschewed dying her hair, which ultimately turned white. She later said that dyed hair didn't look good on her and credited the color to the public's perception of her as "everybody's grandmother." Her son George said that a "crowning achievement" of his father, who was fond of coming up with nicknames for friends and family, was anointing Barbara, "The Silver Fox."
The pearls:
Barbara Bush's triple-strand false pearl necklace sparked a national fashion trend when she wore them to her husband's inauguration in 1989. The pearls became synonymous with Bush, who later said she selected them to hide the wrinkles in her neck. The candid admission only bolstered her common sense and down-to-earth public image. A version of the necklace, "the famous triple strand, hand-knotted on a gold-toned clasp," was even available for $125 at the George Bush Presidential Library and Museum at Texas A&M University.
The temper:
George W. Bush noted in his post-presidency book, "Decision Points," that he inherited a quick, blunt temper from his mother. His wife, Laura, said her mother-in-law "managed to insult nearly all of my friends with one or another perfectly timed acerbic comment." Barbara Bush kept her sarcasm under wraps in public, though one noted slip came in 1984 when her husband was running for re-election as vice president with President Ronald Reagan. Their Democratic challengers, Walter Mondale and Geraldine Ferraro, questioned whether wealthy people like the Bushes could relate to average Americans. An irritated Barbara Bush told a reporter that Ferraro was a "$4 million — I can't say it — but it rhymes with rich." Bush later said she meant "witch" and apologized; Ferraro accepted the apology. Despite her fiery side, White House staff knew her to be one of the friendliest, and easiest First Ladies to work with.
Thanks for reading CBS NEWS.
Create your free account or log in
for more features.