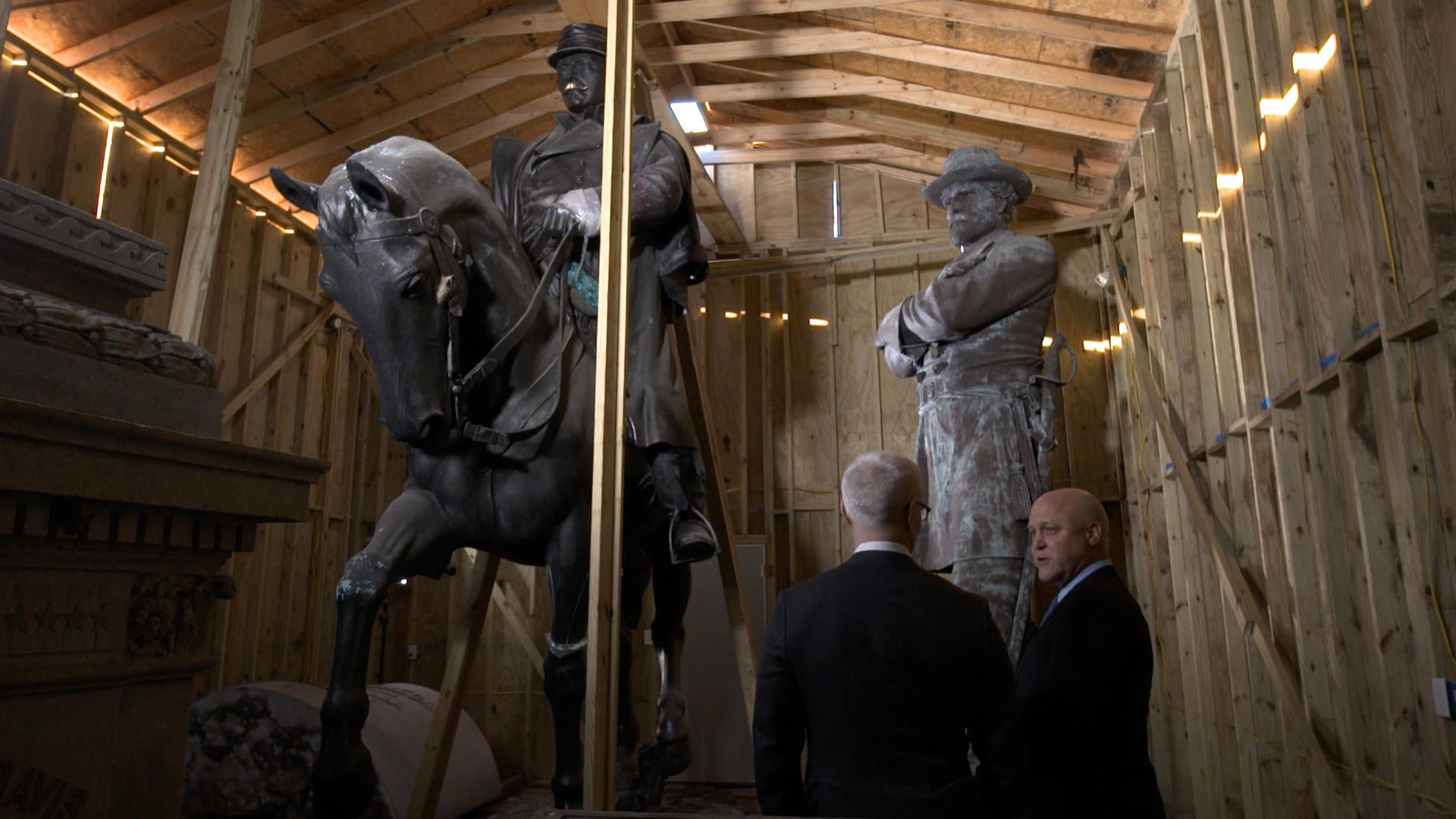 What happened to two removed Confederate statues?
Should they stay or should they go? That's the question many people are asking about the hundreds of Confederate monuments standing on public property across the country, mostly in the South. New Orleans Mayor Mitch Landrieu has taken down four in his city because the message they send about the Civil War is "a lie," he tells Anderson Cooper. But others interviewed for the story believe the monuments are a part of our shared history and should stay. Cooper examines the debate about Confederate monuments on the next edition of 60 Minutes Sunday, March 11 at 7:00 p.m. ET/PT.
"Really what these monuments were, were a lie," says Landrieu. One of the statues removed was of Gen. P.G.T Beauregard, who ordered the first shots fired in the Civil War, another was a bronze figure of Confederate hero Gen. Robert E. Lee that stood for 133 years. "Robert E. Lee was used as an example to send a message to the rest of the country, and to all the people that lived here, that the Confederacy was a noble cause. And that's just not true."
Landrieu shows Cooper the shed where those statues were being stored in a place 60 Minutes agreed not to disclose. "The whole point was to convince people that actually they won, and even in their defeat, it was a noble cause." Landrieu says the Confederacy was anything but that, "We were talking about millions of people enslaved, 600,000 American citizens were killed, and they were trying to destroy the country."
No state has more Confederate monuments than Virginia, where in the Confederacy's old capital, Richmond, five Confederate statues stand on the city's historic Monument Avenue. "All these years later, the Civil War, in many ways, is still contested ground. This is contested ground," Professor Julian Hayter, a historian at the University of Richmond, tells Cooper, "Monument Avenue is not just a national tourist attraction, but an international tourist attraction."
The City's mayor, Levar Stoney, wants the Confederate monuments on Monument Avenue taken down, and sees them as vestiges of racism and white supremacy no longer worthy of public veneration. "The monuments are just a symbol of the effort to ensure African Americans stayed maybe not in physical bondage, but in bondage in political and economically in this country and in this city."
William Cooper, who is now retired after being a professor of history at Louisiana State University for 46 years, says the monuments were put up by real people who had real beliefs and even if today most Americans don't like those beliefs the monuments remain a part of history and should stay where they are. "One of the things that bothers me most as a historian is what I call 'presentism,' judging the past by the present, figuring that we are the only moral people," he says. Taking monuments down, says Prof. Cooper, is a slippery slope. "Should Mount Vernon be up today? Should we go burn Monticello down tomorrow? Certainly, Thomas Jefferson believed in white supremacy," he tells Cooper.
Thanks for reading CBS NEWS.
Create your free account or log in
for more features.