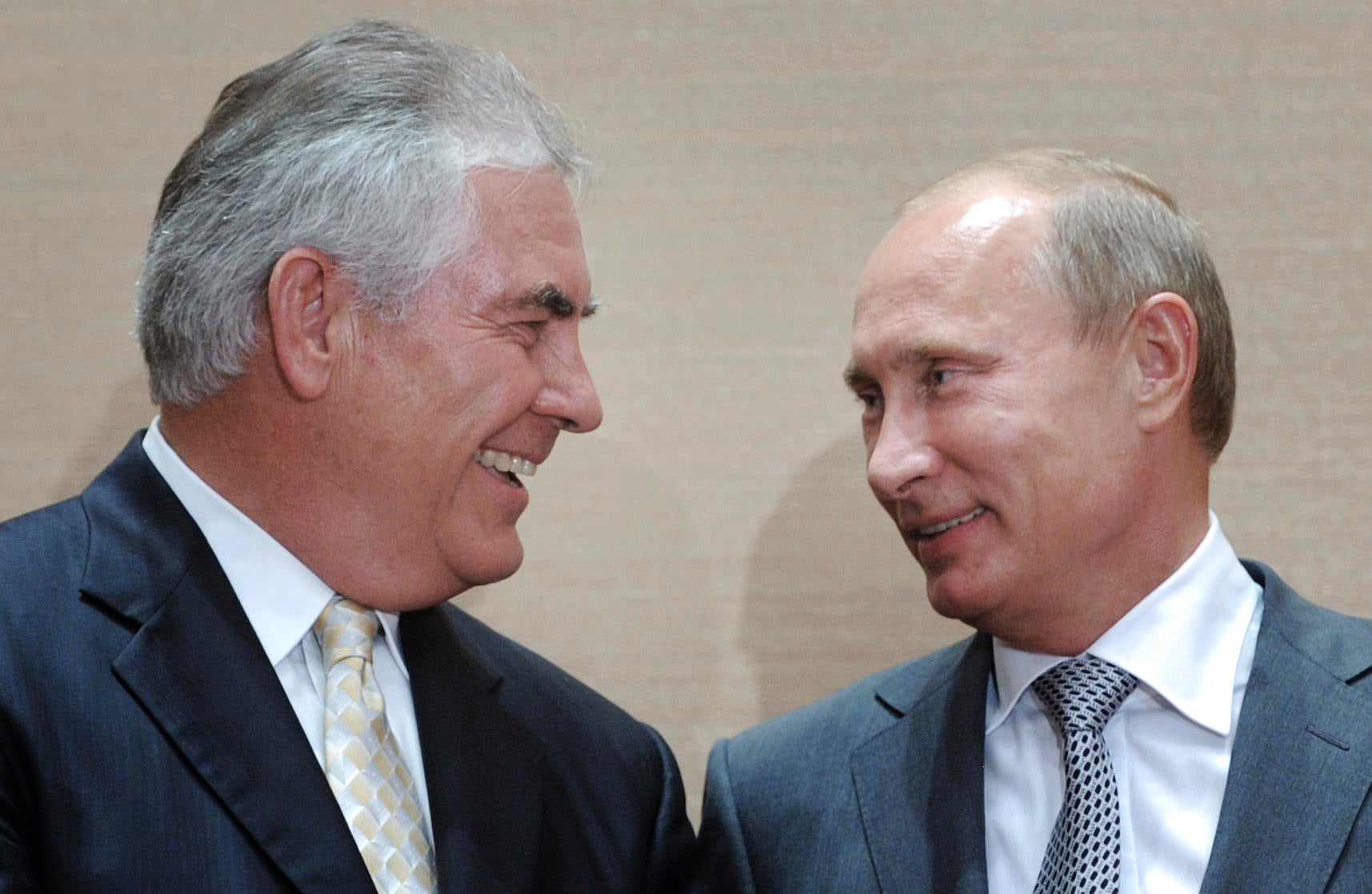 Why Russia honored Trump's secretary of state pick
Russian President Vladimir Putin awarded president-elect Donald Trump's secretary of state nominee Rex Tillerson with the Order of Friendship in 2013.
It's an award that was started by Boris Yeltsin and is given to foreign nationals who try to improve relations with Russia.
Tillerson, the CEO of ExxonMobil, won the award three years ago after signing deals with the state-owned Russian oil company Rosneft, according to The Washington Post. A press release from the Kremlin at the time said it was awarded to Tillerson for his "big contribution to developing cooperation in the energy sector."
The deal that Tillerson orchestrated, the Post reports, involved a drilling program in the Arctic but U.S. sanctions following Russia's annexation of Crimea put the project on hold.
Russia's Order of Friendship Award has been given to a few other Americans in the past including Israeli-American basketball coach David Michael Blatt and American pianist Val Cliburn.
Mr. Trump officially announced Tuesday morning that he intends to nominate Tillerson to lead the State Department as America's top diplomat. His ties to Russia, however, could make the Senate's process to confirm him messy. Several prominent GOP lawmakers have already voiced criticism of the pick.
Speaking to the Post, Sen. Lindsey Graham, R-South Carolina, commented on Tillerson's award.
"I don't know the man much at all, but let's put it this way: If you received an award from the Kremlin, [an] Order of Friendship, then we're gonna have some talkin'," Graham said. "We'll have some questions. I don't want to prejudge the guy, but that's a bit unnerving."
Some of the other GOP senators who might have issues with Tillerson's Russia ties are John McCain, Marco Rubio and James Lankford.
Thanks for reading CBS NEWS.
Create your free account or log in
for more features.