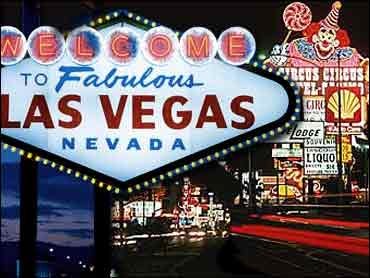 Was Las Vegas The Terror Target?
Air France flights between Paris and Los Angeles resumed Friday after investigators found no evidence of a Christmas Day terror plot to use an aircraft to attack American targets.
Meanwhile, the Washington Post reports Las Vegas may have been a crash target for at least one of six cancelled Air France flights — news to Nevada officials.
Reaction has been strong to the idea that Las Vegas may be a potential terrorist target, reports Angela Anderson of CBS radio affiliate KNXT.
Government officials told The Washington Post they have known for some time that al Qaeda is interested in striking at Las Vegas, which the network sees as "a citadel of Western licentiousness."
Nevada's homeland security director talked with his federal counterparts Friday and "I was again assured that there is no information that they have that I don't have," Jerry Bussell told Anderson. He said he stands by the statement there's no credible threat and questions the validity of the published reports.
Las Vegas is the only big city along the flight path from Paris to Los Angeles, which goes over eastern Canada and Minnesota.
France's national carrier canceled six flights Wednesday and Thursday after U.S. officials told French authorities that members of the al Qaeda terrorist network might try to board an Air France flight between Paris and Los Angeles.
A French diplomatic source said Friday that intelligence from "a variety of sources" indicated there was a threat "sufficiently specific enough to be taken seriously." The source, who spoke on condition of anonymity, said the intelligence indicated a "sufficiently serious risk."
But no arrests have been made in France, where counterintelligence agents released seven men after a brief questioning late Wednesday at Charles de Gaulle airport outside Paris.
"The ones they were really interested in were the ones who had a pilots license and didn't show up for the flight," said CBS News Consultant Randy Larsen.
Larsen, CEO of Homeland Security Associates, also said on CBS News' The Early Show that U.S. anti-terrorism precautions have forced al Qaeda to change its tactics.
"It's demonstrating they don't feel confident enough to get on a plane in the United States," he said. "What caused the problem on 9/11 at the World Trade Center was all of the fuel. You're talking about 30,000 to 40,000 gallons of fuel and they would have used that up" coming from France to the United States.
Larsen applauds notifying the French of the threat.
"The most effective way to prevent attacks is not by putting up guards in front of every shopping mall or power plant, it's by aggressively going overseas where the terrorists live and sharing intelligence with our allies," he told co-anchor Harry Smith.
Air France said Friday it had rerouted all passengers affected by the cancellations and there would be no backlog when flights resumed.
An official from France's anti-terrorism judicial unit said a formal investigation has not been opened because of a lack of evidence of a planned attack.
Nevertheless, Larsen said it was a serious threat.
"Unfortunately, with the intelligence information we have in this case and, believe me, there is a great deal of it, we had to put all 291 million Americans on orange alert," he said.

Thanks for reading CBS NEWS.
Create your free account or log in
for more features.