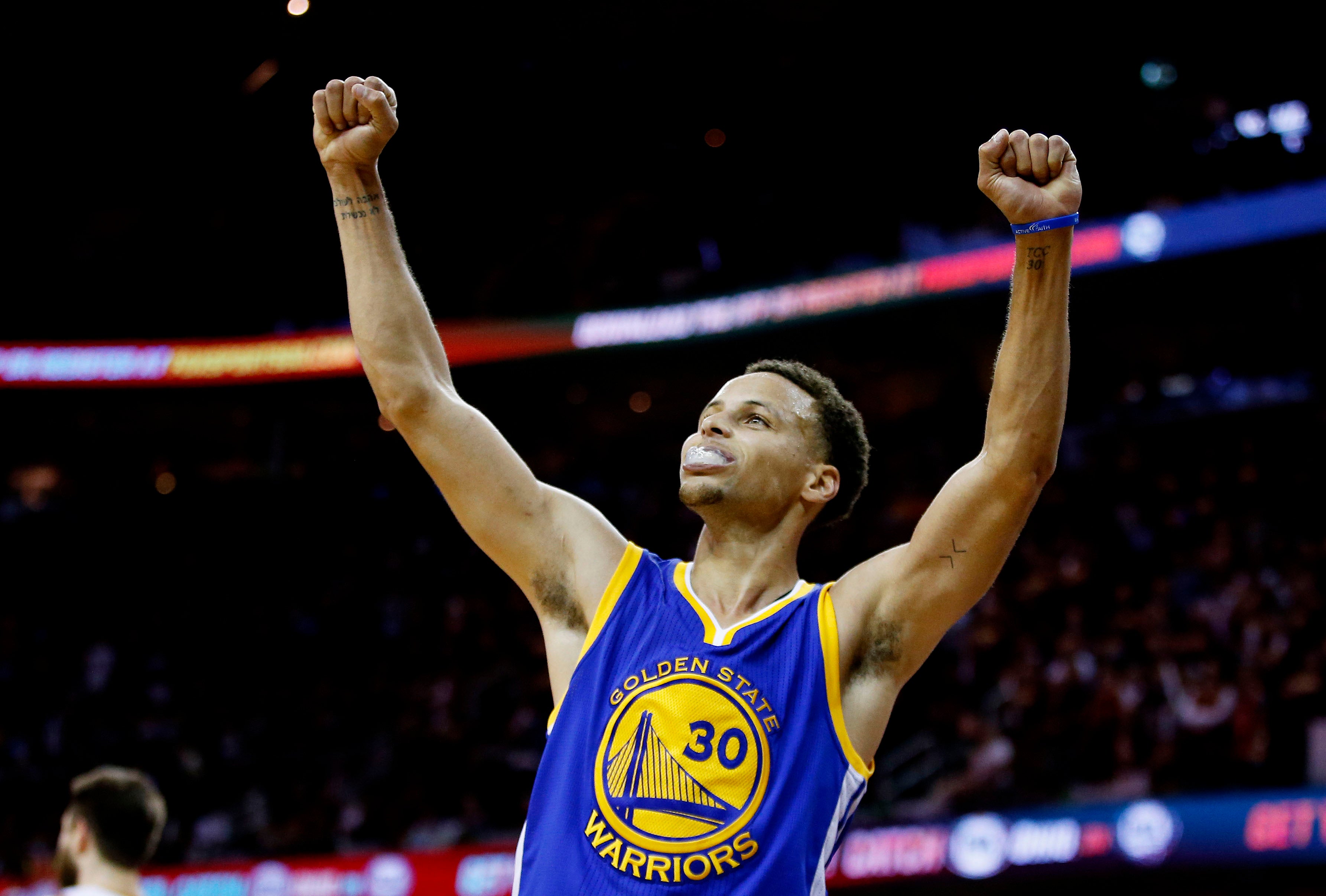 Warriors win NBA crown, beating Cavaliers 105-97
In the end, megastar LeBron James could only take his team so far.
The Golden State Warriors beat James' Cleveland Cavaliers, 105-97 in Game 6 of the NBA Finals Wednesday night in Cleveland, winning the series 4 games to 2 to become NBA champs for the fourth time in franchise history and first time since 1975.
But a half century of misery in Cleveland drags on. James just didn't have enough help.
Revived by a fresh-faced shooting superstar and a first-year coach who made them believe, the Warriors again reign supreme, overcoming James' best efforts in the series and following their 67-win regular season with a title.
James finished with 32 points, 18 rebounds and nine assists, falling just shy of what would have been a record third triple-double in the series.
He was dominant during the series, showing why he's the world's best player.
The Warriors were simply the better team.
"Nobody came out early for them and tried to be a hero," observes CBSSports.com NBA writer Zach Harper. "They moved the ball with purpose in the opening minutes of the game as they took control of the game, exploited the advantages they created, and made their decisions count. They assisted on their first 10 made baskets, and ended up with 28 assists on 37 made baskets for the entire game. This was one of the best passing teams in the league, and they continued to show just how spectacular their execution can be."
James, who fell to 2-4 in the finals, didn't hide his dejection. "Doesn't matter if I'm playing in Miami or playing in Cleveland or playing on Mars," he said. "You lose in the finals, it's disappointing."
Regular season MVP Stephen Curry and finals MVP Andre Iguodala scored 25 points apiece, Draymond Green recorded a triple-double and the Warriors -- using a barrage of 3-pointers in the fourth quarter -- finished off James and the Cavaliers.
For the first time since Gerald Ford was in the White House, disco was in vogue and Rick Barry was flicking in free throws under-handed, the best pro basketball team resides in the Bay Area.
And these Warriors are a lot like Barry and his old crew: fluid, balanced, together. Just like coach Steve Kerr hoped.
After falling behind by two points early in the third quarter, the Warriors took control with Curry and Iguodala, who made his first start of the season in Game 4, leading the way.
"World champs," Curry said, letting the title sink in. "This is truly special. This group is a special group. From the time we started the season this is what we envisioned and a lot of hard work goes into it, all the way down to the last minute of this game. This is what it's all about. ... We're going to remember this for a long time."
Golden State allowed the Cavaliers to creep within eight points in the fourth before unleashing a flurry of 3s to ensure they would be taking the Larry O'Brien Trophy back to California. Curry's step-back made it 78-68, and after the Cavs closed within seven on J.R. Smith's trey, Iguodala, Curry and Klay Thompson each drained one in a span of 81 seconds to make it 89-75.
Iguodala added another long shot for good measure before he strutted back on defense holding out three fingers on each hand.
He could have shot an index finger into the air at that point -- Golden State is No. 1.
James returned from Miami to deliver a title to try to his home region, but the 30-year-old, left to do most of the work by himself after All-Stars Kyrie Irving and Kevin Love were injured in the postseason, came two wins shy of giving Cleveland its first pro sports championship since 1964.
They city's three pro teams - the Cavs, Browns and Indians - have gone a combined 144 seasons without one of them winning it all.
James was replaced in the final seconds, but before he left the court, the four-time MVP shook hands with Curry and offered congratulations to Kerr and the rest of the Warriors.
"The sacrifice every guy made from Andre and David (Lee) stepping away from the starting lineup, we just played," Kerr said. "And they were all in it just to win. That's all that mattered. This is an amazing group of guys."
This series, which opened with two overtime games in Oakland, flipped when Kerr employed a small lineup in the fourth quarter of Game 3 and the Warriors nearly overcame a 20-point deficit before losing.
Kerr stuck with revamped lineup in Game 4, giving Iguodala a start, switching Green to center and benching the ineffective Andrew Bogut. The move was as golden as the Warriors, who finished with 83 wins, the third-highest single-season total in history.
Only the 1995-96 and 1996-97 Bulls won more, and Kerr was on both of those teams.
Cleveland fans did all they could to force a Game 7.
They entered the building chanting "Let's Go Cavs!" and joined Marlana VanHoose for the final stanza of the national anthem, a touching moment that showed Cleveland was "All In" to take on Golden State.
The Warriors, though, were ready.
Down early after missing open shots, they began finding their range. Golden State capitalized on nine turnovers in the first quarter, made four 3s and built a 13-point lead when Harrison Barnes knocked down a long 3 - a shot that sent several dozen gold-and-blue Warriors fans sitting near their bench into a frenzy.
This was their night, the one they've waited for 40 years.
While Golden State had some solid teams in the past - the "Run TMC" version coached by Don Nelson and featuring Tim Hardaway, Chris Mullin and Mitch Richmond among them - the franchise has been undermined by dysfunction. Along with long playoff gaps, there were bad trades, poor drafts and numerous coaching changes.
The Warriors often made headlines for the wrong reasons. Remember when Latrell Sprewell choked coach P.J. Carlesimo?
Well, those days are gone, washed away by Curry and Thompson -- the "Splash Brothers" -- and a roster of selfless players who bonded under Kerr and have returned basketball glory to Oakland.
These new Warriors have been a model team: sharing the ball, defending together and sacrificing individual goals.
"Strength in Numbers" was their motto as the Warriors used depth and balance to jump from 51 wins to a franchise-record 67 during the regular season.
Kerr molded them. Hired last summer after spurning an offer from the Knicks, the 49-year-old former NBA guard, who won three of his five titles as Michael Jordan's teammate in Chicago and two playing for Gregg Popovich in San Antonio, Kerr brought out the best in his team. He is the first rookie coach to win the title since Pat Riley with the Lakers in 1982.
From the first day of training camp, he emphasized unity. A California-born kid who still surfs and would prefer to wear jeans and a pair of Vans on the sideline, he kept things loose by taking the Warriors bowling and letting them blare music during practices.
With Curry, the team's first MVP since Wilt Chamberlain, leading them, the Warriors outgunned everyone in the rugged Western Conference and entered the postseason as a No. 1 seed. They swept New Orleans, rallied from a 2-1 deficit to beat Memphis and then blew through Houston in five games to make the finals for the first time since '75.
They then held off James and the undermanned Cavs, who just didn't have enough.
Not against a team as golden as the trophy its taking home.
Thanks for reading CBS NEWS.
Create your free account or log in
for more features.