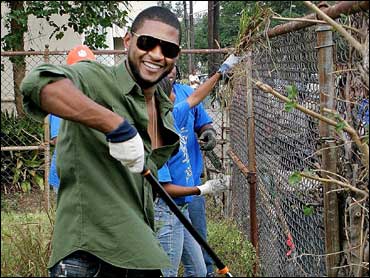 Usher Lends New Orleans A Helping Hand
Five-time Grammy winning R&B artist Usher pulled on some work gloves, grabbed a pair of trimmers and chopped away at a patch of vines that had overtaken a fence at a New Orleans school shuttered by Hurricane Katrina.
Usher, whose full name is Usher Raymond IV, joined dozens of volunteers Tuesday to clear the overgrown lawn of the International School of Louisiana, the state's first foreign language-based charter school, which has been closed since Katrina hit Aug. 29.
Usher got his first glimpse of Katrina's destruction Monday, when he visited storm-damaged neighborhoods in New Orleans and nearby St. Bernard Parish.
"To see it, in this state, it's devastating," Usher said, cutting away at the vines that had twisted through the chain-link fence surrounding the school, slated to reopen later this year.
"I'm here to physically do something and hopefully motivate other people to do the same," said Usher, the latest in a growing list of celebrities to visit New Orleans and the Gulf Coast since Katrina.
Last month, actresses Reese Witherspoon, Jennifer Garner and Cicely Tyson joined a group of women brought here by the Children's Defense Fund to bring attention to the needs of storm victims, particularly traumatized children. Talk-show host Ellen Degeneres, a New Orleans native, also visited last month and taped portions of her show here.
Shortly after Katrina, Usher began Project Restart to help families in the Gulf Coast region find housing. Though most well-known for his dance moves and hit songs like "Yeah," he has been a strong advocate for volunteerism.
On Monday, Usher met with Xavier and Dillard University students, whose campuses flooded. Some students joined him Tuesday for the cleanup effort, among them 21-year-old Trivia Frazier.
"It was very inspirational, just knowing somebody cares," said Frazier, a junior at Dillard whose New Orleans home was flooded. "It's also an incentive to keep going."
Usher, a Chattanooga, Tenn., native who now lives in Atlanta, was scheduled to meet with business leaders in Baton Rouge on Tuesday, along with Gov. Kathleen Blanco.
He visited the state capitol and took the microphone in the House and Senate chambers, wearing sunglasses and short-sleeves. He ignored House members' requests for a song and instead talked briefly about his efforts at helping storm victims.
"It truly takes a village to ... get some of these families back into their homes," he said.
Usher planned to visit the Mississippi Gulf Coast on Wednesday.
Thanks for reading CBS NEWS.
Create your free account or log in
for more features.