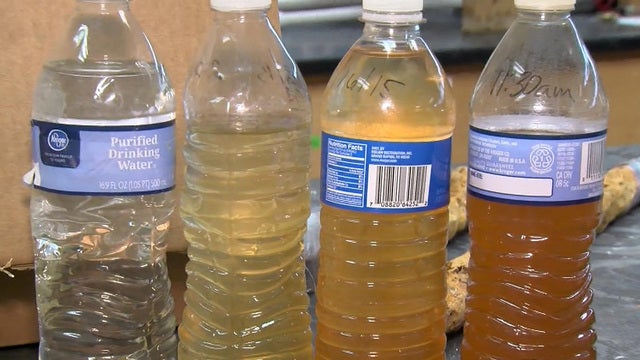 Report finds lead contamination in water extends well beyond Flint
As Michigan Gov. Rick Snyder testified at a Congressional hearing about lead contamination in Flint's drinking water, a new investigation by USA Today Network is raising more questions about the safety of tap water nationwide.
The report identified nearly 2,000 water systems, used by 6 million people, in which excessive lead levels were detected in the past four years.
One affected community is Sebring, Ohio, which has been struggling with tainted water problems for months. The town wants to test every home and if dangerous lead levels are found, bottled water and filters will be provided, reports CBS News correspondent Adriana Diaz.
Courtney Maretich lives in this village of less than 5,000 people southeast of Cleveland. She said she might swear off tap water for good, for the sake of her 7-month-old daughter, Autumn.
"It just seems like everyone's having water problems all of the sudden," Maretich said.
Lead was detected in the drinking water here in August, but residents weren't notified until January.
"It does bother me because why wouldn't they get it out sooner?" Maretich said. "Why wouldn't they tell us, especially for people with babies?"
Water leaving treatment plants is lead free, but without the right additives, the water can corrode lead service lines as well as lead plumbing inside homes, allowing the toxic metal to leach out.
But the problem in Sebring is not isolated. The USA Today Network investigation found that in 600 water systems, some of the taps had lead levels rivaling those of the worst samples found in Flint.
"One of the huge issues in our country is that for decades, we used lead to create water pipes," said USA Today Network investigative reporter Alison Young. "We need to be checking out our homes for lead in our pipes in the same way that we worry about lead-based paint."
Lead plumbing was finally banned in 1986. Even in small doses, it's considered dangerous and could lead to brain damage, reduced IQs and other health problems.
Water utilities now put additives in the water to prevent aging lead pipes from corroding. They also regularly test homes that are considered high-risk.
But David LaFrance, CEO of the American Water Works Association, said more needs to be done.
"As long as we have lead, there will be some risk that lead will get into the water. And the best way to solve that problem is to simply get the lead out," LaFrance said.
LaFrance's group said there are still 6.1 million lead lines in use, serving up to 22 million people, and that it could take as much as $30 billion to replace them all.
"But even if we remove all the lead service lines, there is still some risk that can occur if there is plumbing in the home that contains lead," LaFrance said.
Last month, the village of Sebring hired a new superintendent to run its water plant. But Maretich said she won't take any chances with her baby's health.
"I don't think I'll ever use the city water for her for anything just because you really never know what's in it," Maretich said.
If you are worried about lead in your drinking water, experts say you can get it tested and hire a plumber to see if your home has lead pipes.
USAToday.com also has a map showing which water systems tested higher than the EPA's lead limit of 15 parts per billion.
Thanks for reading CBS NEWS.
Create your free account or log in
for more features.