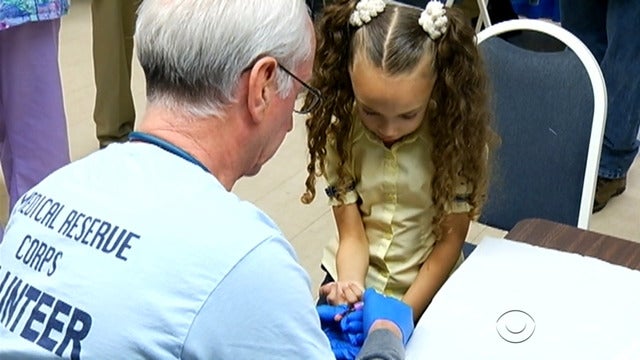 High lead levels could impact Flint for years
FLINT, Mich. -- There was a groundbreaking moment in Flint, Michigan on Friday as a plumbing crew dug up a corroded lead pipe outside a home where an expectant mother and an eight-year-old girl live -- and replaced it with a copper pipe.
For the city, that means one down, about 8,000 to go.
Nurse Toni Larocco spent part of the day checking on Stephanie Bradley's one-year-old daughter Ced-Janae, who tested positive for lead in September.
It was one of five house calls nurses from the Genessee County Health Dept made Friday, part of a city-wide effort to keep track of kids with lead poisoning.
"It's gone up huge. Our numbers of families that we're seeing has exponentially grown," Larocco told CBS News.
Bradley says she drank the contaminated water throughout her pregnancy. When she first learned that her daughter had high levels of lead, "I was very, very afraid because of how young she is and I didn't know the dangers of it."
Five months after Flint switched its water supply back to Lake Huron, nearly a thousand homes still have dangerous levels of lead in the water, and 72 children are still testing positive for high lead levels in their blood.
But only half of Flint's 8,000 children under the age of six have been screened, because testing is voluntary. Since lead can remain in the body for decades, the state is developing a registry to track Flint residents for years.
But Bradley said until all the lead pipes are out, she'll be afraid of how the water is affecting her daughter's future.
"It's making me want to leave the city of Flint, to move, just because of the water and everything," Bradley said. "It's, it's frustrating."
The city says right now there's only enough funding to replace 30 lead pipes -- out of 8,000. Flint's recovery will likely be a recurring theme in Sunday's Democratic presidential debate, being held right in the city.
Thanks for reading CBS NEWS.
Create your free account or log in
for more features.