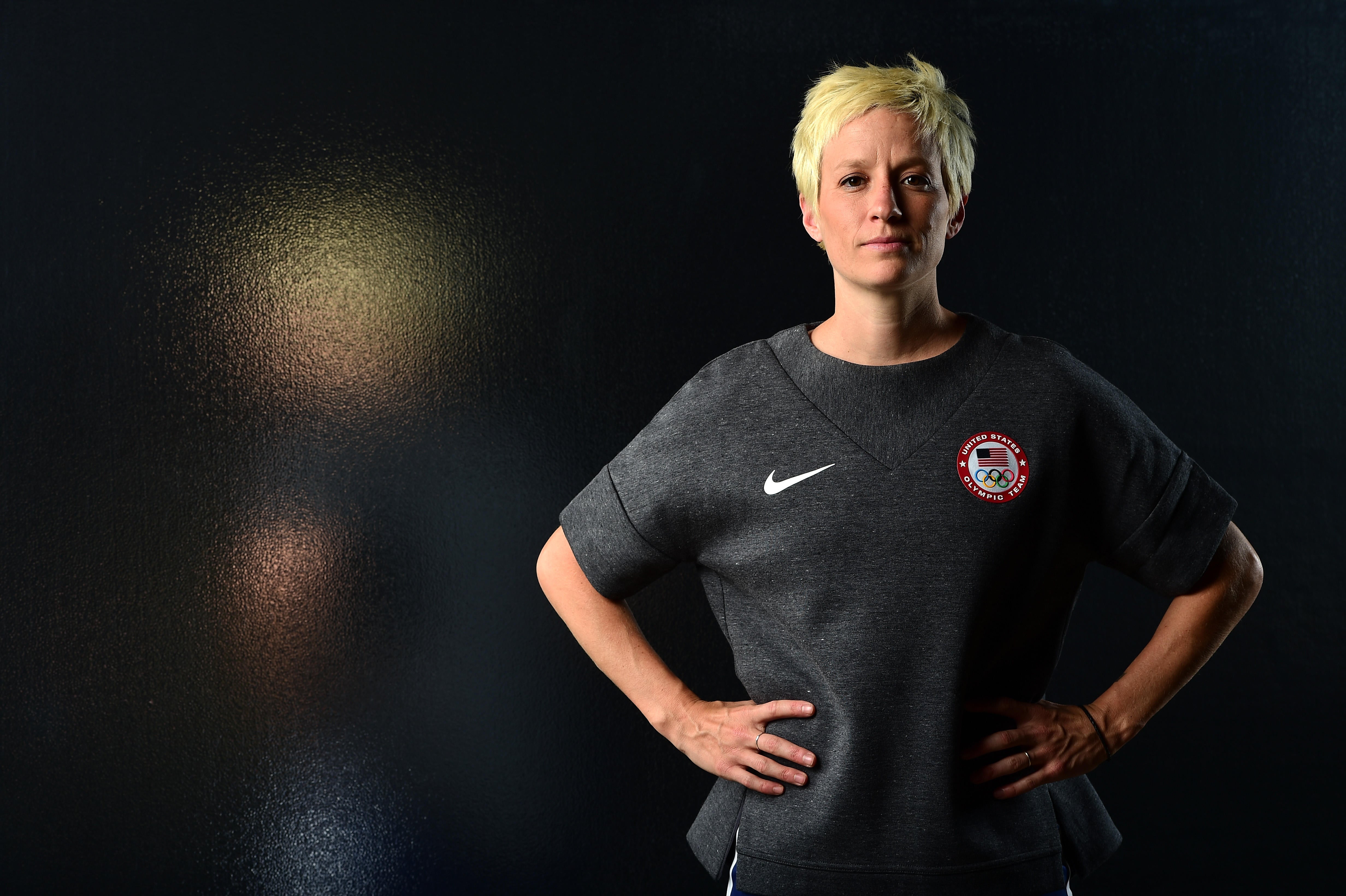 U.S. soccer star Megan Rapinoe kneels during national anthem
CHICAGO -- U.S. soccer star Megan Rapinoe knelt during the national anthem Sunday night before the Seattle Reign's game against the Chicago Red Stars "in a little nod" to NFL quarterback Colin Kaepernick.
Kaepernick's refusal to stand for the anthem to protest racial injustice and minority oppression came to public notice when he remained seated on the bench before a preseason game against Green Bay. On Thursday night in San Diego, he and safety Eric Reid kneeled during the anthem before a game against the Chargers.
"It was very intentional," Rapinoe told American Soccer Now after Seattle's 2-2 tie in the National Women's Soccer League game. "It was a little nod to Kaepernick and everything that he's standing for right now. I think it's actually pretty disgusting the way he was treated and the way that a lot of the media has covered it and made it about something that it absolutely isn't. We need to have a more thoughtful, two-sided conversation about racial issues in this country.
"Being a gay American, I know what it means to look at the flag and not have it protect all of your liberties. It was something small that I could do and something that I plan to keep doing in the future and hopefully spark some meaningful conversation around it. It's important to have white people stand in support of people of color on this. We don't need to be the leading voice, of course, but standing in support of them is something that's really powerful."
The 31-year-old Rapinoe helped the U.S. win the World Cup last year and played in the Rio Olympics.
"It's the least I can do. Keep the conversation going," Rapinoe tweeted.
Kaepernick's refusal to stand for the anthem first came to public notice when he remained seated on the bench before a preseason game against Green Bay.
On Thursday night in San Diego, Kaepernick and safety Eric Reid kneeled during the anthem before a game against the Chargers.
Kaepernick and Reid dropped to one knee while a naval officer sang "The Star-Spangled Banner" and dozens of military members unfurled an oversized flag at the Chargers' Qualcomm Stadium.
Kaepernick received scattered boos when he dropped to a knee, but the protest was otherwise unremarked by the San Diego crowd. The 49ers' visit coincided with the annual Salute to the Military preseason game for the Chargers, who have strong fan support in their city's extensive armed forces community.
Kaepernick got much heavier boos when he took the field to start the game for the 49ers and immediately led them on a 16-play, 85-yard touchdown drive. The veteran quarterback is attempting to regain the starting job that he lost last season.
Kaepernick's visit to San Diego fell on the Chargers' 28th annual Salute to the Military, a night designed to pay tribute to the tens of thousands of active and retired military personnel who live in the area. The festivities included pregame music from the Marine Band San Diego, halftime recognition of Vietnam War veterans, and a crowd filled with numerous injured soldiers invited as special guests.
Kaepernick has said he doesn't intend his stance to be a criticism of the military, claiming he has "great respect for the men and women that have fought for this country."
Kaepernick's social activism, which only emerged publicly in recent weeks, also included support for the Black Lives Matter movement through social media.
In Oakland, Seahawks cornerback Jeremy Lane also sat on the bench behind his standing teammates as the national anthem was performed before Seattle's game against the Raiders.
Another new controversy arose on Thursday over Kaepernick's choice of footwear during training camp in August, where he wore socks depicting police officers as pigs, CBS News' Carter Evans reported.
The union for police officers who work San Francisco 49ers home games says its members may boycott policing the stadium if the 49ers don't discipline Kaepernick for refusing to stand during the national anthem and for his statements about law enforcement.
A letter from the Santa Clara Police Officers Association sent to the 49ers was obtained Friday by CBS station KPIX.
It says that Kaepernick's protest has "threatened our harmonious working relationship" with the 49ers. About 70 officers from the Santa Clara Police Department patrol Levi's Stadium when the 49ers play there.
"If the 49ers organization fails to take action to stop this type of inappropriate behavior it could result in police officers choosing not to work at your facilities," the letter reads. "The board of directors of the Santa Clara Police Officer's Association has a duty to protect its members and work to make all of their working environments free of harassing behavior."
It also criticized what it called anti-police statements made by Kaepernick, calling them "insulting, inaccurate and completely unsupported by any facts."
In a statement Saturday, Santa Clara Police Chief Michael Sellers urged the leadership of the officers' union to put citizens' safety first after the boycott threat.
Thanks for reading CBS NEWS.
Create your free account or log in
for more features.