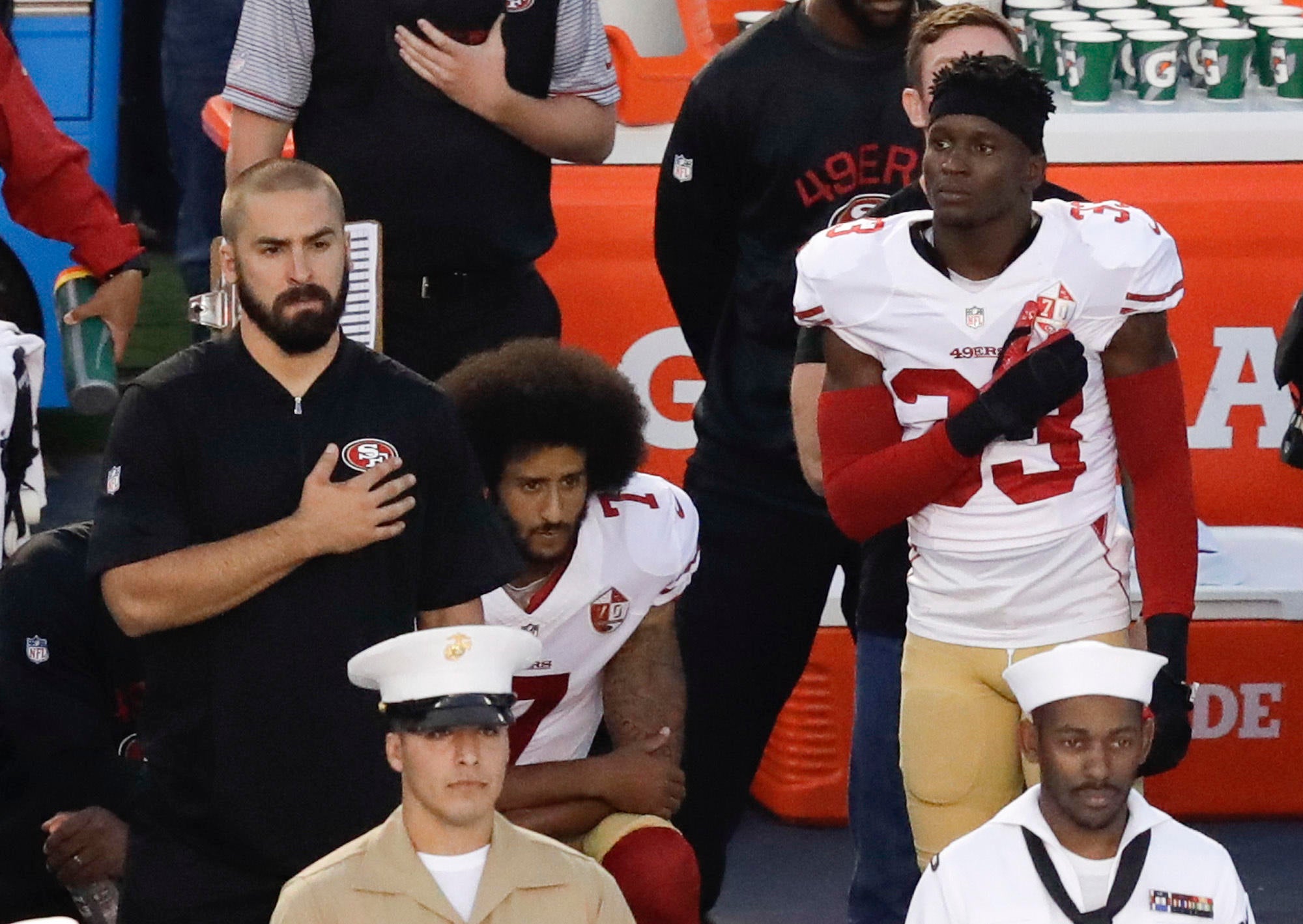 Teammate joins Colin Kaepernick in kneeling during national anthem
SAN DIEGO -- Colin Kaepernick and San Francisco 49ers safety Eric Reid kneeled during the national anthem Thursday night, continuing the quarterback's preseason protest of American racial injustice and minority oppression.
Kaepernick and Reid dropped to one knee while a naval officer sang "The Star-Spangled Banner" and dozens of military members unfurled an oversized flag at the Chargers' Qualcomm Stadium.
Kaepernick received scattered boos when he dropped to a knee, but the protest was otherwise unremarked by the San Diego crowd. The 49ers' visit coincided with the annual Salute to the Military preseason game for the Chargers, who have strong fan support in their city's extensive armed forces community.
Kaepernick got much heavier boos when he took the field to start the game for the 49ers and immediately led them on a 16-play, 85-yard touchdown drive. The veteran quarterback is attempting to regain the starting job that he lost last season.
Kaepernick kneeled next to Nate Boyer, a former Green Beret who went to training camp with the Seahawks last year as a long snapper.
Boyer, who wrote a conciliatory open letter to Kaepernick earlier this week, had a long conversation with the quarterback about his stance this week, and he posted a photo of the two on Twitter with a caption reading, "Let's just keep moving forward. This is what America should be all about."
Kaepernick's visit to San Diego fell on the Chargers' 28th annual Salute to the Military, a night designed to pay tribute to the tens of thousands of active and retired military personnel who live in the area. The festivities included pregame music from the Marine Band San Diego, halftime recognition of Vietnam War veterans, and a crowd filled with numerous injured soldiers invited as special guests.
Kaepernick has said he doesn't intend his stance to be a criticism of the military, claiming he has "great respect for the men and women that have fought for this country."
Kaepernick's social activism, which only emerged publicly in recent weeks, also included support for the Black Lives Matter movement through social media.
In Oakland, Seahawks cornerback Jeremy Lane also sat on the bench behind his standing teammates as the national anthem was performed before Seattle's game against the Raiders.
On Thursday, another new controversy arose over Kaepernick's choice of footwear during training camp in August, where he wore socks depicting police officers as pigs, CBS News' Carter Evans reported.
When Kaepernick left the field following pregame warmups in San Diego, he was greeted with profanity and obscene gestures from Leo Uzcategui, a 20-year Navy veteran in a military-green Chargers jersey with quarterback Philip Rivers' No. 17 in camouflage numbering.
"I was in the Navy and I saw men and women bleed and die for this flag," Uzcategui said. "If he wants to do something, go to some outreach program where he can do some good. And I get it, his First Amendment right. But you don't sit during the presenting of the colors, and you don't sit during the national anthem. That is not the way to do it."
Kaepernick's stance struck a nerve with some veterans.
"I don't like it," said Navy veteran John Lair. "If he's not for our country and the United States flag, get out of my country."
"I won't watch a 49er game from now on. On account of him," Lair added.
Boomer Esiason, a CBS Sports football analyst and former NFL quarterback, called Kaepernick's actions "disgraceful."
"When you see people disrespecting the flag or the national anthem, it really rubs you the wrong way," Esiason said.
But Kaepernick is getting some support. Veterans on social media are using the hashtag #veteransforkaepernick.
"As much as I don't agree with it, and as much as a lot of people don't agree with it, that is his right," said Army veteran Jeremiah Thompson.
Arian Foster, a running back with the Miami Dolphins, has talked with Kaepernick and supports him, even if many fans do not.
"You're entitled to feel or say whatever you want to about Colin Kaepernick, but there are people in this country that are hurting, whether you want to believe it or not," Foster said.
Thanks for reading CBS NEWS.
Create your free account or log in
for more features.