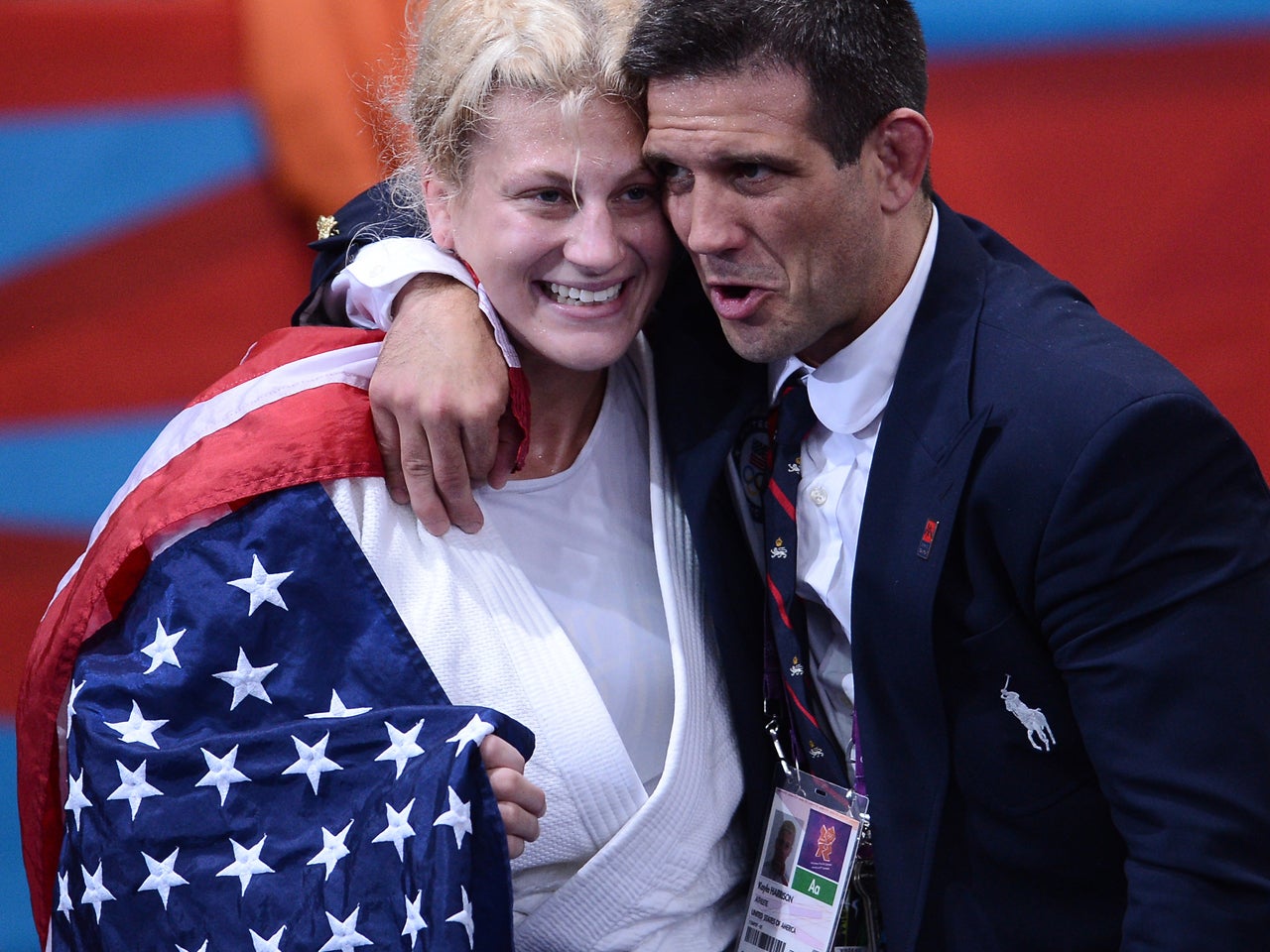 U.S. Judo gold medal winner Kayla Harrison wore her lucky socks
(CBS/AP) Maybe it was the socks.
U.S. judo gold medalist Kayla Harrison is superstitious, so she made sure things were exactly how she wanted them at the London Games.
"I'm big on ritual and I'm big on patterns and I get comfortable," Harrison said. "And when I get comfortable, I get confident. And when I get confident, I win."
So when coach Jimmy Pedro needed to pick a suit for Thursday's matches, he and Harrison decided that he shouldn't wear the USA Judo one that failed to deliver Olympic gold earlier in the tournament. He went instead with his opening ceremony outfit.
Harrison, meanwhile, wore the lucky socks that her grandmother gave her six years ago and played her lucky playlist.
Now she's got another lucky charm - Olympic gold.
Harrison took her spot atop the medal stand, determined not to cry during the national anthem.
She was in tears after one note.
On this day, emotion was the only thing she could not beat.
Now America finally has an Olympic judo champion: Harrison, a 22-year-old woman from Ohio who was sexually abused by a former coach as a child, became a self-described "teenage punk" who hated everything about her sport and then found a way to turn everything around.
Harrison took the final step in the journey Thursday. She beat Britain's Gemma Gibbons 2-0 for the gold medal in the women's under 78-kilogram division.
"Kind of just reflecting back on my life. Everything it's taken to get here, and everything that I've gone through," Harrison said. "I'm America's first gold medalist in judo - and always will be."
Pedro, Harrison's coach, gave the Olympian a pep talk on Thursday before she competed in the London Games.
"Today, Kayla Harrison, nobody is going to beat you," Pedro said. "Today, you will make history. Today, Kayla Harrison is an Olympic champion."
Complete Coverage: 2012 London Olympics
Pedro has been at Harrison's side for years.
Harrison moved to Massachusetts when she was 16 and found refuge at Pedro's Judo Center.
Her mother was pursuing charges against Daniel Doyle, who had started coaching her when she was 8 and - beginning when she was 12, perhaps earlier - sexually abused her on trips to Venezuela, Estonia and Russia. Harrison had mistaken it, for years and years, for being in love.
The coach was later sentenced to 10 years in prison and expelled for life from USA Judo, the sport's national governing body.
After Harrison came forward, her mother knew that the daughter needed a new beginning. So to Massachusetts she went, alone. Her mother had placed her future in the hands of Pedro and his father.
It was not easy. She simply did not want to be there.
In time, the trust issues were worked out. Harrison got back into school. She believed in what Pedro and his father, whom everyone calls "Big Jim," were telling her. Eventually, she believed in herself again as well.
"Never give up on your dreams," Harrison said on Thursday. "I mean, if I can do it, anybody can do it. Things have happened, but now, my life is a dream. I'm living my dream right now."
Thanks for reading CBS NEWS.
Create your free account or log in
for more features.