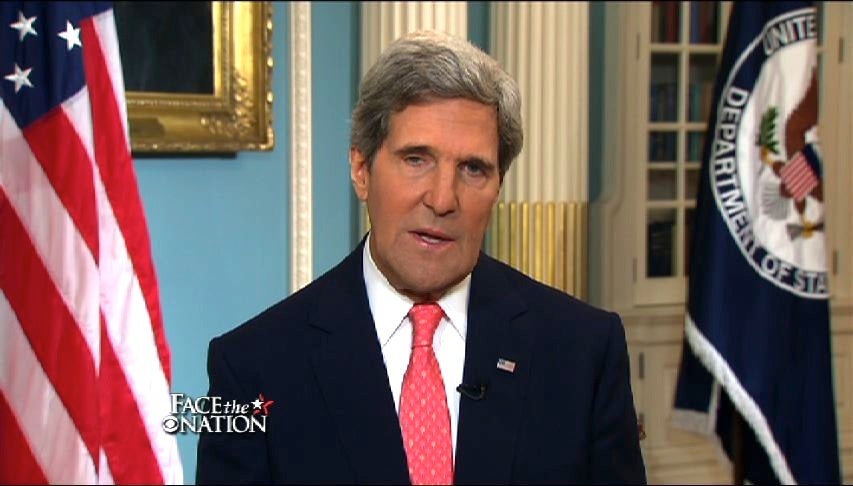 U.S. has firm evidence sarin gas was used in Syria chemical weapons attack, Sec. Kerry says
(CBS News) President Obama's surprise announcement Saturday that he will seek congressional authorization and support for a limited strike in Syria, Secretary of State John Kerry said Sunday on "Face the Nation," makes a compelling case to American allies in the region that "the United States is acting in concert in a way that really sends a powerful message about our credibility."
"Each day that goes by," Kerry said, "this case is getting stronger. I mean, today I'm at liberty to tell you that we now have samples back from first responders in East Damascus - those samples of hair and blood have been tested, and they have reported positive for signatures of sarin. So, we are now getting a stronger case each day. The credibility of the United States is on the line here and I believe that Congress will do the right thing."
Mr. Obama's decision to take his case for direct involvement in Syria's two-year-old conflict to Congress marked an abrupt turnaround for the White House, which had appeared on the cusp of ordering U.S. forces to launch a missile attack against Syria, in light of evidence that Assad's regime used chemical weapons against his own people. The president said long ago that use of chemical weapons would be a "red line" Assad would not be allowed to cross without repercussions.
"I think that makes it even more compelling that the Congress of the United States be counted with the president in this effort so that Israel, Jordan, Lebanon, Turkey, all of our friends and allies in the region, will know that the United States is acting in concert in a way that really sends a powerful message about our credibility, about our intentions to uphold international norms," he went on. "And that will have an impact on other decisions down the road."
A Syrian state-run newspaper Sunday assessed: "President Obama has announced... by prevaricating or hinting, the start of the historic American retreat." And the Syrian rebels, CBS News correspondent Elizabeth Palmer reports, say they "no longer count on America or any other country" because "we now realize the whole world is mocking us, mocking our feelings and mocking our blood."
Syrian state media: Obama's Congress request is a "retreat"
Why Obama's going to Congress
Assessing "red lines" as Obama mulls Syria attack
Complete CBS News coverage: Syria crisis
Kerry - who would not say whether the president planned to engage in a covert arming of the opposition - argued the delay imposed by the congressional request does not mock the rebels, but rather makes a more sound case for helping them. He also assured that the administration's decision to engage in Syria does not mean it intends "to have America assume responsibility" for the country's raging civil war.
"The president has drawn a clear line," Kerry said. "He does not intend to put boots on the ground. He is not going to envelope the United States inside Syria's civil struggle. But he has committed to help the opposition. And he has stated unequivocally that [President Bashar] Assad has lost all legitimacy and cannot conceivably continue to govern, ultimately, Syria."
Lawmakers are on tap to return from summer recess on Sept. 9. In anticipation of the coming debate, Mr. Obama challenged them to consider "what message will we send if a dictator can gas hundreds of children to death in plain sight and pay no price."
Thanks for reading CBS NEWS.
Create your free account or log in
for more features.