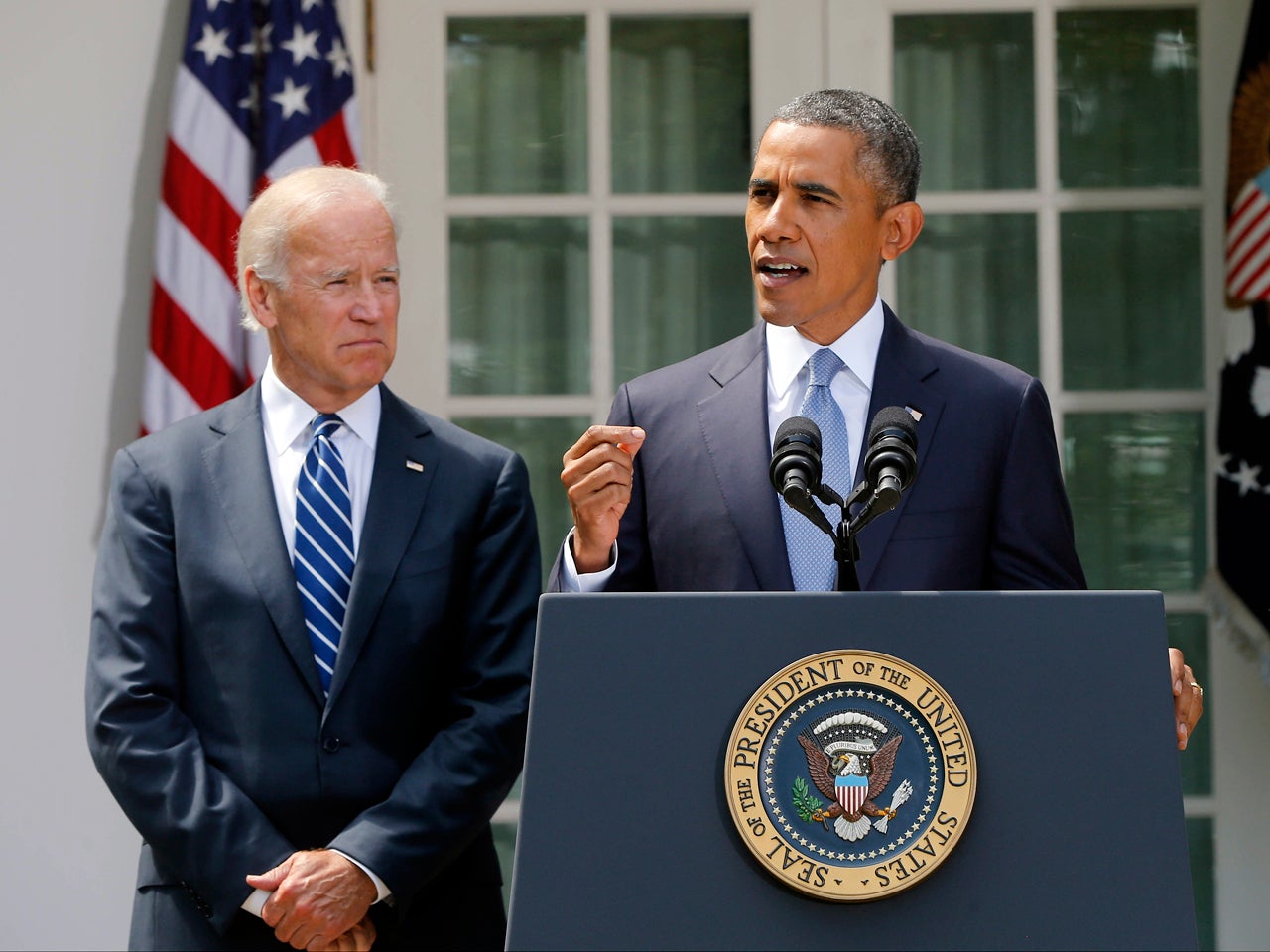 Obama seeks Syria strike with Congress' approval
Updated at 9:22 p.m. ET
Facing resistance at home and abroad about the prospect of a U.S. attack on Syria, President Obama said Saturday that he has decided the U.S. should take military action against the Syrian regime in retaliation for its use of chemical weapons.
He also promised to seek congressional approval after lawmakers return from their recess Sept. 9, saying that he does not believe the law requires him to seek approval, but America will be "stronger" if he does.
"Ten days ago the world watched in horror as men, women and children were massacred in Syria in the worst chemical weapons attack of the 21st century," Mr. Obama said, calling the attack an "assault on human dignity" and saying the U.S. had presented a convincing case that the regime of Bashar Assad was responsible.
"In a world with many dangers, this menace must be confronted," he said. "After careful deliberation, I have decided that the United States should take military action against Syrian regime targets."
The president reiterated that the intervention would be "limited in duration in scope," and he suggested that the attack plan is not time sensitive - that it would be as effective in a month as it would be immediately.
"The military has positioned assets in the region. We are prepared to strike whenever we choose," he said, "and I am prepared to give that order."
In addition, perhaps nodding to the many lawmakers who have demanded the president seek congressional approval before launching any military action, Mr. Obama said he would "seek authorization for the use of force from the American people's representatives in Congress."
"This morning I spoke with [congressional leaders in both houses from both parties], and they've agreed to schedule a debate and a vote as soon as Congress comes back into session," he said. "While I believe I have the authority to carry out this action without specific congressional authorization, our country will be stronger if we take this course."
"We should have this debate because the issues are too big for business as usual," the president said, posing a question to those members of Congress who have questioned the wisdom or legality of U.S. action in Syria: "What message will we send if a dictator can gas hundreds of children in plain sight and pay no price?"
The president acknowledged the British Parliament's failure this week to approve a resolution sanctioning intervention in Syria, but he vowed to seek a similar vote in Congress despite the resistance among Capitol Hill rank and file, saying he's "looking forward to the debate." Shortly after his statement, the president and Vice President Biden headed to Fort Belvoir in Virginia to play golf.
British Prime Minister David Cameron, who asked the British Parliament to approve the use of military force but was rebuffed, tweeted his support of Mr. Obama's decision after it was announced. "I understand and support Barack Obama's position on #Syria," he wrote.
The United Nations, hamstrung by the presence of Syrian ally Russia on the Security Council, has also been unable to muster an international condemnation of the chemical attack. Mr. Obama, who said he was comfortable with the use of force against Syria, even without a U.N. mandate, is resisting the pressure from the U.N. Secretary General, Ban Ki-moon, who has been clear that military action without Security Council authorization is prohibited by the U.N. Charter.
In a briefing on the meeting between U.N. weapons inspector Angela Kane and the secretary general on Saturday, U.N. spokesman Martin Nesirky said that over 1,000 U.N. staff from a dozen agencies remain in Syria, CBS News foreign affairs analyst Pamela Falk reports from U.N. headquarters in New York. Nesirky said the the U.N. inspection team will return to Syria after the completion of their report on the most recent incident, to follow up on other sites.
Back home, however, immediate congressional reaction to the president's statement sounded an encouraging note. Senate Republican Leader Mitch McConnell, R-Ky., said in a statement that "the president's role as commander-in-chief is always strengthened when he enjoys the expressed support of the Congress."
In addition, House GOP leaders led by Speaker John Boehner, R-Ohio, issued a statement explaining, "We are glad the president is seeking authorization for any military action in Syria in response to serious, substantive questions being raised. In consultation with the president, we expect the House to consider a measure the week of September 9th."
At least one lawmaker, however, warned that the president's decision to seek congressional approval was a mistake. "President Obama is abdicating his responsibility as commander-in-chief and undermining the authority of future presidents," warned Rep. Peter King, R-N.Y., in a statement. "The President does not need Congress to authorize a strike on Syria. If Assad's use of chemical weapons against civilians deserves a military response, and I believe it does, and if the President is seeking congressional approval, then he should call Congress back into a special session at the earliest date."
Sens. John McCain, R-Ariz., and Lindsey Graham, R-S.C., critiqued the president's proposed military response as "inadequate" in a statement. "We cannot in good conscience support isolated military strikes in Syria that are not part of an overall strategy that can change the momentum on the battlefield, achieve the President's stated goal of Assad's removal from power, and bring an end to this conflict," they said.
On Saturday, the White House sent a letter to the Speaker of the House and the President of the Senate regarding draft legislation on the authorization of use of force in Syria. Meanwhile, U.S. Sen. Robert Menendez announced that the Senate Foreign Relations Committee will hold a hearing on Tuesday to discuss the authorization for use of military force.
"I have spoken with Leader Reid and beginning this Tuesday, the Senate Foreign Relations Committee will debate the Authorization for Use of Military Force in Syria," said Menendez, who is the chairman of the committee. "Senior Administration witnesses will testify before the Committee and the Congress will debate this issue actively, fully, and publicly. It is my view that the use of military force in Syria is justified and necessary given the Assad regime's reprehensible use of chemical weapons and gross violation of international law. I look forward to sharing these views with my colleagues in the days ahead as the Senate Foreign Relations Committee convenes to take up this vital national security issue."
On Saturday, Secretary of State John Kerry, Secretary of Defense Chuck Hagel and National Security Adviser Susan Rice, among others, held an unclassified conference call with Senate Democrats and Republicans to "continue the administration's consultations regarding [the Syrian government's] use of chemical weapons in Syria on August 21," according to a White House official.
And on Sunday afternoon, at Boehner's request, administration officials will meet in person with Democrats and Republicans in the House and Senate. Though many members have returned to their districts for the August congressional recess, the briefing will be held on Capitol Hill.
On Saturday morning, members of the president's national security team, including Hagel, Chairman of the Joint Chiefs of Staff Gen. Martin Dempsey and Attorney General Eric Holder, were spotted entering the White House. Administration officials declined to characterize any national security meetings under way.
On Friday, Secretary of State John Kerry laid out evidence that gives U.S. officials "high confidence" that Assad's regime was responsible for the Aug. 21 chemical weapons attack in a suburb of Syria's capital that killed 1,429 civilians, including 426 children, according to a declassified U.S. intelligence report.
"So the primary question is really no longer 'What do we know?'" Kerry said. "The question is...'What are we in the world going to do about it?'"
Kerry and Mr. Obama made a moral and instrumental case on Friday for a strong U.S. response to Syria's use of chemical weapons, which both characterized as a violation of a critically important international norm. Mr. Obama said Assad's use of chemical weapons posed a direct threat to U.S. national security because it would undermine the international consensus against the use of such weapons and could embolden other rogue regimes to flout international norms in a similar fashion.
The president emphasized on Friday, as he did again on Saturday, that the intervention would be "limited" and "narrow" in scope and would not involve boots on the ground. However, he and Kerry both warned that the consequences of doing nothing would greatly outstrip the perils of action.
Regardless, many in Congress continued to raise concerns about the possibility of U.S. intervention in Syria's civil war, and the weekend's briefings are likely intended to tamp down concern among lawmakers about the wisdom and legality of the planned U.S. strike.
Some lawmakers have pushed for quick, robust action in Syria, while others have said they would not support a strike they don't believe is in America's security interests. Finding a middle ground, many lawmakers simply urged the administration to consult more closely with Congress as it mulls a path forward in Syria.
Thanks for reading CBS NEWS.
Create your free account or log in
for more features.