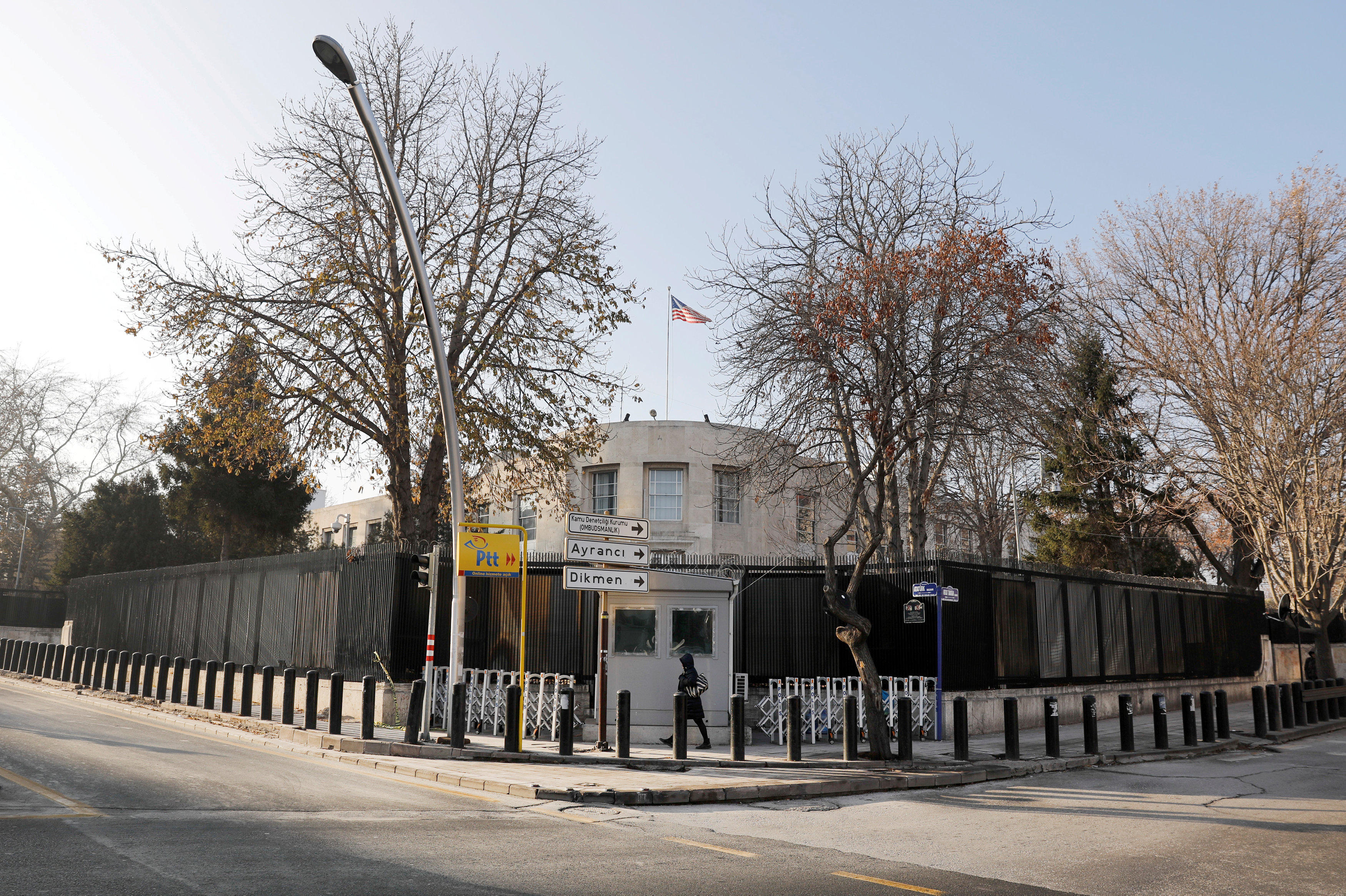 Shots fired at gate of U.S. Embassy in Turkey
ANKARA, Turkey -- Shots were fired at a security booth outside the U.S. Embassy in the Turkish capital, Ankara, early Monday, the Ankara Governorate said in a statement. Six rounds were fired from a moving white car, the statement said, and a preliminary investigation determined that three bullets hit the gate and a glass section of the booth, but no one was hurt. One suspect was detained in connection with the investigation, the Turkish state-run Andalou news agency reported.
U.S. Embassy spokesman David Gainer thanked police for their "rapid response," to the incident, and Turkish officials condemned the shooting. Presidential spokesman Ibrahim Kalin tweeted that it was "an attempt to create chaos."
The U.S. mission in Ankara, which, along with the American consulate in Istanbul, has been the target of attacks by militants in the past, is closed this week as Turkey celebrates the Muslim holiday of Eid al-Adha, CBS News correspondent Holly Williams reports.
Ties between Ankara and Washington have been strained over the case of an imprisoned American pastor, leading the U.S. to impose sanctions and increased tariffs that sent the Turkish lira tumbling last week.
Evangelical pastor Andrew Craig Brunson -currently under house arrest after more than 1½ years in prison- is facing up to 35 years in prison if convicted of espionage and terror-related charges.
U.S. President Donald Trump has called for his immediate release and threatened more sanctions. The continued detention of a Turkish-American NASA scientist and three local consular staff members adds to the tensions.
Turkey has long criticized the United States for not agreeing to hand over Fethullah Gulen, a Muslim cleric accused by Turkish authorities of engineering an attempted coup in 2016. Gulen denies those allegations, and Washington has urged Turkey to present convincing evidence for any extradition proceeding to go forward.
Last week, the U.S. president signed a defense spending bill that includes delaying the delivery of F-35 fighter jets pending a Pentagon report. U.S. senators have been working to block their delivery in response to Brunson's arrest and Turkey's pledge to buy Russian S-400 missile systems.
Turkish President Recep Tayyip Erdogan has called for a boycott on U.S.-made electronic products, with some citizens heeding his call and filming themselves breaking their iPhones. Turkey has also increased imports tariffs on some products.
Thanks for reading CBS NEWS.
Create your free account or log in
for more features.