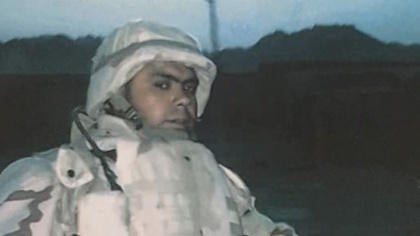 U.S. Army veteran who served two tours in Afghanistan deported to Mexico
A United States Army veteran who served two tours in Afghanistan has been deported to Mexico, U.S. Immigration and Customs Enforcement said. The deportation comes more than a week after Miguel Perez was denied U.S. citizenship because of a 2008 drug conviction.
ICE officers escorted Perez across the U.S.-Mexico border and turned him over to Mexican authorities on Friday, ICE said in a statement to CBS News.
Earlier this month, the 39-year-old Perez petitioned immigration officials to be granted citizenship retroactive to when he joined the military in 2001.
Perez served two tours in Afghanistan. He says he mistakenly thought he became a U.S. citizen when he took an oath to protect the nation.
Perez was taken into custody by Immigration and Customs Enforcement officers after he served half of a 15-year prison sentence for a nonviolent drug charge. He was being held in a Wisconsin detention center before he was deported.
ICE spokesperson Nicole Alberico told CBS News on Monday that the agency is "very deliberate" in its review of deportation cases involving U.S. military veterans.
"ICE exercises prosecutorial discretion, when appropriate, on a case-by-case basis for members of the armed forces who have served our country," she said in a statement. "ICE specifically identifies service in the U.S. military as a positive factor that is considered when deciding whether or not prosecutorial discretion should be exercised."
Earlier this month, Sen. Tammy Duckworth, D-IL, blasted the decision to deny Perez retroactive citizenship
"He earned the opportunity to remain in this country when he vowed to defend it in our military, but today's decision is yet another example of our nation failing him once more," she said in a statement. "We must do more to address the problems that allow the Trump Administration to deport Veterans from the same country they risked their lives to defend. It's shameful to turn our backs on those who have the courage to wear the uniform."
In January, CBS Chicago reported that Perez's family and friends stood in front of the downtown ICE offices in a bid to save him. Perez joined the demonstration by phone.
"The system has been killing me slowly, and now I'm facing death if I'm deported to Mexico, so I would rather die in the country I fought for than in a place that's not my home," Perez said.
In February, Perez presented his case before an immigration judge, CBS Chicago reported.
Testifying for more than two hours, Perez told the immigration judge that when he was brought back into Chicago for his hearing, he saw the skyline and thought, "This is a welcome mat."
He says he suffered PTSD when he got back and then turned to alcohol and drugs.
Perez acknowledged his guilt in delivering cocaine to an undercover officer, but pointed out he took responsibility for the crime by pleading guilty and serving 7 years in prison.
In prison, he got a degree and was a teacher's aide.
Thanks for reading CBS NEWS.
Create your free account or log in
for more features.