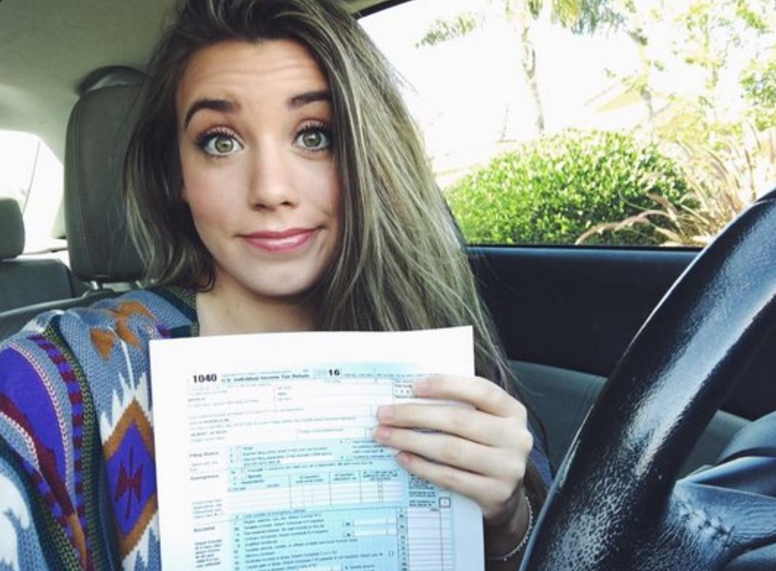 Undocumented immigrant's FB post on paying taxes draws social media ire
A young immigration advocate decided to illustrate the point that millions of undocumented immigrants pay taxes to the U.S. government by posting a picture of herself with her completed IRS 1040 form on Facebook.
Here's what Arizona State University Student Belen Sisa wrote, according to the Arizona Republic:
"MYTH BUSTER: I, an undocumented immigrant, just filed my taxes and PAID $300 to the state of Arizona. I cannot receive financial aid from the state or federal government for school, I cannot benefit from unemployment, a reduced healthcare plan, or a retirement fund. I think I'm a pretty good citizen. Oh and there are MILLIONS just like me who pay into a system they will never receive anything from. Wanna tell me again how I should be deported, contribute nothing and only leech off this country while the 1% wealthiest people in this country steal from you everyday? How about you show me yours Donald J. Trump? #HereToStay"
That was Sunday morning. By Sunday evening, the Argentinian college junior had received scores of messages from strangers deriding her as a criminal and calling for her deportation.
Sisa, whose parents overstayed their visas when she was 6 years old, according to the Arizona Republic, is a "dreamer," temporarily protected from deportation by DACA, President Obama's Deferred Action for Childhood Arrivals program.
She's changed the access on her Facebook page to "friends only" because of the messages she received -- reportedly at least 4,500 -- many of them negative. Here's a sampling:
"Reported you to ICE and Homeland security. Crime doesn't pay lady."

"I have reported you to the INS and screenshotted your posts where you identified your self as an illegal alien."

"...first thing in morning my uncle who lives in glendale will be contacting ICE."

"I am a governor hopeful and putting your deportation on my resume is going to look great on my accolades....You really should have thought twice before you committed an act of war by invasion and thinking you have a right to a voice in my country."

Sisa is far from alone in being an undocumented immigrant who keeps up with her tax payments. According to the Institute on Taxation and Economic Policy, undocumented immigrants "collectively contribute an estimated $11.74 billion to state and local coffers" through their payments of sales, excise, personal income and property taxes.
Thanks for reading CBS NEWS.
Create your free account or log in
for more features.