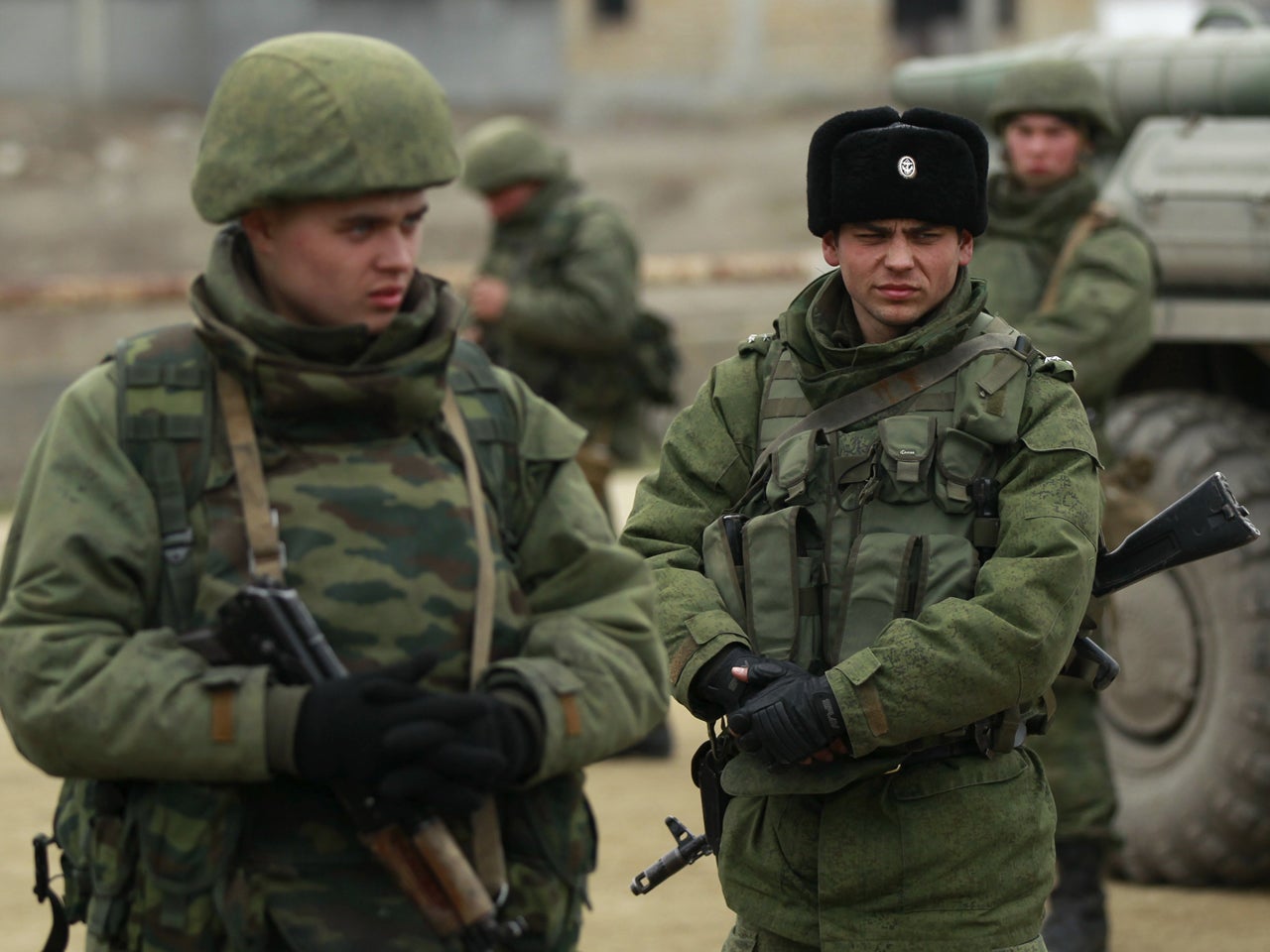 Ukrainian prime minister: Russia has made a "declaration of war"
SIMFEROPOL, Ukraine - Ukraine mobilized for war on Sunday, after Russian President Vladimir Putin declared he had the right to invade, creating the biggest confrontation between Moscow and the West since the Cold War.
"This is not a threat: this is actually the declaration of war to my country," said Ukraine's Prime Minister Arseny Yatsenyuk, head of a pro-Western government that took power when Russian ally Viktor Yanukovich fled last week.
Putin obtained permission from his parliament on Saturday to use military force to protect Russian citizens in Ukraine, spurning Western pleas not intervene.
Russian forces have already bloodlessly seized Crimea - an isolated Black Sea peninsula where Moscow has a naval base. On Sunday they surrounded several small Ukrainian military outposts there and demanded the Ukrainian troops disarm. Some refused, although no shots were fired.
After the seizure, Ukraine launched a treason case on Sunday against the head of the navy, who surrendered his headquarters on Sunday in the Crimean port of Sevastopol on only his second day on the job.
Denis Berezovsky was shown on Russian television swearing allegiance to the pro-Russian regional leaders of Crimea, which is where Russia's Black Sea Fleet also has its headquarters. Several units of Ukrainian troops in Crimea have been surrounded, and Russian troops have urged them to give up arms and support the peninsula's pro-Moscow regional authorities.
"During the blockade by Russian forces of the central headquarters of the navy, he declined to offer resistance and laid down his weapons," said Viktoria Syumar, deputy secretary of Ukraine's Security Council.
"The prosecutor's office has opened a criminal case against Denis Berezovsky under statute 111: state treason," she said. Another admiral, Serhiy Hayduk, was placed in charge of the navy.
The move against Berezovsky comes just hours after Ukrainian officials said its navy's fleet of 10 warships in the Crimean port of Sevastopol had not left the port and remained loyal to the government in Kiev.
Earlier, Ukraine said it had withdrawn coastguard vessels from Sevastopol and another Crimean port and stationed them elsewhere.
Ukraine's security council ordered the general staff to immediately put all armed forces on highest alert, the council's secretary Andriy Parubiy announced.
The Defense Ministry was ordered to conduct a call-up of reserves - theoretically all men up to 40 in a country with universal male conscription, though Ukraine would struggle to find extra guns or uniforms for significant numbers of them.
"If President Putin wants to be the president who started the war between two neighboring and friendly countries, between Ukraine and Russia, he has reached this target within a few inches. We are on the brink of disaster," Yatsenyuk said in televised remarks in English, appealing for Western support.
U.S. Secretary of State John Kerry echoed Yatsenyuk's concerns, calling Putin's moves "stunning" and a "violation of the sovereignty of Ukraine" in an interview with CBS' "Face the Nation" Sunday morning.

"You just don't in the 21st century behave in 19th century fashion by invading another country on completely trumped up pretext," Kerry said.

Putin said he is protecting Russian interests and ethnic Russians by sending in his troops to eastern Ukraine, but so far there has been no evidence of any threats to those things.
"There are all kinds of other options still available to Russia," Kerry said. "There still are. President Obama wants to emphasize to the Russians that there are a right set of choices that can still be made to address any concerns they have about Crimea, about their citizens, but you don't choose to invade a country in order to do that."

THREAT TO EASTERN UKRAINE
At Kiev's Independence Square, where anti-Yanukovich protesters had camped out for months, thousands demonstrated against Russian military action. Placards read: "Putin, hands off Ukraine!"
Of potentially even greater concern than Russia's seizure of the Crimea are eastern swathes of the country, where most of the ethnic Ukrainians speak Russian as a native language.
Those areas saw violent protests on Saturday, with pro-Moscow demonstrators hoisting flags at government buildings and calling for Russia to defend them. Kiev said the protests were manufactured by Russia, accusing Moscow of sending hundreds of its citizens across the border to stage them.
Putin's declaration that he has the right to invade his neighbor - for which he quickly received the unanimous approval of his senate - brought the prospect of war to a country of 46 million people on the ramparts of central Europe.
"President Obama expressed his deep concern over Russia's clear violation of Ukrainian sovereignty and territorial integrity, which is a breach of international law," the White House said after the leaders spoke for 90 minutes on Saturday.
The U.S. also said it will suspend participation in "preparatory meetings" for the Group of Eight economic summit planned in June to be held at the Black Sea resort of Sochi, site of the just-concluded 2014 Winter Olympics.
Obama's conversation with Putin was the toughest and most direct of the Obama presidency, reports CBS News correspondent Major Garrett.
For Obama to accuse Putin of violating Ukraine's territorial sovereignty and committing a violation of international law is to throw back into Putin's face all of the language he has clung to in order protect Syria, Iran and other nations while holding the U.S. and the West at bay.
Putin ritualistically proclaims the centrality and global preeminence of the UN charter, treaties and international law. By directing and unequivocally calling Putin a violator of these self-same standards in Ukraine, Obama is trying to isolate Putin with his own rhetoric.
The White House knows it can't fight Russia out of Crimea. It is hoping to shame and isolate Putin into reconsidering his options and force Putin to decide between his sovereignty arguments on the world stage on behalf of Syria and Iran and give them up if he means to protect to the Crimea by invading Ukraine.
French Foreign Minister Laurent Fabius agreed, saying on French radio Europe that planning for the summit should be put on hold. France "condemns the Russian military escalation" in Ukraine, and Moscow must "realize that decisions have costs," he said Sunday.
But the U.S. and other Western governments have few options to counter Russia's military moves.
Ukraine has appealed for help to NATO, and directly to Britain and the United States, as co-signatories with Moscow to a 1994 accord guaranteeing Ukraine's security after the breakup of the Soviet Union.
The White House is moving rapidly to put together a tangible aid package, valued in the billions, so the IMF team due to arrive in Kiev next week doesn't just arrive by saying "Hello."
NATO Secretary General Anders Fogh Rasmussen accused Russia of threatening peace and security in Europe before NATO ambassadors met in Brussels to discuss their next steps.
Washington has proposed sending monitors to Ukraine under the flags of the United Nations or Organization for Security and Cooperation in Europe, bodies where Moscow would have a veto.
So far, the Western response has been largely symbolic. Obama and other leaders suspended plans to attend a G8 summit in Sochi, where Putin has just finished staging his $50 billion winter Olympic games. Some countries recalled ambassadors.
"This is probably the most dangerous situation in Europe since the Soviet invasion of Czechoslovakia in 1968," said a Western official. "Realistically, we have to assume the Crimea is in Russian hands. The challenge now is to deter Russia from taking over the Russian-speaking east of Ukraine."
NO MATCH
Ukraine's tiny armed forces would be no match against the might of its superpower neighbor. Britain's International Institute of Strategic Studies estimates Kiev has fewer than 130,000 troops under arms, with planes barely ready to fly and few spare parts for a single submarine.
Russia, by contrast, has spent billions under Putin to upgrade and modernize the capabilities of forces that were dilapidated after the breakup of the Soviet Union. Moscow's special units are now seen as equals of the best in the world.
In Crimea, Ukraine's tiny contingent made no attempt to oppose the Russians, who bore no insignia on their uniforms but drove vehicles with Russian plates and seized government buildings, airports and other locations in the past three days. Kiev said its troops were encircled at least three places.
Igor Mamchev, a Ukrainian navy colonel at a small base near the regional capital Simferopol, told Ukraine's Channel 5 television a truckload of Russian troops had arrived at his checkpoint and ordered him to surrender.
"I replied that, as I am a member of the armed forces of Ukraine, under orders of the Ukrainian navy, there could be no discussion of disarmament. In case of any attempt to enter the military base, we will use all means, up to lethal force.
"We are military people, who have given our oath to the people of Ukraine and will carry out our duty until the end."
Dmytro Delyatytskiy, commander of Ukrainian marines barricaded into a base in the Crimean port of Feodosia, told the same television station by telephone he had refused a Russian demand that his troops give up weapons by 10 a.m.
"We have orders," he said. "We are preparing our defenses."
Elsewhere on the occupied peninsula, the Russian forces appeared to be assuming a lower profile on Sunday after the pro-Moscow Crimean leader announced overnight that the situation was now "normalized". Russians had vanished from outside a small Ukrainian guard post in the port of Balaclava that they had surrounded with armored vehicles on Saturday.
A barricade in front of the Crimean regional parliament had been dismantled. A single armored vehicle with two soldiers drove through the main square, where people snapped photos.
Putin's justification - the need to protect Russian citizens - was the same as he used to launch a 2008 invasion of Georgia, where Russian forces seized two breakaway regions.
In Russia, state controlled media portray Yanukovich's removal as a coup by dangerous extremists funded by the West and there has been little sign of dissent with that line.
Russian officials have repeatedly described Ukraine's Russian speakers - some of whom have Russian passports - as facing urgent danger. Itar-Tass quoted Russian border guards as saying 675,000 people had fled Ukraine for Russia in the past two months and there were signs of a "humanitarian catastrophe".
Putin told Obama "there are real threats to the life and health of Russian citizens and compatriots on Ukrainian territory". Moscow reserved the right to intervene on behalf of Russian speakers anywhere they were threatened, Putin added, according to the Kremlin's readout of the phone call.
RUSSIAN FLAGS
So far there has been no sign of Russian military action in Ukraine outside Crimea, but Kiev officials accused Moscow of being behind a pattern of violent protests in other eastern cities as a pretext to launch a wider invasion.
Pro-Moscow demonstrators flew Russian flags on Saturday at government buildings in the cities of Kharkiv, Donetsk, Odessa and Dnipropetrovsk. In places they clashed with anti-Russian protesters and guards trying to defend the buildings.
Ukrainian parliamentarian Hrygory Nemyriya, a spokesman to foreign journalists for the new authorities, said the pro-Moscow marchers were sent from Russia. He described a pattern of "Russian citizens in Ukrainian provinces orchestrating the illegal seizure of government buildings".
The worst violence took place in Kharkiv, where scores of people were hurt on Saturday when thousands of pro-Russian activists, some brandishing axe handles and chains, stormed the regional government and fought pitched battles with a smaller number of supporters of Ukraine's new authorities.
In Donetsk, Yanukovich's home city, the local government has called for a referendum on the region's status, a move Kiev says is illegal. A pro-Russian "self-defense" unit, which staged a big protest on Saturday, scheduled another for Sunday.
Thanks for reading CBS NEWS.
Create your free account or log in
for more features.