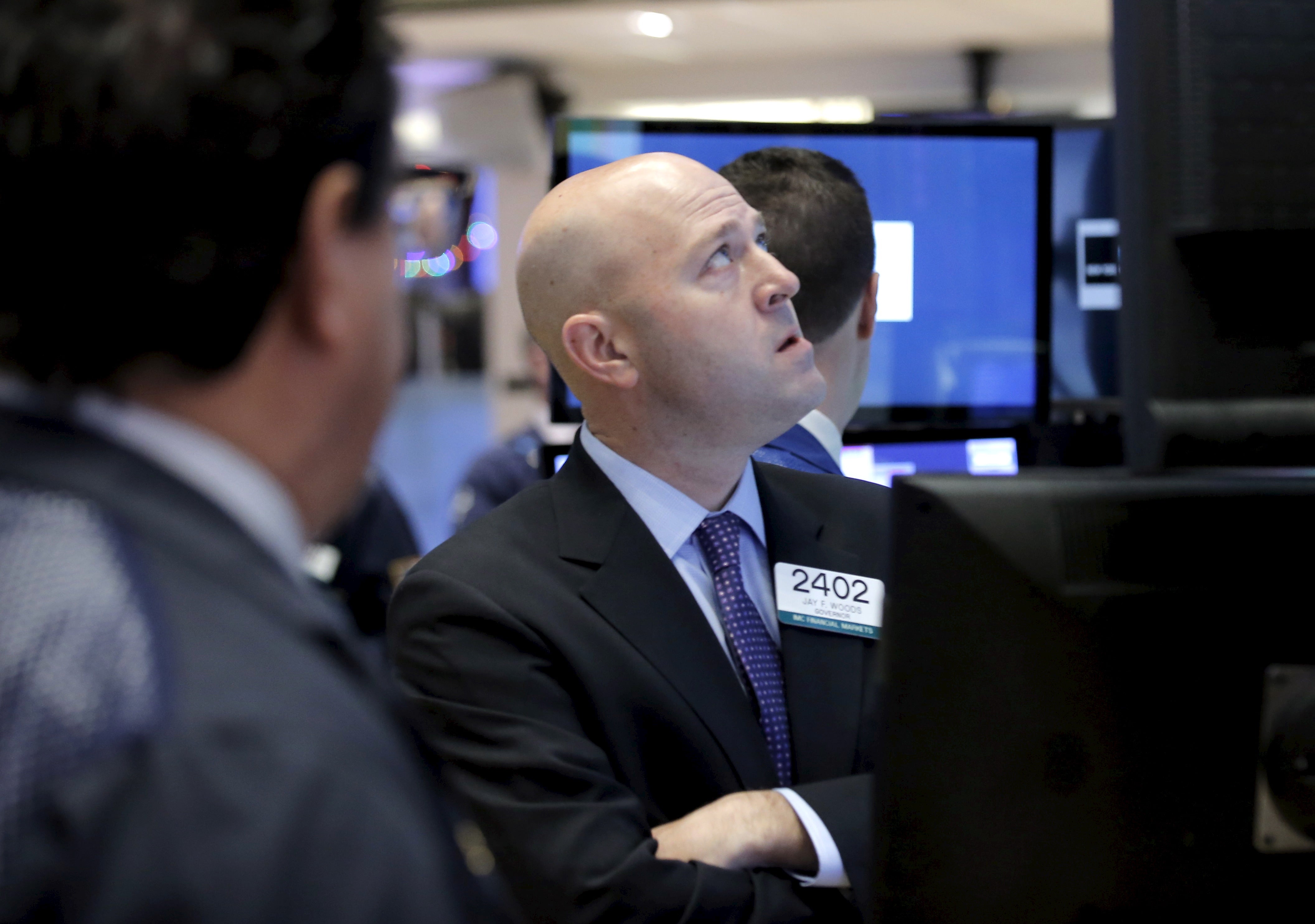 U.S. stocks sink in echoing China-led global rout
U.S. stocks were smacked again Thursday, with the Dow industrials falling as much as 400 points as Wall Street joined a global rout that came as investors worried about the global economy and Chinese moves to weaken its currency.
"China is the central issue and something everybody can identify, but we're also seeing weakness in the commodity markets -- not just oil, but lumber and copper, all of those building blocks for the global economy -- it's telling you the global economy is slowing," said Paul Nolte, senior vice president and portfolio manager at Kingsview Asset Management.
Stocks around the globe took it on the chin after exchanges in China shut down less than 30 minutes after opening, with a more than 7 percent decline setting off a trading halt for the second time this week. In Europe, stocks fell nearly 4 percent.
In China, the nation's securities regulator suspended a new stock circuit breaker after heavy selling had local exchanges shutting down for a second day, Bloomberg News reported.
The Dow Jones Industrial Average (DJI) fell 392 points, or 2.3 percent, at 16,514. General Electric (GE) led blue-chip losses, which included all but Walmart (WMT) of its 30 components. Technology and financials led sector declines on the S&P 500 (SPX), which fell 47 points, or 2.4 percent, to 1,943. The Nasdaq Composite (COMP) dropped 146 points, or 3 percent, to 4,689.
Further fueling worries about global growth, China cut its yuan benchmark rate for an eighth consecutive day, with the nation's acceptance for a softer currency viewed as illustrating China's difficulties in bolstering its economy, a major driver of demand for commodities.
"The fear is that China is now trying to 'steal' growth via a competitive devaluation of its currency and both its trading partners and trading competitors will suffer, mostly in Asia," Peter Boockvar, chief market analyst at the Lindsey Group.
On the New York Mercantile Exchange, crude futures briefly turned positive after falling to a 12-year low. By the close, prices were back in the red, with West Texas Intermediate for February delivery down 2.1 percent at $33.27.
"China's devaluing currency is also being blamed for the sell-off, but it is only the catalyst and not the cause," said Nick Raich, CEO at the Earnings Scout, in an email. "The major reason global stocks are coming under pressure is because risk asset prices must reset lower to reflect lower expected growth."
Billionaire George Soros added to market worries as he told a forum Thursday in Sri Lanka that investors should be very wary given the global situation.
In addition to the market upheaval created by China, corporate earnings for the final quarter of last year also are ahead, with Intel (INTC), JPMorgan Chase (JPM) and Alcoa (AA) among the companies slated to report results next week.
Of the 20 companies in the S&P 500 that have reported results classified as fourth-quarter 2015, 80 percent beat lowered earnings-per-share estimates, but only 20 percent topped sales expectations, according to Raich.
"As has been the case for every quarter in 2015, earnings are not the problem. Sales are the problem," he noted. "Financial engineering can only occur for so long before a lack of top-line growth catches up with you."
A report ahead of the open had fewer Americans signing up for jobless benefits, a positive sign ahead of the Labor Department's unemployment report on Friday.
However, given the focus on China and global growth, the monthly data may not get as much attention as usual on Wall Street.
"It's still going to be an important report from the perspective of it's something the Fed watches, but I'm not sure it's going to alleviate any fears, as it tends to be a lagging indicator, from an economic perspective," said Nolte. "The part that you want to focus on is wage growth, which has been okay of late, but still on the weaker side."
Thanks for reading CBS NEWS.
Create your free account or log in
for more features.