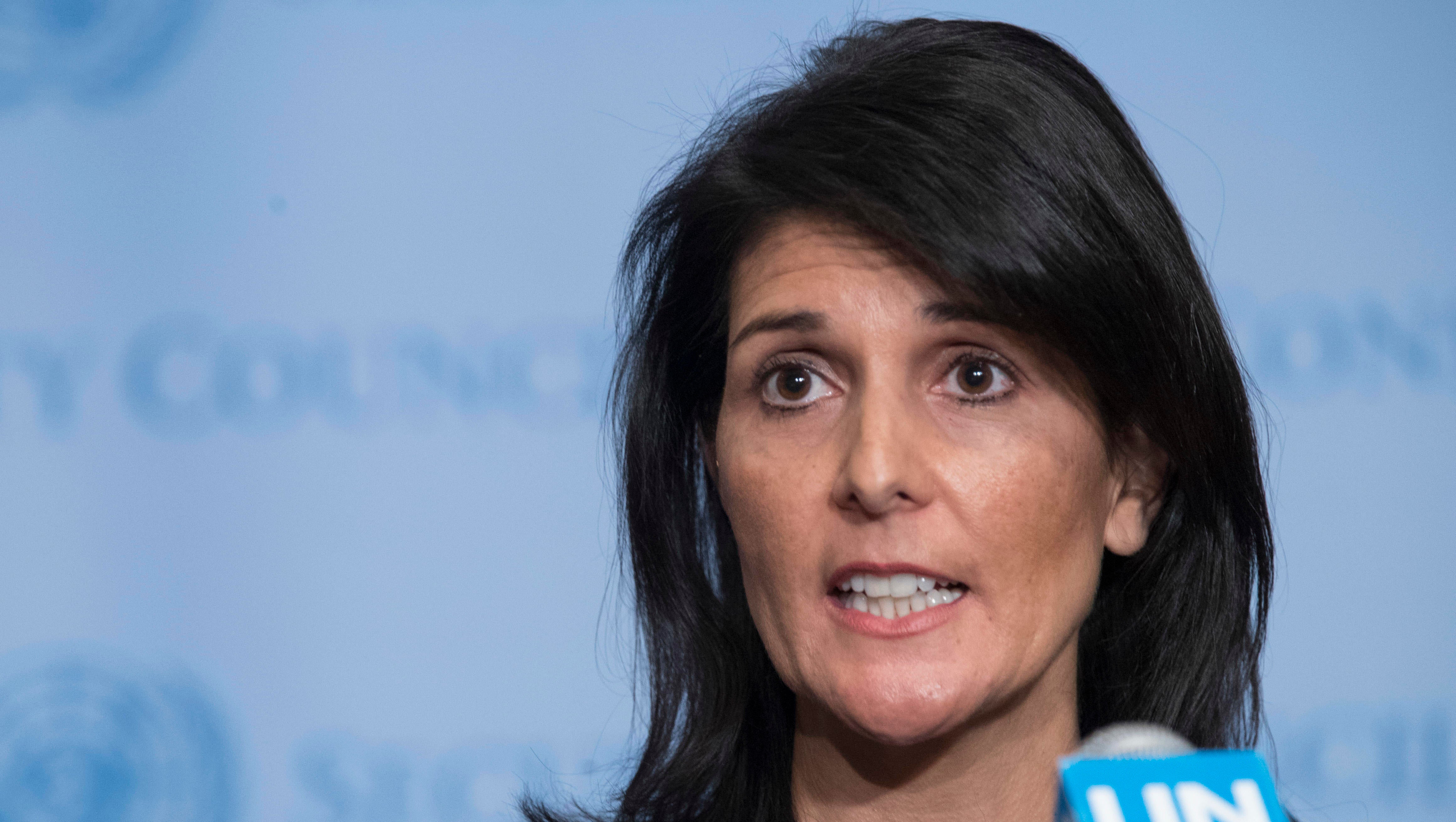 U.S. envoy Haley: U.S. supports 2-state Israel-Palestinian solution
UNITED NATIONS - U.S. Ambassador Nikki Haley says the United States absolutely supports a two-state solution to the Israeli-Palestinian conflict and anyone who thinks it doesn't is in "error."
The Trump administration's new U.N. envoy told reporters Thursday that "we are thinking out of the box as well, which is: What does it take to bring these two sides to the table? What do we need to have them agree on?"
"First of all, we absolutely support a two-state solution. Anyone who says the U.S. doesn't support a two--state solution ... that would be an error. We absolutely support a two-state solution, but we are thinking out of the box as well, which is: What does it take to bring these to sides to the table? What do we need to have them agree on? At the end of the day, the solution to what is going to bring peace in the Middle East is going to come from the Israelis and the Palestinian authorities. The U.S. is just there to support the process."
Haley's comments were far more forceful in support of a two-state solution than President Donald Trump's on Wednesday. He said: "I'm looking at two-state and one-state, and I like the one that both parties like."
Haley said the solution to the conflict has to come from the Israelis and Palestinians but she stressed: "We absolutely support a two-state solution."
Also on Thursday, the United Nations and the Arab League on Thursday issued a joint statement in support of the establishment of a Palestinian state, exposing a rift with President Donald Trump, who says it's up to Israel and the Palestinians to agree on the form of a final settlement.
After a meeting in Cairo, U.N. Secretary-General Antonio Guterres and Arab League Chief Ahmed Aboul-Gheit said they agreed the two-state solution is "the only way to achieve comprehensive and just settlement to the Palestinian cause."
As CBS News foreign affairs analyst Pam Falk reports, Haley is coming to the U.N. with a mission to stick up for Israel.
After their meeting Wednesday, both Mr. Trump and Israeli PM Benjamin Netanyahu conceded their differences on some matters. Still, it was one of the friendliest of exchanges the two countries have seen in years, Falk notes.
What hasn't changed much, both leaders agree, is the reset needed at the United Nations.
In charge of that shift is the president's U.N. envoy, Ambassador Haley, who made clear in her testimony at her Senate confirmation hearing that she won't be going to the U.N. to "abstain when the U.N. seeks to create an international environment that encourages boycotts of Israel."
The U.N.'s anti-Israel bias came into the spotlight just before President Obama left office, when the U.S. changed decades of policy by allowing a U.N. Security Council resolution to pass that called for an immediate halt to settlement building in occupied Palestinian territory, and said those settlements have no legal validity. On this question, Haley was clear: She committed to reject any measures that were unfair to Israel. And so far, she has kept that promise.
Israel's Ambassador to the U.N., Danny Danon, gave her a warm welcome: "Looking forward to a new era of close Israeli-U.S. cooperation," he said.
---
Here is a transcript of Ambassador Haley's remarks Thursday at U.N.:

The first thing I want to do is talk about what we just saw in there. The Security Council just finished its regular monthly meeting on Middle East issues. It's the first meeting like that that I've attended, and I have to say it was a bit strange. The Security Council is supposed to discuss how to maintain international peace and security. But at our meeting on the Middle East, the discussion was not about Hizballah's illegal build-up of rockets in Lebanon. It was not about the money and weapons Iran provides to terrorists. It was not about how we defeat ISIS. It was not about how we hold Bashar al-Assad accountable for the slaughter of hundreds and thousands of civilians. No, instead, the meeting focused on criticizing Israel, the one true democracy in the Middle East. I am new around here, but I understand that's how the Council has operated, month after month, for decades.

I'm here to say the United States will not turn a blind eye to this anymore. I am here to underscore the ironclad support of the United States for Israel. I'm here to emphasize the United States is determined to stand up to the UN's anti-Israel bias. We will never repeat the terrible mistake of Resolution 2334 and allow one-sided Security Council resolutions to condemn Israel. Instead, we will push for action on the real threats we face in the Middle East.

We stand for peace. We support a solution to the Israeli-Palestinian conflict that is negotiated directly between the two parties, as President Trump reiterated in his meeting with Prime Minister Netanyahu yesterday. The outrageously biased resolutions from the Security Council and the General Assembly only make peace harder to attain by discouraging one of the parties from going to the negotiating table.

Incredibly, the UN Department of Political Affairs has an entire division devoted to Palestinian affairs. Imagine that. There is no division devoted to illegal missile launches from North Korea. There is no division devoted to the world's number one state-sponsor of terror, Iran. The prejudiced approach to Israeli-Palestinian issues does the peace process no favors. And it bears no relationship to the reality of the world around us.

The double standards are breathtaking. Just a few days ago, the United States sought unsuccessfully to have the Security Council condemn a terrorist attack to Israel, where the terrorist opened fire on people waiting for a bus and then stabbed others. The Security Council would not hesitate to condemn an attack like that in any other country. But not for Israel. The statement was blocked. And that's downright shameful.

Israel exists in a region where others call for its complete destruction and in a world where anti-Semitism is on the rise. These are threats that we should discuss at the United Nations as we continue working toward a comprehensive agreement that would end the Israeli-Palestinian conflict.

But outside of the UN, there is some good news. Israel's place in the world is changing. Israel is building up new diplomatic relationships. More and more countries recognize how much Israel contributes to the world. They are recognizing that Israel is a beacon of stability in a troubled region, and that Israel is at the forefront of innovation, entrepreneurship, and technological discovery.

It is the UN's anti-Israel bias that is long overdue for change. The United States will not hesitate to speak out against these biases in defense of our friend and ally, Israel.

I will say that I think we saw maybe a slightly different tone in the meeting, but we will have to see how it goes.

Thank you.
Thanks for reading CBS NEWS.
Create your free account or log in
for more features.