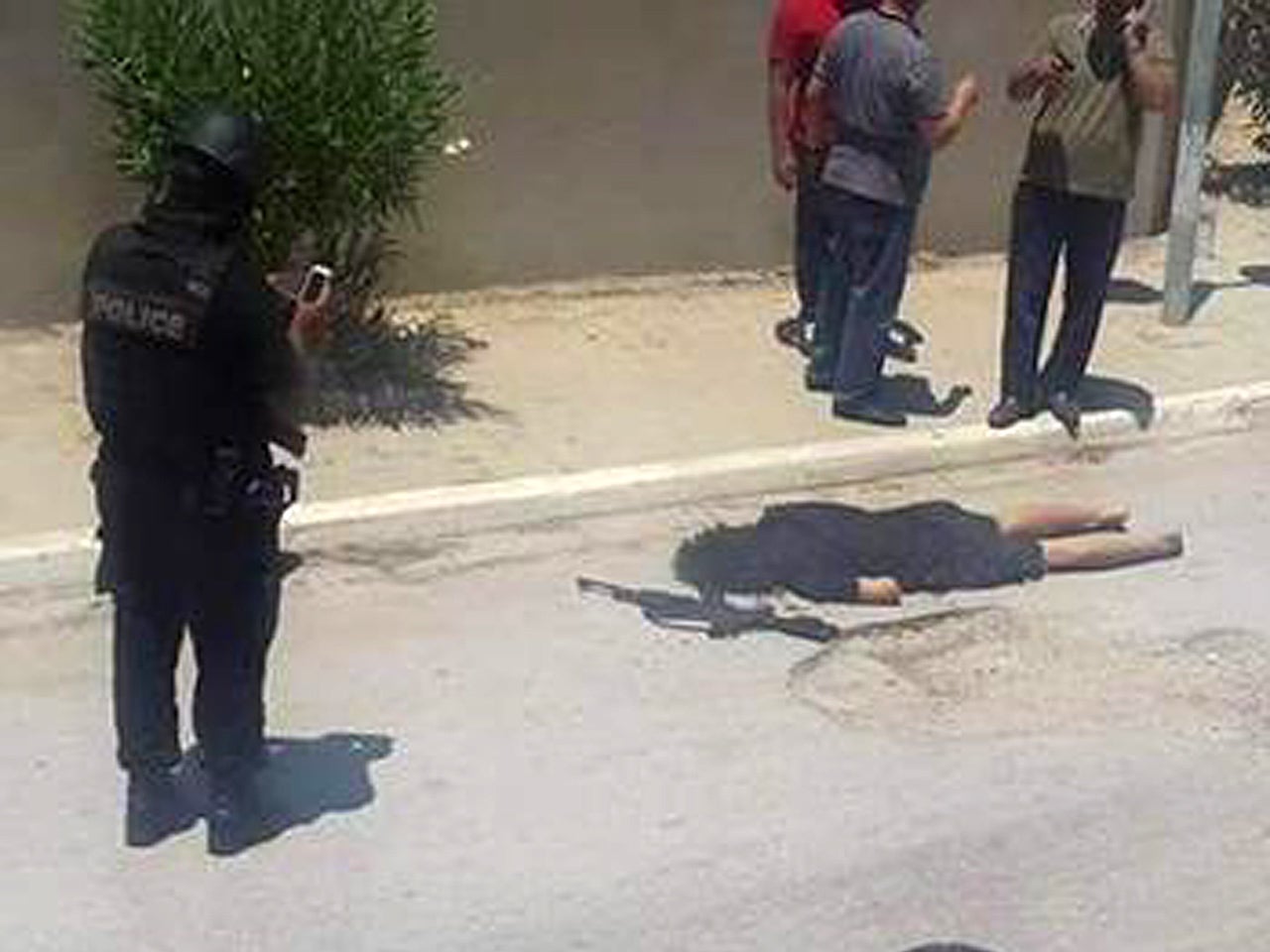 Gunman kills dozens in rampage at Tunisia beach resort
SOUSSE, Tunisia -- A young man unfurled an umbrella and pulled out a Kalashnikov, opening fire on European sunbathers and killing at least 39 at a Tunisian beach resort - one of three deadly attacks Friday from Europe to the Middle East that followed a call to violence by the Islamic State in Iraq and Syria (ISIS).
The killings in the Tunisian resort of Sousse happened at about the same time as a bombing at a Shiite mosque in Kuwait and an attack on a U.S.-owned factory in France that included a beheading. It was unclear if the violence was linked but it came days after ISIS militants urged their followers "to make Ramadan a month of calamities for the nonbelievers." In all, at least 67 people were killed.
The SITE Intelligence Group reported later that the IS claimed credit for the Tunisia attack on its Twitter account and identified the gunman as Abu Yahya al-Qayrawani.
The attack in Tunisia, the country's worst ever, comes just months after the March 18 assault on the national Bardo museum in Tunis that killed 22 people, again mostly tourists, and has called into question the newly elected government's ability to protect the country.
"Once again, cowardly and traitorous hands have struck Tunisia, targeting its security and that of its children and visitors," President Beji Caid Essebsi told reporters at the RIU Imperial Marhaba hotel, near the beach rampage site.
Essebsi promised "painful but necessary" measures, adding: "No country is safe from terrorism, and we need a global strategy of all democratic countries."
Rafik Chelli, the secretary of state of the Interior Ministry, told The Associated Press that the attack was carried out by a young student not previously known to authorities. The shooting spree ended when he was shot to death by police.
ISIS claimed responsibility for the suicide bombing at the Shiite mosque in Kuwait City that killed at least 27 people and wounded scores of other worshippers at midday prayers - the first such attack in the mostly quiet and relatively secure Gulf Arab nation in more than two decades.
In southeastern France, a man with ties to Islamic radicals rammed a car into a gas factory, touching off an explosion that injured two people. Authorities arriving at the site made a grisly discovery: the severed head of the driver's employer was found hanging at the plant entrance.
The suspect, Yassine Salhi, was seized by an alert firefighter, authorities said, and French President Francois Hollande said the attacker's intention had been to cause an explosion. A security alert for the southeast region was raised to its highest level for the next three days, and the U.S. Embassy in Paris warned American citizens to be vigilant.
In an audio recording released Tuesday, ISIS called on its supporters to increase attacks during Ramadan and "be keen on waging invasion in this eminent month and commit martyrdom."
In Britain, police said they were tightening security at major events after the attacks in France, Kuwait and Tunisia, including for the weekend events of Armed Forces Day and the Pride London gay and lesbian festival.
"We stand with these nations as they respond to attacks on their soil today," the White House said. Pentagon spokesman Col. Steve Warren added it was "too soon to tell whether or not these various and far-flung attacks were coordinated centrally or whether they were coincidental."
The carnage in Tunisia began on the beach, where tourists described hearing what sounded like fireworks and then running for their lives when they realized it was gunfire. Video of the aftermath showed medics using beach chairs as stretchers to carry away people in swimsuits.
"He had a parasol in his hand. He went down to put it in the sand and then he took out his Kalashnikov and began shooting wildly," Chelli said.
The gunman then entered the pool area of the Imperial Marhaba hotel before moving into the building, killing people as he went.
British tourist Gary Pine told AP he was on the beach with his wife around noon when heard the shooting. They shouted for their son to get out of the water, grabbed their bag and ran for the hotel. Their son told them he saw someone shot on the beach.
There was "sheer panic" at the hotel, Pine said. "There were a lot of concerned people, a few people in tears with panic and a few people - older guests - they'd turned their ankles or there was a few little minor injuries and nicks and scrapes."
Elizabeth O'Brien, an Irish tourist who was with her two sons, told Irish Radio she was on the beach when the shooting began.
"I thought, 'Oh my God. It sounds like gunfire,' so I just ran to the sea to my children and grabbed our things" before fleeing to their hotel room, she said.
The Health Ministry said the 39 dead included Tunisians, British, Germans and Belgians, without giving a breakdown.
British Foreign Secretary Philip Hammond says at least five Britons were killed but expected to toll to rise because a high proportion of the dead were believed to be British.
Since overthrowing its secular dictator in 2011, Tunisia has been plagued by terrorist attacks, although only recently have they targeted the tourism sector, which makes up nearly 15 percent of GDP.
In the Bardo attack in March, gunmen opened fire on tourists getting out of buses and then entered the museum, apparently unimpeded, and fired on more tourists inside. Two gunmen were killed in a shootout with police. Four Italians were among the dead. ISIS claimed responsibility for that attack
"The Foreign Office will declare the summer effectively over for Tunisia, and it will destroy - besides the lives taken - the tens of thousands of livelihoods who depend on tourism for a living," said Simon Calder, a London-based travel commentator. Nearly half a million Britons visited Tunisia in 2014.
The attacks are also a blow to Tunisia's image as a stable, democratic nation emerging from its revolution in 2011, said Jonathan Hill, a professor of Defense Studies at King's College in London.
"The terrorists are attacking Tunisia's reputation," he said. "Not just as a safe and welcoming destination for Western holidaymakers, but as the one real success story to emerge out of the Arab Spring."
International police agency Interpol offered investigative help in the wake of Friday's violence. Interpol Secretary-General Juergen Stock said the attacks "show the truly global dimension to current terrorist threats."
Meanwhile, Homeland Security Secretary Jeh Johnson said his department is encouraging law enforcement "to be vigilant and prepared" ahead of the July 4th holiday in the U.S. following attacks in France, Tunisia and Kuwait.
Johnson said people should attend Independence Day events as planned but "remain vigilant" and report any suspicious activity.
The FBI and Department of Homeland Security issued a bulletin Friday warning of attacks against law enforcement officers and the military during the July 4th holiday.
Thanks for reading CBS NEWS.
Create your free account or log in
for more features.