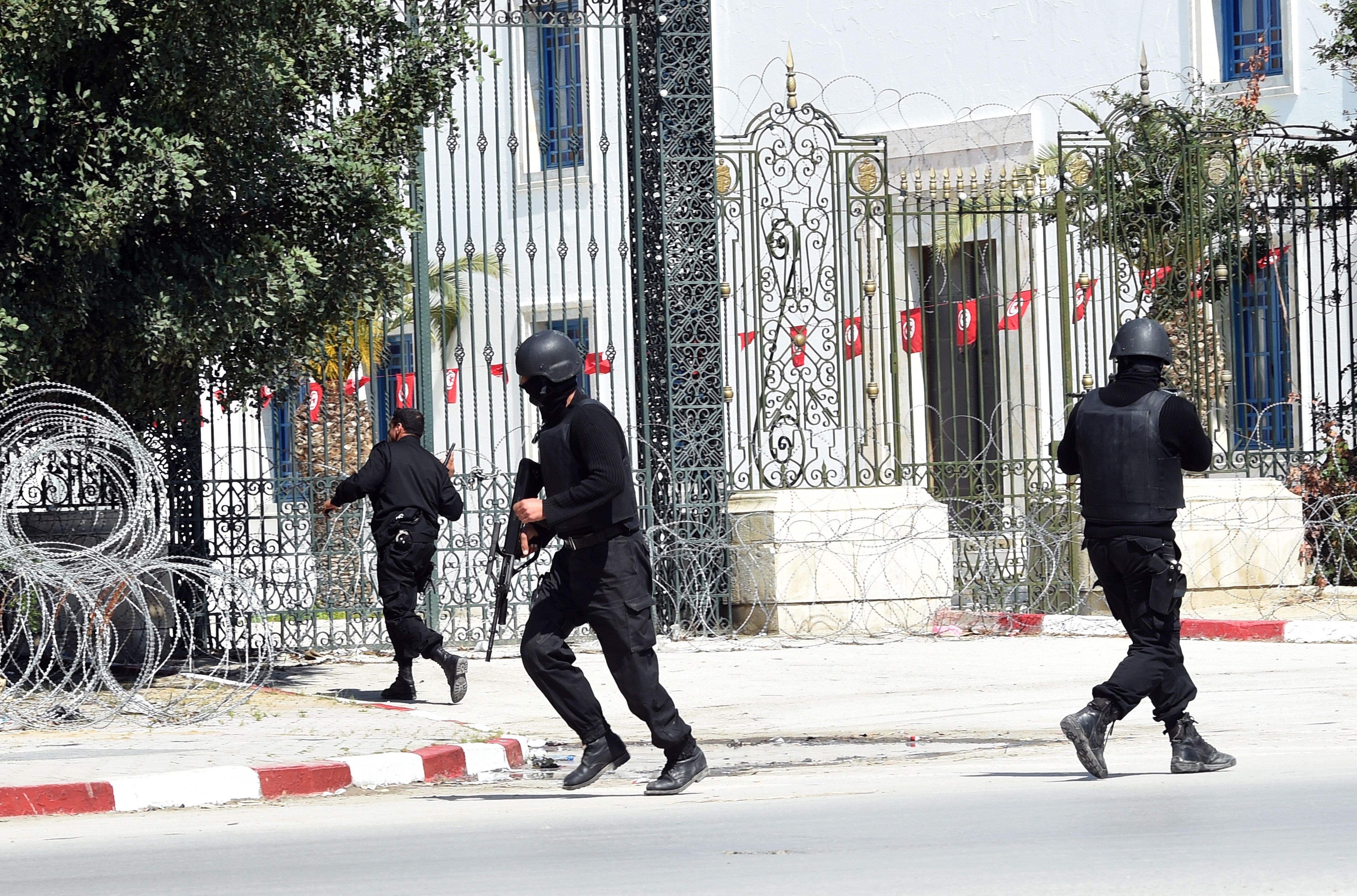 Deadly rampage at Tunisia museum
Tunisian officials said two gunmen stormed a famed museum near the country's parliament in Tunis Wednesday, killing at least 19 people, mostly foreign tourists, before being killed themselves in a police raid.
Prime Minister Habib Essid said in a live televised news conference that two or three of the attackers remained at large. Tunisian state television reported that about 50 people were wounded in the attack.
According to Essid, the attackers, wearing military uniforms, walked past the fence around the perimeter of the National Bardo Museum and waited for tourist buses to arrive and then opened fire. They then went into the building and reportedly executed eight tourists before being killed themselves.
Interior Ministry spokesman Mohammed Ali Al-Orwa told reporters outside the museum that four buses full of tourists arrived at the museum around the time the attackers struck. He said the vast majority of the tourists had escaped the building.
Al-Orwa referred to the incident as a "terrorist attack on the Bardo Museum."
Essid said the dead tourists came from Italy, Poland, Germany and Spain.
"Our nation is in danger," Essid said in a nationally televised address after the siege ended. "We will be merciless in the defense of our country."
According to the Associated Press, Spanish eyewitness Josep Lluis Cusido told Spain's Cadena Ser radio station that he was inside the museum when the attack happened.
"We saw a bunch of people leaving a vehicle and they started shooting everyone walking down the plaza at that moment," Cusido said. "After they entered the museum. I saw their faces: They were about 10 meters away from me, shooting at anything that moved."
"I managed to hide behind a pillar, there were unlucky people who they killed right there. I was lying on the floor almost three hours but our lives were saved", he said.
Italian cruise company Costa Cruises said in a written statement that its ship, the Costa Fascinosa, was "moored in the port of Tunis as planned" Wednesday during a week in the western Mediterranean.
"Some guests of Costa Fascinosa participated in a tour of the city," said the statement, adding that the company was in contact with Tunisian authorities and was monitoring the situation closely. There were earlier reports that as many as 200 people from a European tour group had arrived at the museum aboard the buses.
The United States condemned the attack.
"The United States stands with the Tunisian people at this difficult time and continues to support the Tunisian government's efforts to advance a secure, prosperous, and democratic Tunisia," U.S. Secretary of State John Kerry said in a statement.
CBS News' Charlie D'Agata says that while Tunisia was once a popular tourist destination, it has continued to grapple with Islamic extremism in the wake of the "Arab Spring" in 2011, which saw longtime strongman President Zine El Abidine Ben Ali ousted amid protests.
According to official Tunisian government figures, an estimated 3,000 Tunisians have joined the Islamic State of Iraq and Syria (ISIS) in those two nations and neighboring Libya, more foreign recruits than any other country.
While there were no immediate claims of responsibility for Wednesday's attack, ISIS-linked accounts on social media praised it, according to SITE Intelligence Group, which monitors jihadi and extremist messages.
"If this attack was carried out by the Islamic State, it didn't come from out of nowhere," said SITE director Rita Katz. "Islamic State officials, supporters, and fighters have been urging for an attack in Tunisia in the group's name for a while now."
Nonetheless, Tunisia, where the Arab Spring began, has been held up as something of a success story as it was a relatively moderate Muslim faction that rose to power in the wake of the popular uprising.
"It is not by chance that today's terrorism affects a country that represents hope for the Arab world. The hope for peace, the hope for stability, the hope for democracy. This hope must live," French Foreign Minister Laurent Fabius said in a statement.
The attack Wednesday was the first targeting foreigners in Tunisia since 2011, though militants have launched attacks on security forces in recent years.
Thanks for reading CBS NEWS.
Create your free account or log in
for more features.