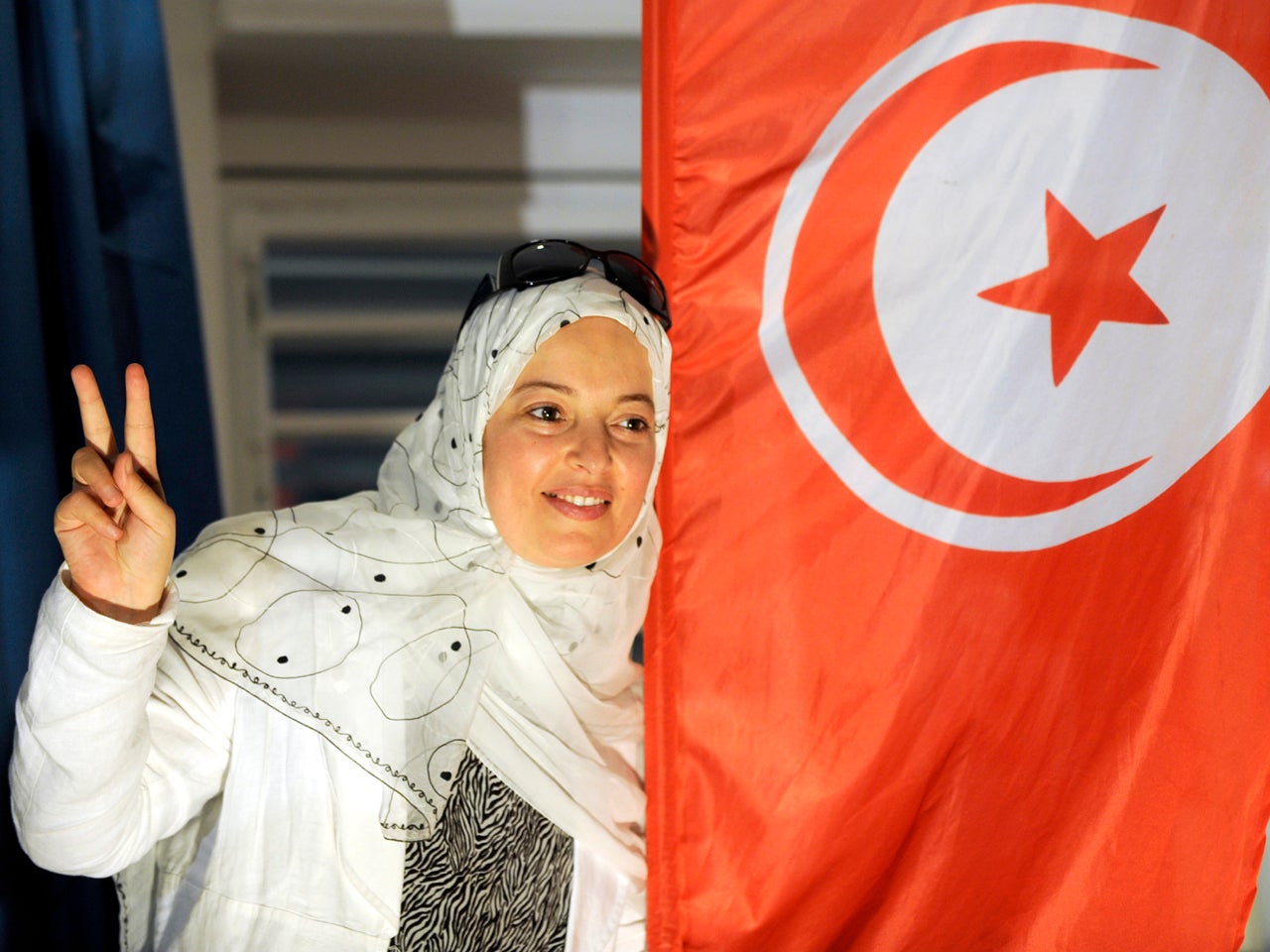 Tunisia election sets high bar for Arab Spring
TUNIS, Tunisia - No matter what the results, Tunisia's landmark election was a monumental achievement in democracy that will be a tough act to follow in elections next month in Egypt and Morocco — and later, in Libya.
In just five months, an independent Tunisian commission organized the first free elections in this North African nation's history. The ballot attracted 80 parties offering candidates, drew a massive turnout by impassioned voters and was effusively praised by international observers.
"I have observed 59 elections in the last 15 years, many of them in old democracies ... and never have I seen a country able to realize such an election in a fair, free and dignified way," said Andreas Gross, a Swiss parliamentarian and the head of the observer delegation for the Council of Europe. "I was elected in Switzerland on the same day in elections that were not much better than here."
Special Section: Anger in the Arab World
Islamist party wins big in Tunisia elections
Tunisians riot over animated film "Persepolis"
Tunisia's success, however hard to replicate, is a milestone for the Arab Spring, the wave of popular uprisings across North Africa and the Middle East that have overthrown long-serving leaders and are changing the face of the region.
Tiny, quiet Tunisia was the first country to rise up, overthrowing its longtime dictator in January. Its example inspired uprisings that overthrew leaders in Egypt and neighboring Libya, and sparked revolutions in Yemen, Syria, Bahrain and other Arab nations.
(Watch below a report from CBS' "60 Minutes" earlier this year on the protests that ousted a repressive government and spread to other nations)
How a slap sparked Tunisia's revolution
Video: News of the ouster
A statue of Mark Zuckerberg in Tunisia?
While a few scattered violations were reported, it was no mean feat to put together complicated elections involving 80 parties and drawing in more than 90 percent of registered voters in a country that had been nearly a one-party state since its independence from France in 1956.
The Tunisian success stemmed from an effective independent election commission that had the trust of the country's diverse parties and a fairly homogenous, peaceful population that believed in the process.
Observers say places like Egypt and Morocco — larger, complex countries with long-standing election procedures in place — won't necessarily be able to mimic the Tunisian experience.
Libya, expected to have elections for a constitutional assembly within about nine months, is bloodied and divided after months of civil war and decades under Muammar Qaddafi's all-controlling, quixotic rule.
Elections in Egypt have been organized by the Interior Ministry — the hated police force, which is not considered an honest broker — rather than an independent commission.
Egypt's Arab Spring cools amid violent clashes
Police jailed in slay that sparked Egypt revolt
Egyptian army rejects top minister's resignation
In Tunisia, the police and military were not allowed to vote so as to remain impartial in the process.
Anouar Ben Hassen of Tunisia's High Independent Authority for the Elections attributed the country's success to the hard work of the commission and the will of its people, and the fact that it was "a la Tunisienne," using the French that is the second language of the educated to suggest the country's uniqueness.
Tunisia also had the advantage of starting from scratch after a revolution that has motivated the population to make a clean break from the past.
In contrast, Morocco's Nov. 25 parliamentary elections — called early in response to protests demanding democratic reforms — are expected to follow the usual pattern of influence-buying and block voting by illiterate peasants.
Moroccan pro-democracy activist Abdilah Laayoune complained that the election process itself isn't the problem, but the fact that voting doesn't fundamentally alter the country's political landscape. The king always remains in power, choosing the same actors to form coalition governments.
"Even if we change the car, it's still the same trip," he said. "We still end up at the same destination."
Elections in Tunisia, which in the final years of President Zine El Abidine Ben Ali's 23-year rule included a few token opposition parties, were farcical affairs. Colored ballots representing the parties were placed in clear envelopes so officials could see who people voted for.
Tunisian ex-leader, wife convicted in absentia
Confronted with out-of-date electoral rolls, the new administration went to the Interior Ministry and used their highly detailed surveillance records to draw up complete electoral lists.
An independent election commission was formed by May and rapidly gained the trust of the political parties as an impartial overseer.
"The first thing that strikes me is the number of political parties expressing confidence in the officials running the elections," said Les Campbell, the head of the U.S.-based National Democratic Institute observer delegation.
As befitting a revolution fueled by online social media like Facebook, there was a strong electronic component to Tunisia's elections.
Voters could send a text message from their mobile phones with their name and ID number, and receive back a text with the location of their polling station. The system did crash for a few hours on election day under the weight of requests.
"The small parties, and particularly female candidates, used Facebook to coordinate their campaigns, recruit supporters, and even train the observers they sent into polling stations," said Philip Howard of University of Washington, an expert on information technology who also served as an observer with NDI.
The election commission deployed 50,000 people to work in 8,000 polling stations. About 20,000 of them were unemployed university graduates — joblessness is one of the biggest problems in Tunisia and was at the heart of the uprising — and observers said they were highly motivated.

Their inexperience, however, was evident in the counting process and one reason for the drawn-out reporting of results.

Tight controls were put on campaign advertising so that wealthier parties did not have a significant advantage over smaller ones, but one party with access to satellite television did far outspend rivals.

Hachemi Hamdi's Areedha Chaabiya, or Popular Petition party, was in a surprise third place based on partial results. The owner of the Mustaqila satellite television channel based in London, Hamdi promised Tunisians free health care, new factories and thousands of jobs nightly on his channel.

Election officials say he is under investigation and have not ruled out invalidating the party's wins.

Ahmed Ragheb, director of Cairo's Hisham Mubarak Law Center, said he doesn't expect Egypt's first post-revolutionary elections to be as smooth as Tunisia's.

"Tunisia doesn't have the same complicated relations between different groups. The army is not really part of the equation there, and the elements of the old regime don't have the same power," he said. "Egypt is a big state and there are many more forces involved."

Ragheb said the biggest threat in Egypt is that violence could break out between candidates, voters, or the army and protesters.

Tunisia's army, which was key in convincing Ben Ali to flee the country on Jan. 14, has also been widely lauded for its standoffish attitude toward politics even as it protected polling stations.

"The Tunisian Revolution was the first and remains unique. With these elections, independently of the results, Tunisia won," said Gael Martin-Micallef, an elections expert for the Council of Europe.
Thanks for reading CBS NEWS.
Create your free account or log in
for more features.