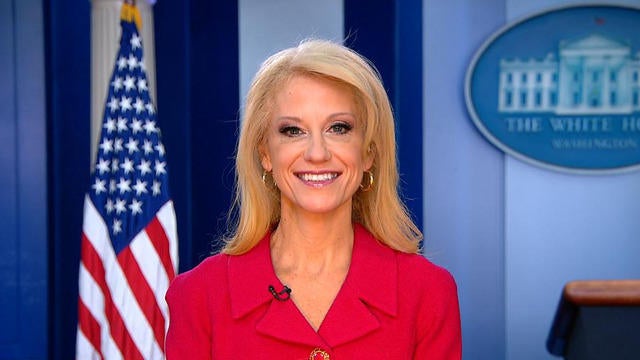 Trump and Putin likely to discuss "common ground" Saturday, top adviser says
President Trump will speak with Russian leader Vladimir Putin over the weekend, senior White House adviser Kellyanne Conway said in an interview Friday.
Asked about reports of an upcoming phone call between Putin and Mr. Trump, Conway confirmed to "CBS This Morning" that it would be taking place Saturday.
"The president continues to talk to leaders of foreign nations," Conway said, also pointing to the Mr. Trump's meeting with British Prime Minister Theresa May. "That's what presidents do."
"I assume they will discuss the interests of their respective countries," she said. The counselor to the president noted that the two leaders will likely talk about "issues where you can find common ground... and where these two nations could maybe defeat radical Islamic terrorism."
The phone call comes after the U.S. intelligence community determined that Russian, at the direction of the Kremlin, hacked the 2016 presidential election, with goals to prop up Mr. Trump's campaign over Hillary Clinton's.
Asked who initiated plans for the phone call, Conway said she wouldn't divulge that information.
"It also doesn't matter," she said. "We have to have leaders talking to each other. We have to forge better relationships around the globe."
Despite the push for better foreign relations, Conway, in her interview, also defended President Trump's plans for a wall along southern U.S. border and his insistence that Mexico pay for its construction.
She said one possibility floated for Mexico to foot the bill is to "tax the imports from Mexico anywhere from 5 to 20 percent." (On Thursday, White House press secretary Sean Spicer initially said the proposal was for a 20 percent import tax.) Another was to have Congressional funding front the funds and have Mexico later reimburse the money.
Pressed by "CBS This Morning" co-cost Charlie Rose on whether Mexico could retaliate with a tax of their own on U.S. goods flowing into the country, Conway replied: "Possibly -- they can do what they want, Charlie."
And questioned further by "CBS This Morning" co-host Gayle King on why Mexico would pay for a wall the country does not want, Conway said: "Well they don't want it, Gayle, because they want to continue to allow people and, I assume, drugs -- since they're not doing much to stop that -- pouring over our borders."
"Mexico should pay for that wall," Conway added, because "they get an awful lot through this country," citing the U.S.' nearly $60 billion trade deficit with Mexico.
Thanks for reading CBS NEWS.
Create your free account or log in
for more features.