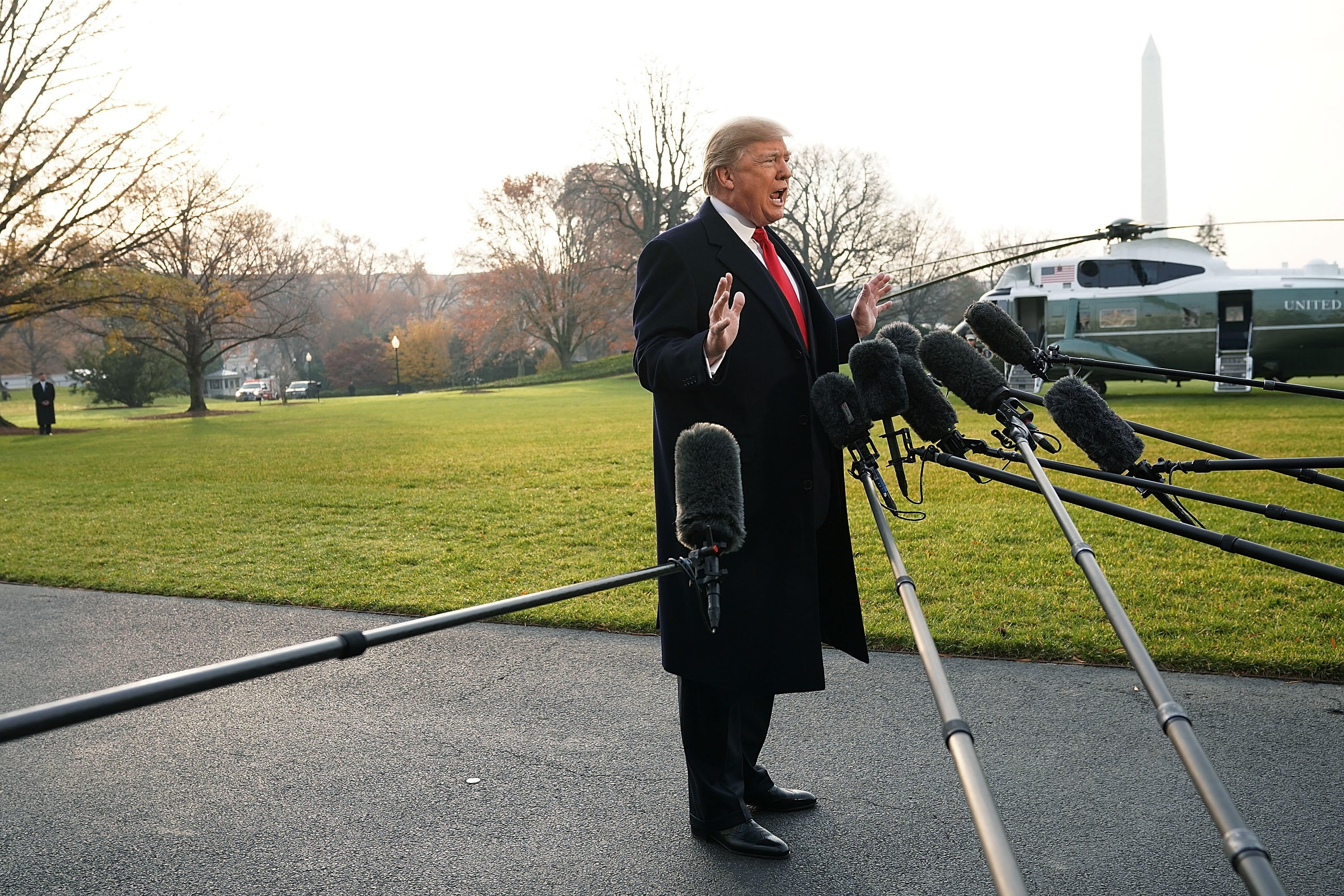 Trump says he feels badly for Michael Flynn
"I feel badly for General Flynn," President Trump said as he departed the White House Monday morning. He said that his former national security adviser, Michael Flynn, doesn't deserve the harsh treatment he's received, and he also compared Flynn to his former opponent Hillary Clinton.
"She lied many times. Nothing happened to her," he told reporters. "Flynn lied, and it's like -- they ruined his life."
On Friday, Flynn pleaded guilty to lying to the FBI. Clinton was also a topic for Mr. Trump over the weekend, when he unleashed an attack on the FBI, tweeting that "after years of Comey, with the phony and dishonest Clinton investigation," that "its reputation is in Tatters - worst in History! But fear not, we will bring it back to greatness."
Former FBI Director James Comey testified before Congress in June that he was fired after the FBI didn't accede to the president's request to stop investigating Flynn as part of the Russia probe. He said at the time that "what [the president] wanted me to do was drop any investigation connected to Flynn's account of his conversations with the Russians."
The president denied this over the weekend, tweeting that "I never asked Comey to stop investigating Flynn. Just more Fake News covering another Comey lie."
Mr. Trump also tweeted on Saturday, "I had to fire General Flynn because he lied to the Vice President and the FBI. He has pled guilty to those lies." This has raised new questions about what the president knew and when he knew it. He and other White House officials have said in the past that Flynn was fired for lying to Pence and other officials, but it has never been said before this weekend that the president knew Flynn lied to the FBI. How much information Mr. Trump had could be used as evidence about whether the president committed obstruction of justice.
On CBS News' "Face the Nation" Sunday, South Carolina Republican Sen. Lindsey Graham directed a warning at Mr. Trump over the tweet.
"You tweet and comment regarding ongoing criminal investigations at your own peril," he said to "Face the Nation" host John Dickerson. "I'd be careful if I were you, Mr. President."
Sources close to the White House tell CBS News that it was Mr. Trump's lawyer, John Dowd, who helped write the tweet. Dowd told CBS News that he considers questions about whether the president obstructed justice the result of what he called "the arrogance and ignorance of the media and opposition," and he argued that since Mr. Trump is the chief law enforcement officer of the country, it's his view that it's not possible for him to obstruct himself.
CBS News legal correspondent Paula Reid observed that it would be unusual for a lawyer like Dowd to have written "pled" instead of "pleaded," and it would also be very unusual for him to have encouraged his client to tweet this.
On Monday, White House counselor Kellyanne Conway added another person to the chain of authorship of the tweet, telling Fox News' "Fox and Friends" that Dowd put together the tweet "and sent it to our director -- of social media," Dan Scavino.
The courts have shown that they already consider the president's tweets to be his personal statements, and judges aren't likely to care who exactly crafted the language for him, Reid points out.
Democratic Rep. Adam Schiff, of California, opined that this could hurt the president.
"[Mr. Trump] wanted to protect Mike Flynn lying on his behalf," Schiff told ABC News' "This Week with George Stephanopoulos" Sunday, "and then you do get very close to a case of obstruction of justice."
CBS News' Paula Reid contributed to this story.
Thanks for reading CBS NEWS.
Create your free account or log in
for more features.