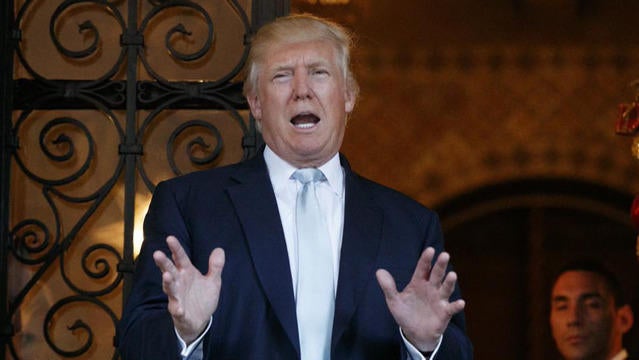 Trump chooses Robert Lighthizer as U.S. trade representative
President-elect Trump has chosen Robert Lighthizer as U.S. trade representative, the presidential transition team announced Tuesday morning.

The nominee "served under President Ronald Reagan as Deputy United States Trade Representative, playing a major role in developing trade policy for the Reagan Administration and negotiating roughly two dozen bilateral international agreements on a variety of topics from steel to grain. These agreements were uniformly tough and frequently resulted in significant reductions in the shipment of unfairly traded imports into the United States," the team said.

If confirmed, Lighthizer "would work in close coordination with Secretary of Commerce-designate Wilbur Ross and Peter Navarro, head of the newly created White House National Trade Council, to develop and implement policies that shrink our trade deficit, expand economic growth, strengthen our manufacturing base and help stop the exodus of jobs from our shores," the team adds.
Trade has been a central part of Mr. Trump's agenda since the earliest days of his campaign, points out CBS News correspondent Major Garrett.
The president-elect has been highly critical of numerous free trade agreements, including the landmark NAFTA treaty signed by President Clinton, and the Trans-Pacific Partnership, a multinational trade deal urged on by President Obama. He has also called for more restrictions on trade with Mexico and China.
Like Mr. Trump, Lighthizer has long called for tariffs on foreign imports. In 2011, he wrote an article for The Washington Times arguing that Mr. Trump's protectionist views had longstanding precedent within the Republican Party.
Lighthizer, long considered the favorite for the post, was previously a deputy U.S. trade representative under President Reagan, and has since worked as a trade attorney in Washington, D.C.
Thanks for reading CBS NEWS.
Create your free account or log in
for more features.