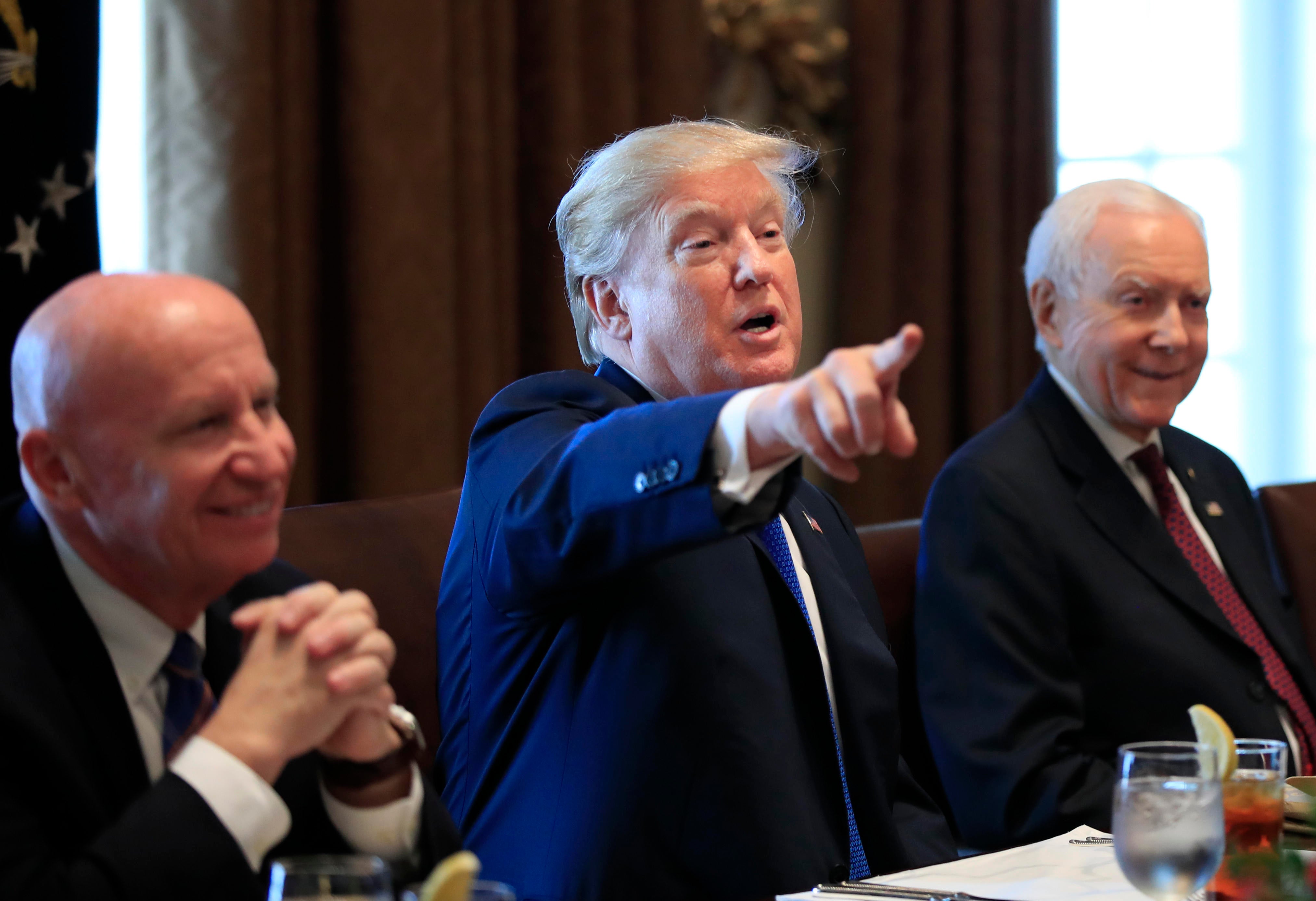 Trump says tax overhaul bill is "very, very close"
President Trump said the tax overhaul bill is close to completion during a lunch with bicameral tax conferees Wednesday afternoon in the White House Cabinet Room.
"We're very, very close," he said. "This bill is vital to the American people for many reasons."
The Associated Press reported shortly before noon that House and Senate leaders have reached an agreement on the sweeping tax package.
Mr. Trump reemphasized his regular promises for the bill: a tax cut for the middle class, a lowered corporate tax rate, a simplified tax code as well as resulting economic growth and job creation.
"It will be bigger than anything ever done in this country," he claimed.
In the meeting, Mr. Trump said he is disappointed Republicans lost a Senate seat following Democrat Doug Jones' Tuesday night win in Alabama. The president said Republicans will continue to fight in the 2018 midterm elections, but said that the focus right now is passing the tax overhaul.
Mr. Trump was joined by members of his Cabinet as well as an entirely Republican group of representatives from the House and the Senate:
Vice President Mike Pence

Secretary of the Treasury Steven Mnuchin

Chief of Staff General John Kelly

Director of Legislative Affairs Marc Short

Director of the National Economic Council Gary Cohn

Sen. Orrin Hatch, R-Utah

Sen. John Cornyn, R-Texas

Sen. Mike Enzi, R-Wyoming

Sen. Lisa Murkowski, R-Alaska

Sen. Rob Portman, R-Ohio

Sen. Tim Scott, R-South Carolina

Sen. John Thune, R-South Dakota

Sen. Pat Toomey, R-Pennsylvania

Rep. Kevin Brady, R-Texas

Rep. Rob Bishop, R-Utah

Rep. Diane Black, R-Tennessee

Rep. Kristi Noem, R-South Dakota

Rep. Devin Nunes, R-California

Rep. Peter Roskam, R-Illinois

Rep. John Shimkus, R-Illinois

Rep. Fred Upton, R-Michigan

Rep. Don Young, R-Alaska

The White House says that Congress is approaching "the finish line on historic tax cuts and reform." The House and Senate are currently in conference, working out a final version of a bill. Both chambers will hold separate votes on the identical bill that comes out of conference.
Thanks for reading CBS NEWS.
Create your free account or log in
for more features.