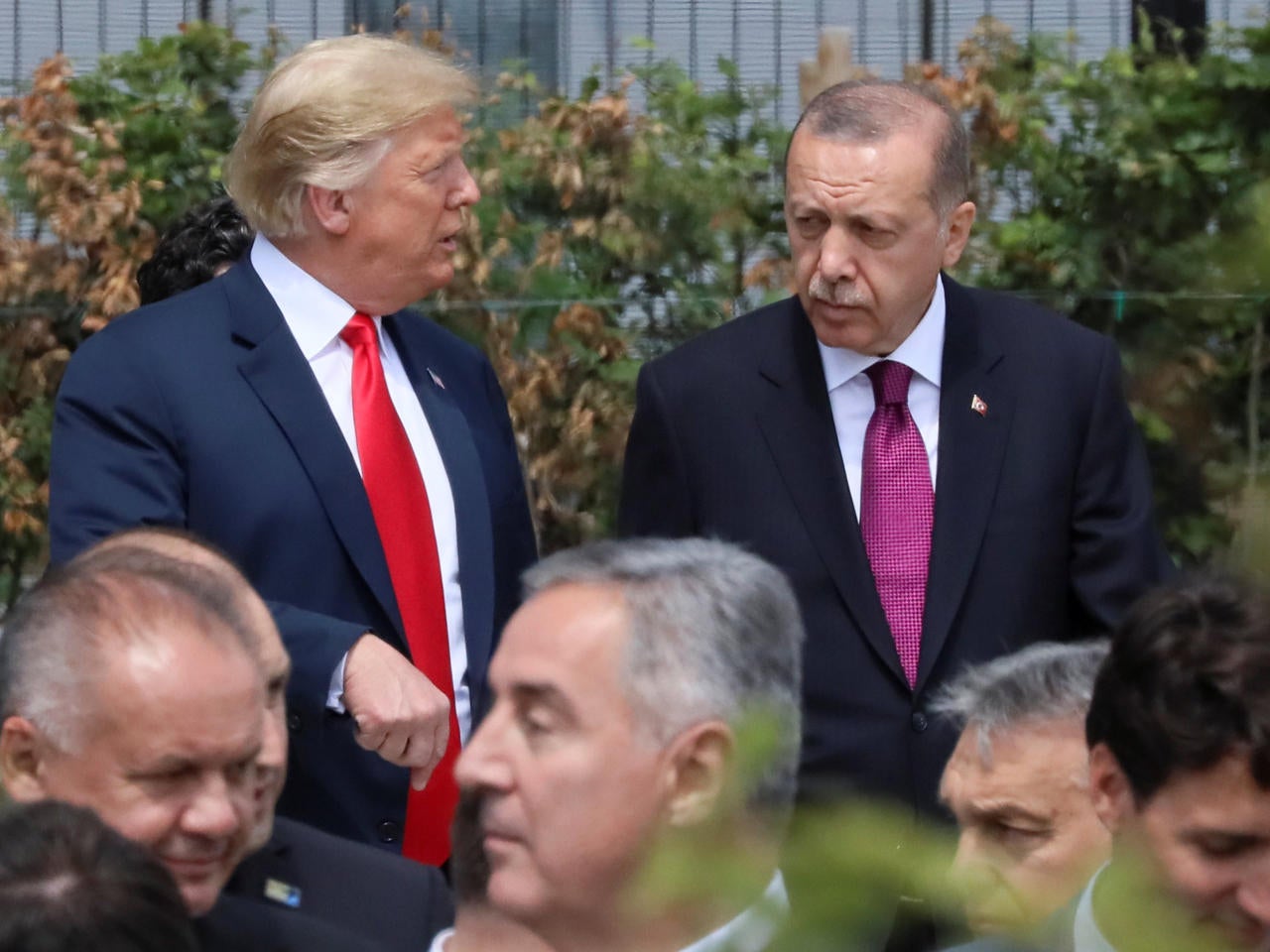 Trump fist-bumped Turkish leader Erdogan, said he "does things the right way"
In the days before his summit with Russian President Vladimir Putin in Helsinki Monday, President Donald Trump upset relations with America's allies during a visit to the United Kingdom and a contentious meeting with NATO leaders in Brussels.
In addition to calling the European Union a "foe" of the U.S. and criticizing British Prime Minister Theresa May for her handling of Brexit, Mr. Trump slammed fellow NATO countries for not contributing more towards defense spending.
On "CBS This Morning" Monday, Ian Bremmer, president of the Eurasia Group and a CBS News senior global affairs contributor, said that backstage at the NATO meeting there were elements that were even more eyebrow-raising than reports have suggested.

"One is that emergency session where they asked the Georgian and Ukrainian presidents to leave in the middle of their presentation. Apparently Trump said, 'OK, we're done with you now,'" Bremmer said.
"Trump was very frustrated; he wasn't getting commitments from other leaders to spend more. Many of them said, 'Well, we have to ask our parliaments. We have a process; we can't just tell you we're going to spend more, we have a legal process.' Trump turns around to the Turkish president, Recep Erdogan, and says, 'Except for Erdogan over here. He does things the right way,' and then actually fist-bumps the Turkish president."
It was a startling gesture of support for the increasingly authoritarian Turkish leader, who recently won another term and is widely expected to continue consolidating his power.
"If you want to talk about to what extent the allies are comfortable with Trump as a person, a strongman leader, what we saw at the G-20. at that second meeting, what we see now with NATO and the Putin meeting, this is a very visible suggestion," Bremmer said.
"Which would make a fist bump unattractive and disturbing to people – it's a universal sign of 'Way to go, good job,'" said co-host Gayle King.
Bremmer agreed that heralding a strongman leader like Erdogan, who has initiated purges internally against critics and who has no effective domestic opposition, would make other European leaders nervous. "Turkey is hardly a liberal democracy at this point," he said.
Bremmer also spoke to Mr. Trump's announcement at the end of the NATO talks when he took credit for an increase in allies' defense spending despite no announcement of increase.
"Apparently the Dutch prime minister, Mark Rutte, was the last person to intervene at the summit," said Bremmer. "Before Trump had his press conference he said [to the president], 'Look, you're really frustrated. Why don't you just take a victory lap? Say that the allies have been spending $32 billion more since you became president. Take credit for it.' That's the last thing Trump heard before he left the meeting."
While Mr. Trump has been lambasting U.S. allies, he has also been praising Russian President Putin, congratulating him for hosting the World Cup tournament.
On Monday, before sitting down for their private one-on-one meeting, the two men spoke to the press. "We have discussions on everything from trade to military, to missiles, to nuclear, to China. We'll be talking a little bit about China, our mutual friend President Xi," Mr. Trump said. "We have great opportunities together as two countries that frankly we have not been getting along very well for the last number of years.
"I think we'll end up having an extraordinary relationship," he predicted.
Mr. Trump added that the fact the U.S. and Russia share a commonality in being nuclear powers is "not a good thing; that's a bad thing."
King asked Bremmer, "What do you make of the comments the two men made, President Putin and President Trump, before they sat down together?"
"I think [it's] interesting that Trump specifically talked about China, talked about China up there a bit more than any other thing he mentioned," Bremmer replied.
"He did not mention Russian meddling [in the U.S. election]," said King.
Bremmer replied, "There are many people that do believe that, long term, the United States and Russia should have a good relationship, [and that] China is the problem. China is the emerging superpower. China is actually the true competitor undermining America, but also undermining the Russians long term. I think that was Steve Bannon's view when he was chief strategist for the White House.
"I think it's interesting that Trump's clearly turning against Beijing. The $200 billion announced in tariffs that may be coming down, the unhelpfulness more recently on North Korea (from his perspective), I think he'd love talking to Putin on that."
Thanks for reading CBS NEWS.
Create your free account or log in
for more features.