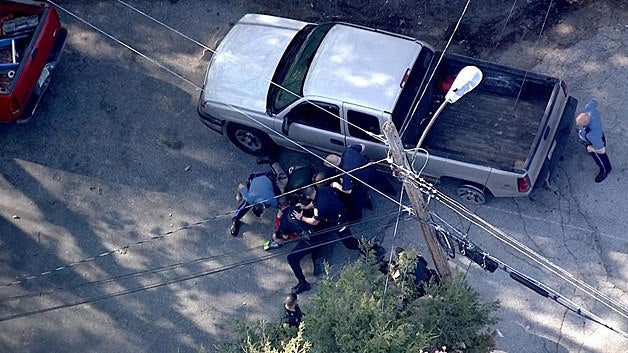 Troopers charged in beating caught on news helicopter video
CONCORD, N.H. -- Two state troopers involved in the videotaped beating of a man who was apparently surrendering after a 50-mile car chase through Massachusetts and New Hampshire were arrested Tuesday.
Joseph Flynn, 32, of the Massachusetts State Police and Andrew Monaco, 31, of the New Hampshire State Police, were arrested on charges stemming from their use of force in the arrest of Richard Simone Jr. on May 11, New Hampshire Attorney General Joseph Foster said in a statement. Video caught by a TV news helicopter shows Simone appearing to surrender and officers then punching him repeatedly.
Monaco was charged with three counts of simple assault; Flynn was charged with two counts. The charge is a misdemeanor and carries up to a year in jail. But under New Hampshire law, because Monaco and Flynn were on-duty law enforcement officers at the time, each charge is subject to an enhanced penalty of up to five years, the attorney general said.
Flynn and Monaco were relieved from duty the day after the arrest, reports CBS Boston. Trooper Flynn was suspended without pay pending an investigation; the Massachusetts State Police told the station Tuesday that Trooper Flynn's suspension was still ongoing.
The station's security analyst and former Boston Police Commissioner Ed Davis said it appeared Simone was complying with officer's orders.
Monaco was released Tuesday on $3,000 personal recognizance bond, and Flynn was released on $2,000 bond. They are scheduled to be arraigned Sept. 13 in Nashua. It's not known if they have lawyers.
Authorities say Simone refused to stop for police in Holden, Massachusetts, leading them on an hourlong chase with speeds up to 100 mph that ended in Nashua.
Video shows Simone stepping out of his pickup truck, kneeling and placing his hands on the ground as Monaco begins punching Simone on the left side of his head, according to complaints filed against the troopers. Monaco and Flynn then punch Simone repeatedly while he is prone on the ground. Monaco then strikes Simone with his knee multiple times.
Simone later told investigators he was punched, kicked and "kneed" by both troopers and was repeatedly told to "stop resisting" although his arms were behind his back while the attack continued, according to the complaints. Simone told investigators he received three stitches in his ear.
Medical records indicate he was diagnosed with possible post-concussive syndrome following the beating.
Simone, who was wanted on multiple warrants, was sent back to jail after being arraigned in Worcester, Massachusetts, on charges including larceny, failure to stop for police and assault with a dangerous weapon. A message was left seeking comment from his lawyer.
Thanks for reading CBS NEWS.
Create your free account or log in
for more features.