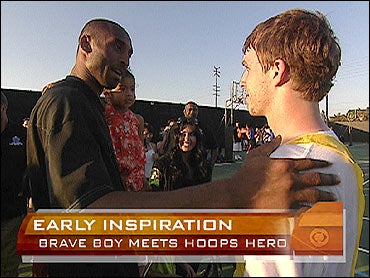 Tragedy Leads To Dream Come True
Sean Daniels is a forward on his high school basketball team in the remote town of Easton, Maine.
"We don't really have much up here, so basketball is all I do," the 17-year-old tells CBS News correspondent Priya David.
And, since he was a boy, Sean has always wanted to meet Kobe Bryant, a dream that seemed to matter even more after an accident in the fall of 2007.
Sean was working on a farm in northern Maine, loading potatoes onto a metal conveyor, when he slipped.
His best friend, Brad Trask, was beside him.
"I saw his arm go in and heard him scream," Trask recalls. "It's the worst scream I've ever heard."
The owner of the farm had to use a torch to burn through metal.
Sean's arm was later amputated.
"I woke up there was a towel over my arm," Sean says. ... "And I pretty much just broke down after that."
Across the continent, in Los Angeles, Bryant, the superstar guard and National Basketball Association Most Valuable Player, was feeling the rush of victory and disappointment of defeat.
"Basketball itself is such a metaphor for life, because you'll face different obstacles when you play the game that you have to overcome," Bryant says. "I think we've all in our lives encountered moments ... where you just feel you're not strong enough to walk anymore. ... That's when you rely on God to carry you."
Sean found strength watching Bryant struggle, and triumph on the basketball court.
Sean says he learned, "There's no sense in giving up when you've still got a chance."
Through insurance, Sean received a state-of-the-art prosthetic arm called an i-Limb -- a bionic device that would give Sean a chance to play basketball like he used to.
The i-Limb responds to muscle impulses, and moves much like a real hand.
"You think," Sean reflects, "after losing your hand, you wouldn't get another chance at regaining one."
Sean's mom, along with the prosthetic company, secretly arranged for Sean to attend the Kobe Bryant Basketball Academy in Los Angeles, a camp for aspiring basketball players from all over the country.
When he was told, tears welled up in Sean's eyes, and he and his mom shared a long, tight embrace.
For the first time in his life, Sean boarded an airplane, and flew the 3,000 miles to L.A. The furthest he'd ever been from home before that, he says, was Ohio.
And Sean got to meet his idol, Kobe Bryant.
"Enjoy yourself, man,' Bryant implored Sean. "Give 'em the business!"
"Seeing Kobe in person pretty much brought all this, of what I thought I dreamed, and turned it into reality," Sean says.
Seam went through his paces on the courts in the camp, though without the i-Limb.
"Playing like I am shows that I'm still able to play like everybody else, and I still have the same skills as everybody else," Sean observes.
"How would you like to see a kid like Sean play?" David asked Bryant. "He has one arm. What would you say to him?"
"Go to work. Go to work. Go to work," Bryant answered.
Sean didn't wear the i-Limb at camp, David says, because he's still getting used to it, and he wanted to show the other kids there that even, without his i-Limb, he could play basketball as well as anyone else.
And, David adds, Sean has an admirer of his own -- a five-year-old boy named Cody -- the son of Sean's coach -- who plays basketball with one arm behind his back, apparently in admiration of Sean.
MMVIII, CBS Interactive Inc. All Rights Reserved
Thanks for reading CBS NEWS.
Create your free account or log in
for more features.