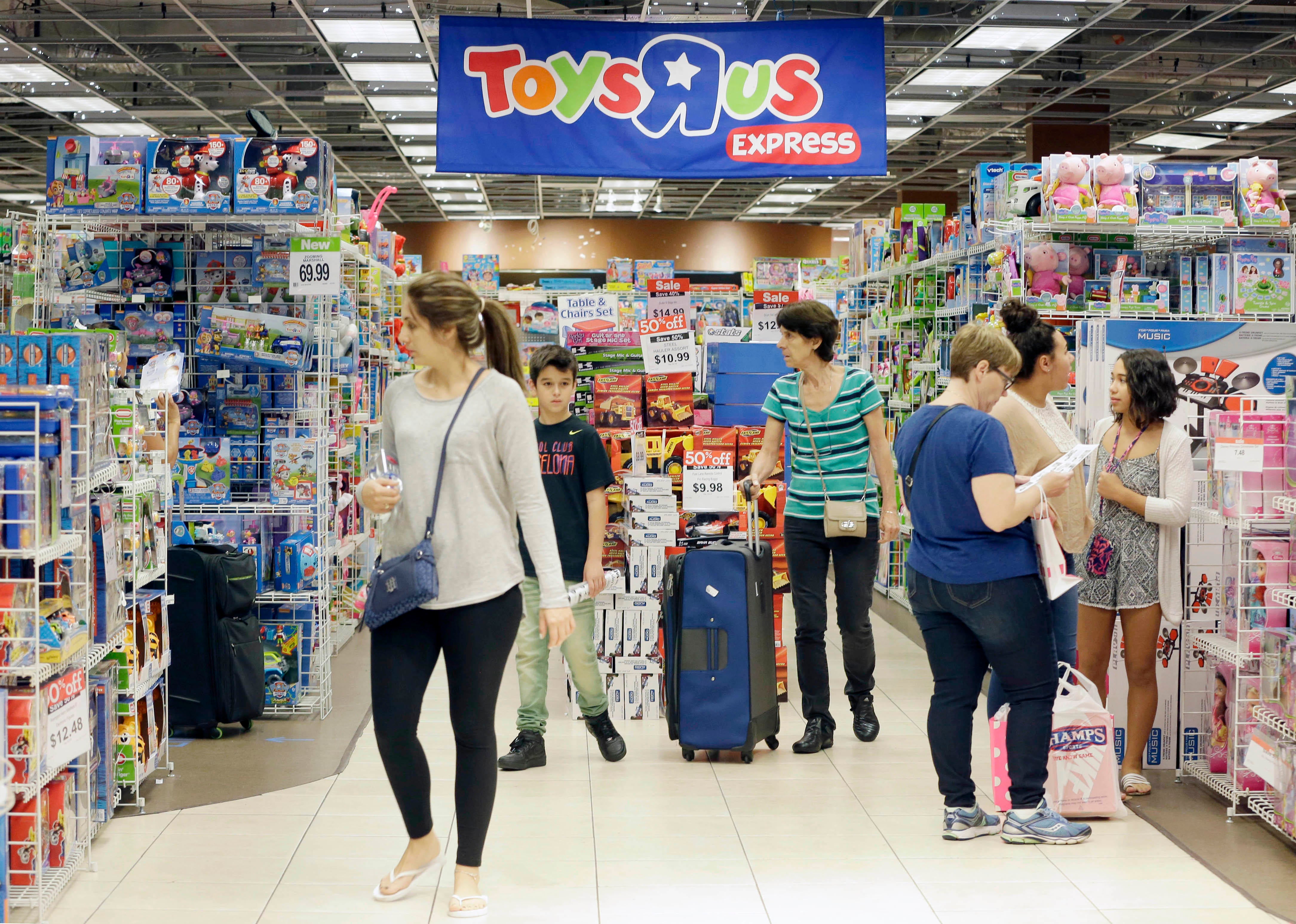 Toys "R" Us shutting U.S. stores, liquidating inventory
Toys "R" Us is going out of business in the U.S. The iconic chain announced early Thursday that it's seeking bankruptcy court approval to start closing its 735 U.S. stores and liquidating their inventory.
Some 33,000 employees will lose their jobs as a result.
Toys "R" Us Chairman and Chief Executive Officer Dave Brandon said in a statement, "I am very disappointed with the result, but we no longer have the financial support to continue the Company's U.S. operations."
" … This is a profoundly sad day for us as well as the millions of kids and families who we have served for the past 70 years," he continued.
The Wayne, New Jersey-based retailer said it's negotiating the possible combination of as many as 200 of its top performing U.S. stores with its Canadian operations, and is continuing its reorganization and sale process for its Canadian and international operations in Asia and Central Europe, including Germany, Austria and Switzerland. "The company's international operations in Australia, France, Poland, Portugal and Spain are considering their options in light of this announcement, including potential sale processes in their respective markets," the chain said.
Inventory of stores in the proposed Canadian transaction would be subject to a right to recall, Toys "R" Us added.
Efforts to sell Toys "R" Us' U.K. business failed and as a result, 100 stores employing 3,000 will close their doors, according to media reports.
Toys "R" Us, which declared bankruptcy in September, was unable to convince creditors to refinance its more than $5 billion in debt, a crushing load that experts say hampered its ability to adapt to the growth in online shopping, among other consumer trends.
Liquidating Toys "R" Us in the U.S. will lead to the largest layoff in the retail sector since at least 2015, and would be 12th-largest job cut announcement since 1993, trailing the 34,000 people who lost their jobs when Circuit City went out of business in 2009, according to Challenger, Grey & Christmas, an executive outplacement firm. Last year alone, retailers cut 76,000 jobs as 7,000 stores closed.
"It would be a tough market for those folks to go into with their specific skills," said Andy Challenger, a vice president at Challenger Grey.
According to Bloomberg, Toys "R" Us has missed payments to some suppliers without explanation and has quit negotiating on money owed before its initial bankruptcy filing last fall, when CEO David Brandon declared that "today marks the dawn of a new era at Toys "R" Us where we expect that the financial constraints that have held us back will be addressed in a lasting and effective way."
A spokesperson for Toys "R" Us declined to comment.
The big-box toy retailer's demise was years in the making. The chain was hobbled by debt stemming from the 2005 leveraged buyout by KKR, Bain Capital and Vornado Realty Trust (VNO). That deal placed it at disadvantage against larger rivals such as Amazon (AMZN), Walmart (WMT) and Target (TGT), which have made inroads in the toy market in recent years. A 2016 IBISWorld report estimated Toys "R" Us' share of the retail toy market was 13.6 percent, lagging Amazon's 16.3 percent and Walmart's 23.9 percent.
"It's a matter of falling behind and never being able to catch up," said Charles F. Kane, senior lecturer in technological innovation, entrepreneurship and strategic management at the MIT Sloan School of Management. "You have got to tie this back to the debt structure that they have. They probably didn't have the money to invest [in their business]."
Under Brandon's leadership, Toys "R" Us boosted spending on its website, which critics had complained was too difficult to use, and he revamped the company's executive ranks. Brandon also recently unveiled a plan to make the retailer's stores more tech-savvy with an augmented reality experience.
Even so, the liquidation came as a surprise to Greg Portell, lead partner in the retail practice of A.T. Kearney, a global strategy and management consulting firm. Portell said the struggling retailer's financial performance was "actually not bad" for a sector where financial challenges abound.
"They are an $11 billion retailer," Portell said. "For the financing world to say that they don't see a path forward for them is somewhat disappointing."
The retailer's sprawling warehouse-like stores also were a turn-off to consumers who are looking for "experiences" while they shop.
"Consumers aren't turning to a store like Toys "R" Us for convenience," he said, "because that's something that a Walmart or an Amazon or a Target can do online."
Thanks for reading CBS NEWS.
Create your free account or log in
for more features.