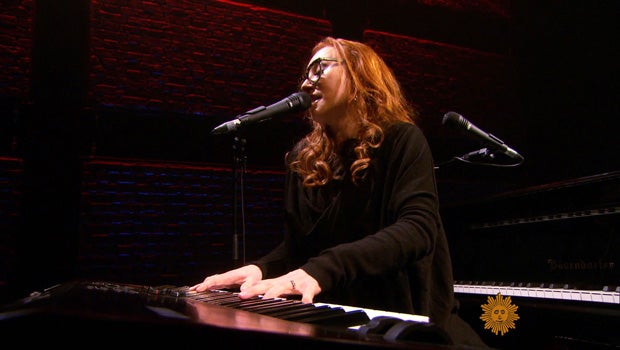 Tori Amos on her latest feminist summons
The prolific singer and songwriter Tori Amos has been charting her own course for a long time now . . . and has won a very loyal following over the years. Elizabeth Palmer has her story:
"I am going to wear the glasses," Tori Amos announced on stage, "because in my menopausal state I need to see!"
It's an inside-joke. Amos has just turned 50 -- and her fans have aged right along with her.
Many of them first fell in love with her when she rocketed to fame with her mega-hit "Crucify" in 1991, and a persona that was equal parts mystic and feminist renegade.

Fourteen albums and 33 years later, Amos is still packing them in.
Her world tour kicked off in Cork in May, and as you might suspect there's a message in the music. For Amos, it was partly pushback against ageism and sexism in the music industry: "Not a lot of women 50 and up were getting a lot of those frontline record contracts," she said.
"It's intimidating," said Palmer.
"Yeah. And it's real, it's truthful and it's accurate. It's a fact."
Born Myra Ellen Amos in North Carolina in 1963, she was a natural musician who at age five won a scholarship to the prestigious Peabody Conservatory in Baltimore. Her father may have been a Methodist Minister, but he took his teenage daughter to play bars around Washington, D.C. . Some of them were gay clubs, and that's left a lasting bond.

Eventually, Amos moved to the West Coast and worked the club circuit, and it was there at age 22 where she was sexually assaulted -- an ordeal she says left her psychologically mutilated. "Me and a Gun," her song about that trauma, became an anthem for millions of victims of sexual violence.
These days, Amos spends most of her time in Britain, with her teenage daughter, Tash, and her musical collaborator and husband of 16 years, Mark Hawley.
"I married the right guy," Amos said. "We have date nights. I'm dating my husband! And the key to it is that I have to take myself away, so he'll miss me."
And where does she take herself to get away and write? Ireland . . . its peaceful countryside, and a house she owns with Mark called Ballywilliam. "I don't know what happens, but when I'm here, the music comes," Amos said.
The name of her new album, "Unrepentant Geraldines," comes from a religious print hanging in the hallway of the house.
"I saw her and a story started taking over," Amos said. "Well, the rhythms started coming."
The lyrics are a feminist summons to liberation: Don't be crushed, they say, by the guilt heaped on women by a traditional church or a judgmental society.
"Even what we were thinking, we were shamed. And shame is so damaging," said Amos.
(To sample tracks from the album "Unrepentant Geraldines," click on the streaming audio embed below.)
From "Unrepentant Geraldines":
I'm gonna free myself from your opinion
I'm gonna heal myself from your religion
I'm gonna free myself from your aggression
I'm gonna heal myself from your religion
So, Palmer asked, does Amos -- the daughter of a preacher -- feel any shame when she looks at the outrageous, some say downright weird, 1996 album picture of her suckling a piglet?
"Do you regret now that you did it?" Palmer asked.
"No. I don't," she replied.
But that was then, before she had her own child. "I did that before there was a Tash," Amos said.
And what does Tash think about it? "'Rock on, Mom,' she said. Grandad must have had quite a day when he saw that!"
Tash has been part of the Tori Amos show all her life . . . and now, she's sharing the limelight, featured for the first time on the new album in a duet with her mom, called "Promise."
"We were talking about what happens when a mom and a daughter don't even get to the point of talking," said Amos. "They don't even get that far because the walls come up. So we decided, let's sing something that talks about what we won't do, what we say we won't do to each other, and what we say we will do for each other."
Before every show, fans gather backstage to request old favorites and share confidences, some deeply personal and tied somehow to her music. They can't get enough of Amos, and on tour again this summer, she's determined to oblige -- and middle age isn't going to get in the way.
"You know all of your songs well enough to just play? " asked Palmer.
"No," Amos said, "No, there are hundreds of them now. No, I've done menopause, are you kidding me?"

For more info:
Thanks for reading CBS NEWS.
Create your free account or log in
for more features.