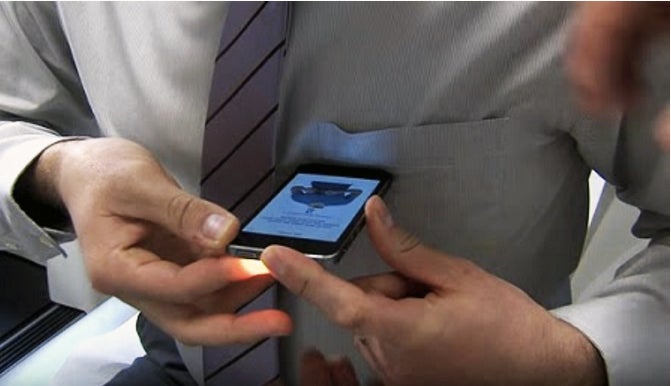 Top-selling blood pressure app "very inaccurate"
A mobile app that's been downloaded more than 100,000 times to measure blood pressure is wrong eight out of 10 times, medical researchers say.
The smartphone app, called Instant Blood Pressure, was sold as a health app. It claimed to be able to measure blood pressure when a person places their cellphone on their chest and covers the built-in camera lens with a finger.
The app was pulled off the market in July 2015, but it's still usable on phones that have already downloaded it. Similar apps are still being sold in app stores and are a risk to people's health, Johns Hopkins Medicine researchers said.
The scientists compared the app's blood pressure measurements to measurements taken on an automated blood pressure cuff approved for medical research in 85 volunteers. More than half said they had hypertension and 91 percent reported taking medication to control their blood pressure.
Researchers measured each person's blood pressure twice using the research-grade, automated blood pressure cuff and twice with the Instant Blood Pressure app, said study author Dr. Timothy Plante, a general internal medicine fellow at Johns Hopkins University.
"The Instant Blood Pressure app was very inaccurate. It was about 10 to 12 millimeters of mercury off in folks on average. Off by 12 for the top, systolic number, and 10 off for the lower, diastolic number. It missed risky elevated blood pressures in four out of five patients. This app was not accurate. It's not accurate by any measure," said Plante.
Plante said he's big believer in technology in health care, but the research findings should be taken as a "cautionary tale."
"When I heard about this app, I was curious to know whether or not a $5 app for the phone could improve peoples' health and pick up elevated blood pressures," he said.
When the app was first released, in June 2014, Plante said, "Instant Blood Pressure spent 156 days as a top 50 bestselling app among all apps for sale for iPhone. Apps sell on average at least 950 apps per day to break into the top 50."
The study's findings, published in JAMA Internal Medicine in their "Letters" section, were disappointing, said Plante, and he's concerned about people using such technology to track their high blood pressure.
He and colleagues warn users to ditch the app if it's still on their phone. He said the same goes for at least two other similar mobile applications -- Blood Pressure Pocket and Quick Blood Pressure Measure and Monitor -- which work the same way and are both still for sale.
He said the other two apps should be taken down until they pass the same type of "rigorous testing" he and colleagues conducted for their study.
"Going forward, we need to make sure regulatory bodies and app stores and developers are doing rigorous validation studies before they [new blood pressure monitoring apps] are released. If a blood pressure cuff needs to be cleared by the FDA, then an app for blood pressure should, too," said Plante.
He said we're seeing "growing pains," as the tech industry outpaces medical device regulatory guidelines.
Instead of relying on an app, he said people who want to monitor their blood pressure should head to the drugstore and buy an automatic blood pressure measuring cuff, recommended by their pharmacist, doctor, or the American Heart Association, which offers a list of cuffs on their website.
Plante said it's not clear why the app they studied was taken off the market. "When we spoke to Apple they couldn't tell us."
Because high blood pressure is a "silent killer," Plante said screening for it is recommended for all adults in the United States. Monitoring blood pressure regularly at home is recommended for people who have been diagnosed with hypertension.
Thanks for reading CBS NEWS.
Create your free account or log in
for more features.