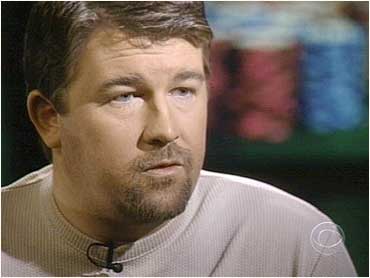 Top Hands: The Best Poker Pros
This report by Ken Adams is the second in a series for CBSNews.com chronicling his run at the 2005 World Series of Poker in Las Vegas.
---
My parsimonious "editor," being typical of the new breed of poker voyeur who barely knows a river from a flop, asked me who are the top 12 pros I would be looking out for in Vegas. Well, the obvious answer is that I'm looking out for any pro I happen to be playing against at any point.

Still, picking 12 top pros is an interesting challenge. They're a fascinating often bizarre lot. They have big personalities, sometimes hidden. Here goes:

Phil Hellmuth: The player everyone loves to hate; the "John McEnroe of poker." He just won the heads-up title sponsored by NBC, besting the 64 top pros in the world. He won the championship in 1989 at the age of 24, denying Johnny Chan a record three-peat (Chan had won in 1987 and 1988, beating Eric Seidel in the dramatic hand that is featured in the movie, "Rounders"). Hellmuth holds 9 WSOP bracelets, tying for the record.

Annie Duke: One of the two top female tournament players. She was taught to play by her brother Howard Lederer, another top professional. She's the mother of four; smart (B.A. and Ph. D -- all but dissertation -- from top schools). She's the first female player to win more than $1 million in a tournament.

Howard ("the Professor") Lederer: Annie Duke's brother, he's one of the most successful tournament players around. He's also educated, smart, and a good guy.

Chris ("Jesus") Ferguson: He won the championship in 2000, the year that writer Jim McManus played and wrote his book, "Positively Fifth Street." "Jesus" has a Ph. D. in computer science (specialties: artificial intelligence and game theory). He's also a swing dance instructor and an unassuming, nice guy. He happens to be a great player.

Chris Moneymaker: His unlikely victory in 2003 made him a poker rock star. He earned his chips playing on the Internet, not at the tables of Las Vegas and Atlantic City.

Greg "Fossilman" Raymer: He is the reigning champ, having won it all last year.

John Juanda: One of my favorites. Juanda is quiet, shy, not at all the image of the intimidating assassin stereotype, but one of the most consistent winners on the circuit. He was player of the year two years ago and has been at more final tables in each of the past two years than any other player.

Daniel Negreanu: Maybe the best in the world at the moment. He was player of the year last year -- an amazing talent. And besides, he was featured in The New York Times magazine last week so everyone knows who he is. Also a pretty nice guy.

Phil Ivey: "The Tiger Woods of poker", which means he is young, black, good looking, educated and talented. He has been killing the high stakes cash games in recent years, as well as the tournament circuit. He's another one of the nice guys (away from the felt tables).

Scotty Nguyen: What a great life story! He and his brother were "boat" people from Vietnam. He has used poker to realize the American dream, support other family members (those he brought over and those who stayed in Vietnam), never forgets where he came from, helps other younger players, and is one of the most talented and feared no limit players on the circuit. He won the championship in 1998.

Jennifer Harmon: She's the other top female player on the circuit. Harmon was a cash game specialist until recently and killed the high limit games for years. She looks sort of like Goldie Hawn, and uses her kittenish "little girl" looks to take brutal advantage of male players. Unlike Annie Duke who dresses down, Jennifer exploits her sexy femininity mercilessly at the table. In addition to everything else, she was dying from kidney disease last year until she received a transplant. Through it all, she played and won in the cash games and on the tournament circuit. You'd never guess to look at her, but she has incredible grit.

Gus Hanson: A Dane, he has destroyed the field in the World Poker Tour events televised on the Travel Channel every Wednesday night with his unorthodox counter-strategy of play that so many young internet players try (unsuccessfully) to emulate. He is young, good looking, and successful. He was a world-class backgammon player before he took up competitive poker.

Let's make it a baker's dozen, I can't resist:

Eric Seidel: He's a supremely talented, successful tournament pro. He lost to Johnny Chan in the 1987 championship event, and has made the final table other times as well. He has numerous WSOP bracelets and other tournament victories. I respect and admire him more than almost any other tournament pro. He is self-aware and self-effacing, kind and thoughtful. Complete integrity. He used to be a world-class backgammon player while living in NY working as a bond trader. He is painfully shy.

Finally, I should at least mention Stu Ungar, generally regarded as the most brilliant talent of all time. Unfortunately his bad habits (cocaine being the worst) destroyed his talent and ultimately his life. After winning the championship twice in a row in 1980 and 1981 in his mid-20s, Ungar disappeared into drugs and sports betting disasters. He made a stunning comeback in 1996, destroying the field and leading wire to wire. It was clear that even after 15 years of abuse, his talent was extraordinary. The next year he failed to show up to defend his title, and died of an overdose a few months later in a sleazy motel room in Las Vegas. Very sad.

Thanks for reading CBS NEWS.
Create your free account or log in
for more features.