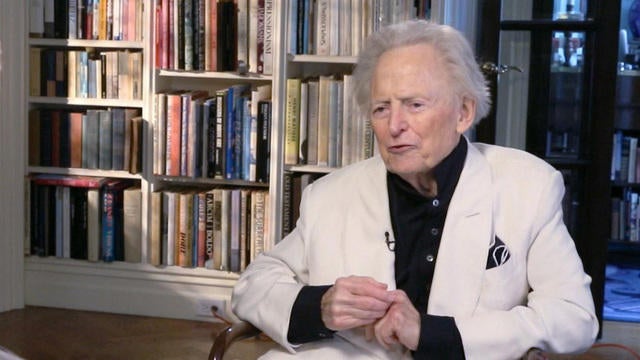 Tom Wolfe, prolific journalist and author of "The Bonfire of the Vanities," dead at 88
Tom Wolfe, a journalist and novelist known for books like "The Electric Kool-Aid Acid Test," died on Monday in a Manhattan hospital while battling an infection, his agency Janklow & Nesbit Associates confirmed to CBS News. He was 88.
Wolfe had been living in New York since 1962, when he started reporting for the New York Herald Tribune. The writer pioneered New Journalism, a 1960s and 1970s literary movement characterized by colorful longform pieces written in a subjective voice. Wolfe was associated with other New Journalism writers like Hunter S. Thompson, Joan Didion and Truman Capote.
The prolific author was known for both his fiction and nonfiction works. He rose to fame for his essays and bold arguments coupled with exhaustive reporting, peaking with the book "The Right Stuff" in 1979, which focused on the first American astronauts and the Mercury space program. The book was later adapted into a film with Sam Shepard, Dennis Quaid and Ed Harris in 1983.
Later, Wolfe published his first novel, "The Bonfire of the Vanities," in 1987, which was adapted into a film by Brian De Palma in 1990. He told CBS News that when he was starting out in his career, he was interested in fiction, but quickly found himself captivated by nonfiction.
"I started working on newspapers as soon as I left school -- graduate school, actually. … I assumed when I first started working for newspapers, 'Well, I'll be a novelist one day.' But I lost total interest in being a novelist, because this nonfiction was so exciting," Wolfe recalled.
Wolfe covered a range of topics in his prose, from Ken Kesey and the Beat Generation in the 1968 nonfiction book "The Electric Kool-Aid Acid Test" to Cuban immigrants in Miami in 2012 novel "Back to Blood." His last published book was 2016's "The Kingdom of Speech," which challenged society's understanding of Darwinism.
In it, he argued that speech, not evolution, is responsible for humanity's highest achievements. Wolfe slammed both Charles Darwin and linguist Noam Chomsky in the book. He laughed about his trademark "feistiness" in the book to CBS News and said, "Well, I just try to bring truth."
In addition to his writings, Wolfe was also known for his foppish style and signature white suit, though in older age he swapped out tall collars for polo shirts.
In 2016, Wolfe told CBS News that he had five more books planned.
"To be honest, I have only five more planned. And one … coming up is on political correctness, which I think is the funniest subject in a long-- in a long, long time," Wolfe said.
This post has been corrected to reflect that Wolfe was 88 when he died, not 87.
Thanks for reading CBS NEWS.
Create your free account or log in
for more features.